The 163rd Annual General Meeting (AGM) of the Planters' Association of Ceylon, one of the plantation sector's most important gatherings, is scheduled to take place at the Grand Ballroom of the Galadari Hotel on 22 September.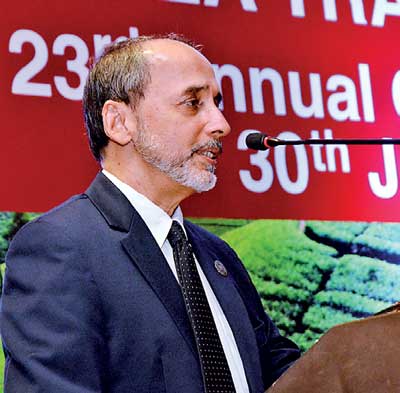 Drawing together some of the most respected names in the plantation industry, this year's AGM follows celebrations of 150th anniversary of the establishment of tea in Sri Lanka. The keynote address at the AGM will be delivered by Chief Guest and Chairman of the Sri Lanka Tea Board, Rohan Pethiyagoda.

A respected taxonomist and winner of the Rolex Award for Enterprise, Pethiyagoda is the founder of the Wildlife Heritage Trust (WHT), a foundation he established in 1990 to further biodiversity exploration in Sri Lanka, with the business-model of publishing natural history books and channelling the proceeds into further exploration and research.

Pethiyagoda has previously served as Chairman of Sri Lanka's Water Resources Board, as an Advisor on Environment and Natural resources to the Government of Sri Lanka, was previously elected Deputy Chair of the IUCN Species Survival Commission. Pethiyagoda had his secondary education at S. Thomas' College, Mount Lavinia and holds a B.Sc. (Eng.) Hons. in Electrical and Electronics Engineering, King's College, University of London and an M. Phil. in Biomedical Engineering, University of Sussex, and is a Fellow of the National Academy of Sciences.

Founded in 1854, a full 13 years before the establishment of the first commercial tea plantations in Sri Lanka, the Planters' Association has been a vital contributor to the development of Sri Lanka's plantation sector and the wider national economy for well over one and a half centuries.

Comprised of a membership of more than 180, including 23 Regional Plantation Companies (RPCs), the Planters' Association's membership manages approximately 40% of the country's tea, rubber, palm oil and coconut lands in addition to the management of 332 factories. The sector directly employs nearly 200,000 individuals and when combined with indirect employment, is estimated to provide a livelihood for over 1 million Sri Lankans across the island.

Among its affiliate bodies, The District Planters' Associations too have played an important role in supporting the development of plantation executives by conducting regular meetings with eminent guest speakers, particularly in terms of events focused on personal development.

From its inception, the Planters' Association has been at the forefront of numerous vital initiatives relating to the development of the country's plantation industry. These include contributing approximately one-fourth of the cost of constructing Sri Lanka's hill country railway systems in 1857, the imposition of a voluntary CESS and similar measures that led to the country's first tea promotion campaign in 1894 and playing a leading role in the establishment of the Tea Research Institute of Ceylon in 1925.