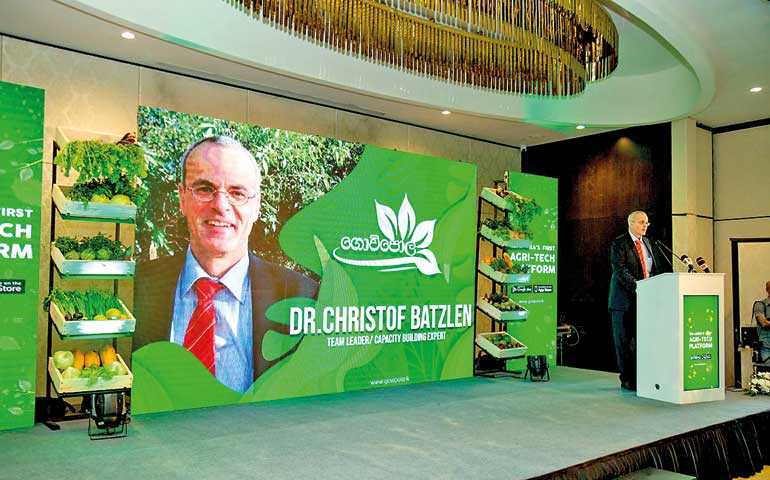 TAMAP Team Leader Dr. Christof Batzlen addresses the gathering during the launch of Govipola, the agricultural trading platform and market information system
---
The agriculture sector in Sri Lanka is recognised as an important contributor towards GDP, vital for employment and for the livelihoods of the rural population.

However, while the services sector has demonstrated a strong pace of development, the agricultural economy is lagging behind with incomes stagnated. Thus, the challenges facing the agriculture sector, are demanding prompt attention from policy-makers. Solutions need to be found to support the development and modernisation of the sector with the objectives to enhance economic growth, increase rural income and manage a smooth transition towards other sectors.

Contributing to the creation of enabling conditions for smallholder farmers to move towards sustainable, resilient and productive agriculture practices the 'Technical Assistance to the Modernization of Agriculture Programme in Sri Lanka' (TAMAP), funded by the European Union, is assisting the Government of Sri Lanka in facilitating the development of an Overarching Agriculture Policy (OAP) and Implementation Strategy.

The program, implemented by the consulting company, Ecorys Nederland B.V., aims to increase the productivity and efficiency of the agriculture sector through specific interventions.

"TAMAP's task is to assist the Government of Sri Lanka in restructuring the entire agriculture sector, making it effective, productive and also competitive. Within the next few weeks we will finalise the consultative stakeholder process leading to the Overarching Agriculture Policy (OAP), which we expect to be submitted to cabinet for approval in due course," noted TAMAP Team Leader Dr. Christof Batzlen.

The challenge facing policymakers and practitioners is to mediate the modernisation of agriculture in such a way that it leads to improved social and economic outcomes for those working in the sector, whilst supporting the transition to more value adding activities for others.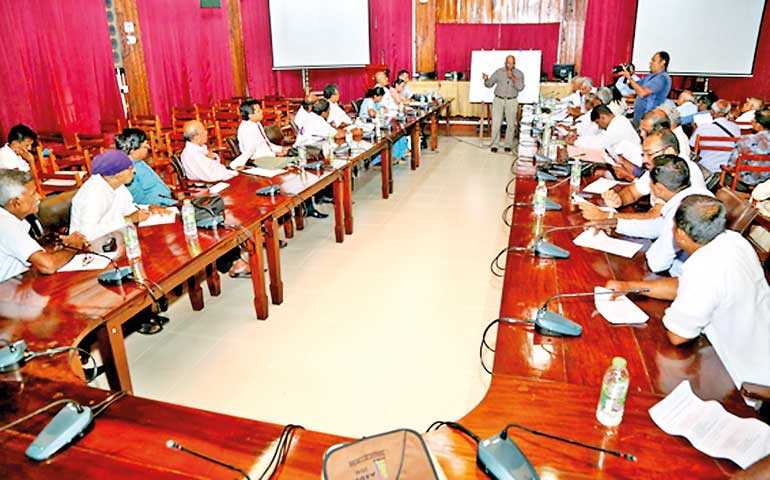 Participants during a Farmer Business Training Workshop held in Kandy at the National Agriculture Information and Communication Centre (NAICC), organised by the Technical Assistance to Modernization of Agriculture Programme (TAMAP) in Sri Lanka to discuss the Overarching Agriculture Policy (OAP)
---


"We need to make sure that our farmers graduate from being traditional producers to agriculture entrepreneurs. In order to do that a lot of things have to fall into place. And therefore the agriculture sector needs to be modernised in many ways, starting from cultivation to getting the product to the final consumer," said Agriculture Economist Dr. Chatura Rodrigo.

Together with the OAP, TAMAP is also finalising an Implementation Strategy specifying detailed action plans in accordance with the 10 proposed thrust areas as outlined in the OAP. Several workshops, assignments and trainings have been conducted; further, findings and studies have been debated and discussed upon taking into account all stakeholder viewpoints. Moreover, workshops on farmer business models, the risks farmers are facing in their farming activities and social aspects have also been discussed through workshops and trainings.

"The assignments which TAMAP has taken on so far are central to the OAP and its Implementation Strategy, and to make it more complete," Dr. Batzlen added.

Reiterating TAMAP's objectives, Dr. Rodrigo notes, "In doing so, there are major cross sectors where agriculture has a stake, and for that you need guidance – this is why a strategy comes into play. Strategy allows you to see a clear path from point A-B with a defined set of objectives and a defined set of activities. And that is why we are talking about the agriculture strategy."

Acknowledging that training is essential for transforming agriculture into a sustainable industry, the TAMAP Team is currently developing training programmes for civil servants to assist them in policy analysis, planning, monitoring and evaluation. This is scheduled to be conducted throughout March-October this year.

To promote commercial and export-oriented agriculture, TAMAP conducted eight value chain studies on commodities with potential for development, to assess and recommend future interventions for the sector. "We have developed eight value chain studies on the topics – fruits, vegetables, aquaculture, apiculture, dairy, essential oils, palmyrah and floriculture focusing on supporting those commodities and providing opportunities for these farmers," Han van de Meerendonk , TAMAP value chain and marketing expert, explained.

Understanding the importance of aligning to the Government's e-agriculture strategy, TAMAP has provided support towards the development of an electronic agricultural marketplace. As Dr. Rodrigo elaborated, "At the end of the day we need to increase the bargaining power of the farmer. Rather than becoming a traditional price taker, the farmer must be able to negotiate prices."

Govipola, the agricultural trading platform and market information system was launched recently. The app allows farmers to interact with traders and other buyers on a 24/7 basis and has revolutionised the market. According to its co-founder, Suren Kohombange, the app has generated 25,000 downloads to-date, accounts for 17,000 active users and has an impressive user engagement rate of six minutes.

Explaining the support and assistance provided by the program, Kohombange said, "TAMAP has helped us by giving us a direction on where to go, based on where other markets have gone. The matching engine, a technical intervention from them where buyer and seller meet and close the deal, and the development of the app's trading engine, are vital."

Dr. Batzlen noted, "Through Govipola, we are supporting farmers in a tangible way. We hope there will be a quick expansion of the Govipola platform around the island."

Agriculture sector stakeholders including farmers, farmer organizations and allied extension services participate in a workshop organised by the Technical Assistance to Modernization of Agriculture Programme (TAMAP) in Sri Lanka to discuss the Overarching Agriculture Policy (OAP)
---