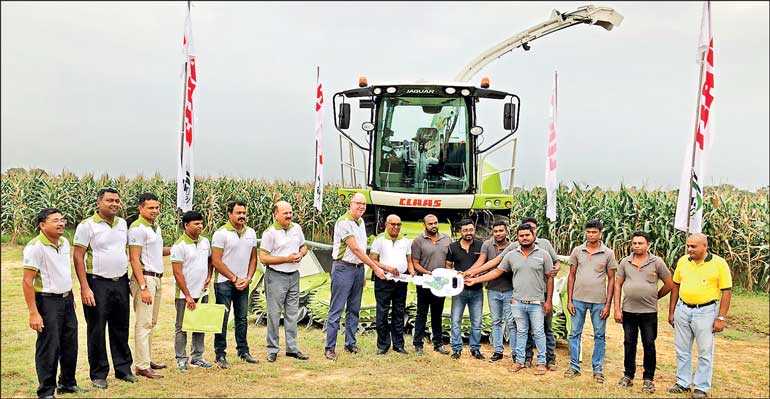 Representatives from Crysbro, CLASS and DIMO at the handing over ceremony
---
DIMO introduces CLAAS Jaguar to Crysbro Group
There are continuous expectations and growing demands for greater productivity, more choices, more comfort and more yield in the agriculture industry – around the world and in Sri Lanka.Mechanisation is a crucial input for agricultural crop production and one that has historically been neglected in the context of developing countries.

DIMO has been in the forefront in introducing modern agricultural equipment to Sri Lanka to facilitate farm mechanisation. And recently, DIMO enabled a giant leap in mechanisation of agriculture in Sri Lanka by introducing CLAAS Jaguar – aself-propelled state-of-the-art forage harvester built by German agriculturalmachinery manufacturinggiant, CLAAS.

Presently, the chronic shortage of feed coupled with the poor quality of fodder is widely regarded as the major constraint in animal milk production in Sri Lanka. Prolonged preservation of fodder in the form of silage becomes the key to overcoming the increasing constraints in green fodder availability.

Realising the growing demand of Sri Lankan dairy farming industry for quality silage, CLAAS, the leading agricultural equipment manufacturer, has introduced its world-renowned Jaguar series of forage harvesting machines. Prior to this, various options have been tried in order to produce quality fodder, but none of them have delivered the expected results.The stationary chopper used was unable to crush grains properly resulting in poor silage and could only harvest three to four acres per day.

The Jaguar 850 with ORBIS 450 is a technically sophisticated machine that offers more productivity, more choice, more comfort and extra yield. The machine comes with a corn cracker that helps in crushing the grains properly, thus producing quality silage. This machine has a capability to harvest 20-25 acres per day, increasing the productivity while maintaining excellent chopping quality.

The first ever CLAAS Jaguar harvester was recently delivered to Golden Grains Ltd., a part of Crysbro Group of Companies, established in 2003, and with two separate locations in Kantale and Mahiyanganaya. Golden Grains is the first company in Sri Lanka to introduce corn silage bales to Sri Lanka and cultivate corn in a land mass of 850 acres for corn silage production.

DIMOChairman and Managing Director Ranjith Pandithage stated: "DIMO is aggressively pursuing initiatives which will take Sri Lanka's mechanisation of agriculture to the next level. CLAAS Jaguar is a giant step forward in that endeavour."

CrysbroChairman Mohamed said: "Jaguar forage harvester is the next step of mechanisation of farming. CLAAS Jaguar is world renowned and a proven machine. It will go a long way in improving the silage production levels and set a new standard in forage harvesting."

Several dignitaries from CLAAS, Crysbro Group and DIMO took part at this important handing over, which took place at Rotalawala, Mahinyanganaya.

Regional President – Asia Dr. Jens Oeding, Agricultural Machinery Managing Director Jay Singh, Head Sales – India and SAARC Prem Kumar and Regional Business Manager – North India and SAARCT. Pavan represented CLASS.

Crysbro Group was represented by Mohamed Imtiaz and T. Imtiaz. DIMO was represented by Chairman and Managing DirectorRanjith Pandithage, DIMO Retail Chief Operating Officer Viranga Wickramaratne, Head of Agriculture Machinery DivisionGihan Fernandoand Sales Manager – Agriculture Machinery Division Amal Tilakaratne.