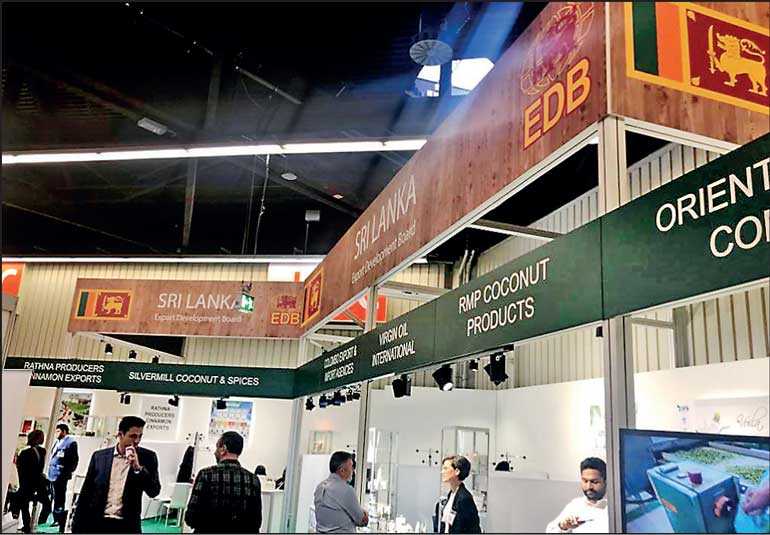 ---
The EDB has identified BioFach as one of the best places to promote Sri Lankan organic products to the EU region and other countries. EDB in collaboration with the Sri Lanka Consulate in Frankfurt, Germany organised a national pavilion in an area of 117 sq. m. at hall No. 02 which was reserved for international exhibitors and most of the EU buyers visited to this hall.

Organic agriculture is an environmentally friendly, culturally sensitive, socially just and economically viable sustainable agricultural system that maintains an efficient management system.

The global market for organic food has reached more than 97 billion euros in 2017 and the market for organic products is ever growing showing a growth of 15% during 2011-2016, USA is the leading market with 90 billion euros, followed by Germany (10 billion euros), France (7.9 billion euros) and China (7.6 billion euros). In 2017, most of the major markets continued to show double-digit growth rate. The French organic market grew by 18% in 2017. Total land area under organic agriculture in the world was around 69.8 million hectares in 2016 which is a 15% increase compared to the year 2016. Organic producers in the world has increased by 5% from 2016 to 2017 and accounted for 2.9 million organic producers.

BioFach trade fair is the world's largest organic trade show and congress that serves as a platform for all organic industry stakeholders to network and share knowledge on trade, policy and technology developments and promote organic products. It offers an extensive range of organic agricultural products such as tea, raw and processed fruit and vegetables, dairy and dairy products, frozen food, processed food, coconut based products, beverages, medicinal products, extracts, etc.

The 30th edition of BioFach was held from 13-16 February in Nuremberg, Germany. Exhibitors from 95 countries exhibited an incomparable variety of products over the four days of the fair and more than 50,000 trade visitors have attended BioFach-2019.

BioFach Congress held parallel to the exhibition has created a platform for 8,000 participants to improve and share the knowledge on Biodiversity, soil fertility, clean water, strong plants, animal welfare, agriculture, processing, nutrition and health by conducting about 150 separate presentations. Organic policy and sector development in central Eastern Europe, Challengers and risk for the organic sector considering control rules of the upcoming new EU organic regulation, Internal control system (ICS) and European Organic congress on water protection, soil fertility, biodiversity, climate protection, climatic adaptation and use of resources efficiently were very useful topics for Sri Lanka.

BioFach Novelty Stand, where exhibitors showcased around 600 new products in 2019.Vaccume dehydrated jack fruits, Low sugar energy bars using cereals and mixed dried fruits bars were the most interested products among the visitors and those products could be potential products for Sri Lanka to produce using available resources.

Sri Lankan pavilion comprised 10 Sri Lankan organic F&B export companies representing Silvermill Natural Beverages Ltd., Virgin Oil International Ltd., RMP Coconut Products Ltd., Stassen Exports Ltd., Orient Trading Company Ltd., Rathna Producers Cinnamon Exports Ltd., HJS Condiments Ltd., SRS Fruit & Spices Ltd., Colombo Export & Import Agencies Ltd., DP Global Ventures Ltd. They displayed Sri Lankan organic production such as cinnamon, black pepper, nutmeg, cardamom, cloves, mace, ginger, turmeric, cashew, moringa, black tea, green tea, , virgin coconut oil, coconut floor, coconut milk/cream, coconut water, coconut chips, desiccated coconut, cinnamon leaf oil, cinnamon bark oil, dried fruits, fruit drinks/juice, chunks, vegetable in brine, dehydrated fruits, vegetable and fruit rolls/tapes.

Sri Lankan exporters were happy as they were able to obtain considerable amount of orders from EU Buyers and some had negotiations with importers for joint ventures.

Silvermill Natural Beverages Ltd. Director Nanda Kohona, who participated at the BioFach-2019 expressed his views as: "Participation at Biofach is a must for all exporters of all Organic produce as this opens up a lot opportunities to meet buyers in the organic trade and to see all forms of Value added organic products of other exhibitors. In fact this covers not only buyers and sellers but also to get to know new products, technology used and packaging, etc."

Virgin Oil International Ltd. Director Mervin Gonavala stated his success story as: "We firstly thank EDB for organising a successful well attended Sri Lankan Pavilion at the above fair and building the image of Sri Lanka. As processors and exporters of quality organic virgin coconut oil and coconut flour, it was a great opportunity for us to convince the potential customers and the buyers who have faced quality issues with their existing suppliers."

Parallel to this program the EDB in collaboration with the GIZ (Gesellschaft fur Internationale Zusammenarbeit) in Sri Lanka organised a capacity building and market exposure program for eight SME organic F&B product producers/processors from 12- 22 February.

The Market Exposure Program included visits to Biofach 2019 Exhibition, BioFach Conference, IFOAM policy workshop as well as field trips to organic production and processing facilities in Germany. The participation at this program facilitated the companies to study the market opportunities for their products, obtain exposure on organic agriculture in Germany, nurture linkages with various organic stakeholders meet potential buyers, learn about the organic regulations in the EU market, Organic agriculture certification, tools and methods for effective policy design implementation.