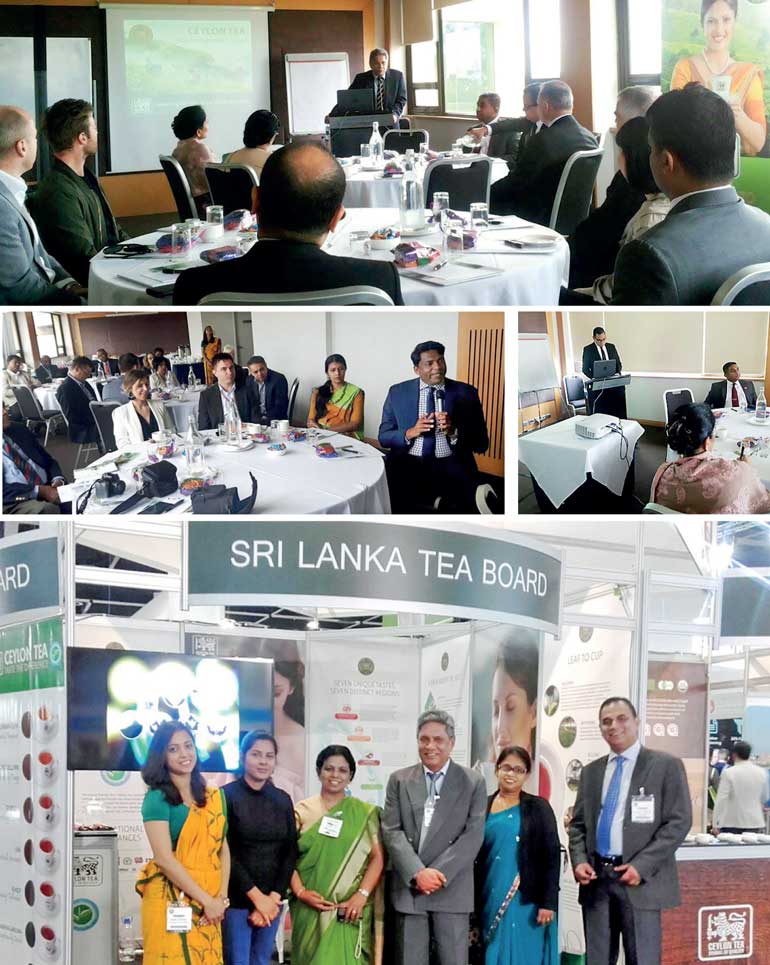 Fine Food Australia is the premier exhibition for the food industry showcasing latest products and attracts buyers from distributors, importers, restaurants, confectionary manufacturers, retailers and other food businesses across Australia.

Consulate General of Sri Lanka in Sydney in collaboration with Sri Lanka Tea Board and the Coconut Development Authority organised Country Pavilions at this year's event held from 11 to 14 September, at the International Convention Centre, Sydney.

Three Sri Lankan Tea Exporters namely, Eswaran Brothers, Shan Teas and Basilur Ltd. were housed in the Tea Board pavilion and five coconut products Exporters namely, NDC Exports, AS Agri Exports, Serendipol Ltd., Adamjee Lukmanjee & Sons and Coco Ceylon Exports participated at the Coconut Development Authority stand. In addition, four Sri Lankan Exporters of coconut products organised their stalls individually. Chairman, Coconut Development Authority led the Coconut Exporters of Sri Lanka at the Fine Food 2017.

Fine Food Australia is more than a trade exhibition as new ideas, innovations and technologies displayed during four days' period and provided a perfect opportunity for the visitors to find out first-hand information on what is next for the food industry.

This year Fine Food Exhibition in Sydney attracted more than 20,000 food industry traders and professionals to explore products from over 1,000 brand across range of categories including general and speciality food, catering equipment, coffee, tea, dairy, meat and sea food, retail and technology, natural and organic products.

Consulate General of Sri Lanka also organised a Business Breakfast Networking for the Sri Lankan Tea Trade in association with the Tea Board on 12 September, at the Harbour View Hotel in Sydney. 35 participants including Tea Traders, members from the New South Wales Business Chamber, Australia-Sri Lanka Business Council, Catering and Restaurant Industry Association of Australia, Export Council of Australia and selected Media personnel attended the Networking Session. Consul General Lal Wickrematunge and Consul Commercial Abdul Raheem addressed the gathering and Premala Srikantha, Director, Tea Board made a presentation on Ceylon Tea and proposed promotional plan for Ceylon Tea in Australia. Members of the Sri Lankan Tea Trade had an opportunity to have a Networking Meeting with Australian Importers, Dealers and the Trade Circle. Officials from Sri Lanka High Commission in Canberra and the Coconut Development Authority also were present at the meeting. Consul Commercial had arranged meetings with the PR and Digital Advertising companies for Director/Tea Board in addition to visits to exclusive and speciality tea centres in Sydney during Fine Food 2017.

Australia is one of the major buyers of Ceylon Tea and Coconut Products such as desiccated coconut, virgin coconut oil etc. Sri Lanka's participation at the Fine Food Exhibition provided an opportunity for expansion of these products into the Australian market.