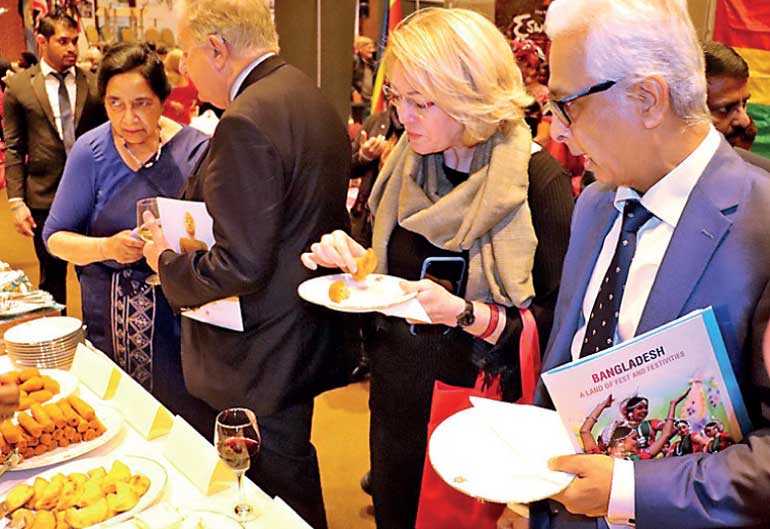 Commonwealth Deputy Secretary-General Dr. Arjoon Suddhoo, High Commissioner of Namibia in London Linda Scott, Commonwealth Countries League President Nalini Paranavitane and Friends of Sri Lanka Association Chairman Sir Peter Heap tasting traditional Sri Lankan snacks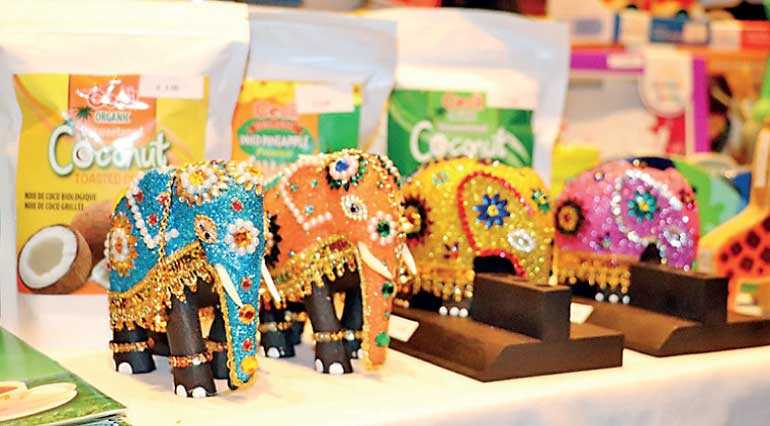 Sri Lankan handicraft and other items at the fair

Chief Guest Lord Tariq Ahmad of Wimbledon, Commonwealth Deputy Secretary General Dr. Arjoon Suddhoo, Royal Commonwealth Society President Lord Howell of Guildford, Commonwealth Countries League President Nalini Paranavitane and Commonwealth High Commissioners at the opening ceremony of the fair
---
The High Commission of Sri Lanka in London participated in the annual Commonwealth Fair organised by the Commonwealth Countries League (CCL) in association with the High Commission of Bangladesh, under the theme 'Empower Girls for Global Peace' at Kensington Town Hall on 9 November.

The colourful Sri Lanka stall, which featured Sri Lanka's non-traditional exports to the EU and UK markets, including wooden toys, soft toys, handlooms, handicrafts, natural beauty products, as well as Ceylon tea and Sri Lankan beverages, was a major attraction at the fair. The Sri Lankan stall also offered delicious Sri Lankan cuisine comprising rice and curry, traditional sweetmeats and short eats.

This year's Commonwealth Fair also included a small ceremony to commemorate the 70th anniversary of the Commonwealth with the participation of its eight founder members including Sri Lanka.

The ceremony was held with the participation of the Minister of State for the Commonwealth, United Nations and South Asia of the Foreign and Commonwealth Office Lord Tariq Ahmad of Wimbledon serving as the Chief Guest, Commonwealth Deputy Secretary General Dr. Arjoon Suddhoo, Marshal of the Diplomatic Corps at the Royal Household Alistair Harrison, Royal Commonwealth Society President Lord Howell of Guildford, High Commissioners of the Commonwealth founder member countries including Sri Lanka's High Commissioner Manisha Gunasekera, Commonwealth Countries League President Nalini Paranavitane and other distinguished guests.

Upon the conclusion of the opening ceremony, which was held under the aegis of Bangladesh High Commissioner Saida Muna Tasneem, a small reception was held for the Chief Guest and invitees at the Sri Lanka stall, where guests had the opportunity to taste Sri Lankan short eats and Ceylon tea.

Commonwealth countries participated in the fair which was held to raise funds for the Commonwealth Girls' Education Fund to support the education of disadvantaged girls across the Commonwealth.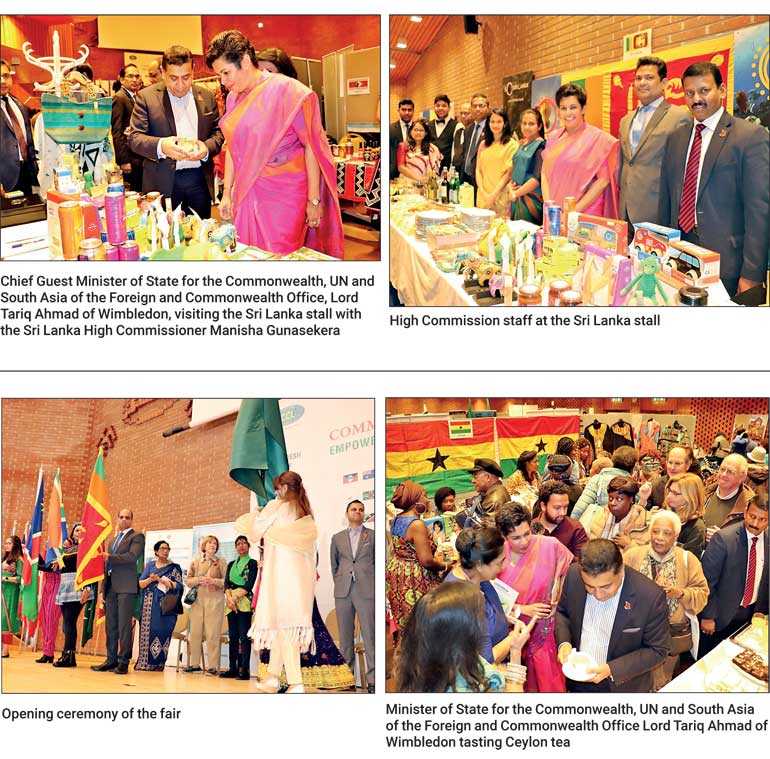 ---