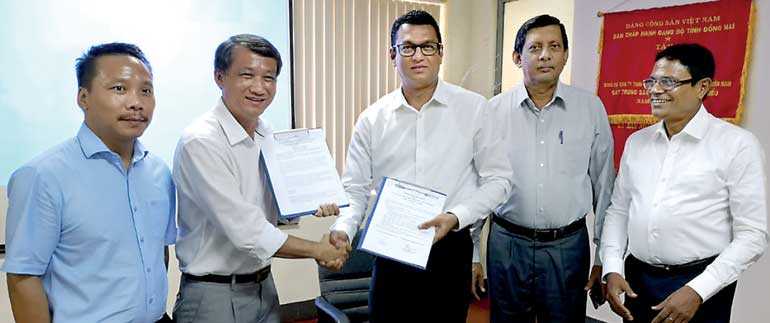 Singer Sri Lanka CEO Mahesh Wijewardene and SWEAM Company General Director Le Viet Hung at the signing of the trade agreement. Singer Sri Lanka Marketing Director Kumar Samarasinghe looks on
---
Singer Sri Lanka recently signed a trade agreement with the SVEAM Company of Vietnam as the sole agent in Sri Lanka for agriculture industry equipment, including VIKYNO two-wheeler and mini-tiller.
Singer Sri Lanka has been a leading company introducing agricultural machines and equipment to the local market and holds the franchise for VIKYNO Farm Master two-wheeler tractor from 2013. With the new agreement, Singer Sri Lanka will be the sole agent for import, distribute and trade all agricultural machinery of internationally acclaimed SVEAM Company Ltd.

VIKYNO Farm Master is the top-selling two-wheel tractor in Sri Lanka since 2015 which is a clear testimony to the high efficiency, durability, popularity and trust bestowed by the farming community of the country.

SVEAM Company has over 50 years of proud history in producing VIKYNO agricultural equipment and machines and operates under the Ministry of Industrial and Trade of the Vietnam Government. Vietnam has earned a name for world-renowned agricultural equipment and SVEAM Company is their biggest agricultural machine producer. They use over 400 equipment and devices in 40 production centres to maintain an annual production of 45,000 diesel engines and 25,000 agricultural equipment. The SWEAM Company has obtained ISO 9001:2008 and ISO 14001:2004 standards and produces machinery for Japan, Germany, France, India, Korea, Singapore and over 20 countries.

Speaking at the signing of trade agreement, Singer Sri Lanka's Chief Executive Officer Mahesh Wijewardene said: "We see immense opportunity to grow the agriculture- related machinery business and will always willing to take the forefront in assisting the farming community of the country. We intend to contribute the fullest to the development of the agricultural sector by introducing many more products in the time to come."

Singer Sri Lanka Marketing Director Kumar Samarasinghe said the company always values indigenous agricultural practices and focuses on uplifting living standard of the local farming community in Sri Lanka: "In doing so we hope to identify machinery that will help to boost crops by providing high efficient service, while easing the labour of farmers and import such machinery and introduce them to local farmers in the future."

Singer Sri Lanka has introduced the FM 250, 12 HP and FM 80, 8 HP, two models of VIKYNO Farm masters, along with VIKYNO mini-tiller, a unique machine which is very effective on hilly terrains, especially for potato and paddy cultivation in sloping hills.

Singer Sri Lanka has an islandwide agents network with an excellent after-sales service that has earned the trust of Sri Lankan consumers. The company has won the Most Popular Brand name and Consumer Brand Name awards continuously over the past 13 years at the SLIM-Neilson annual awards ceremony.