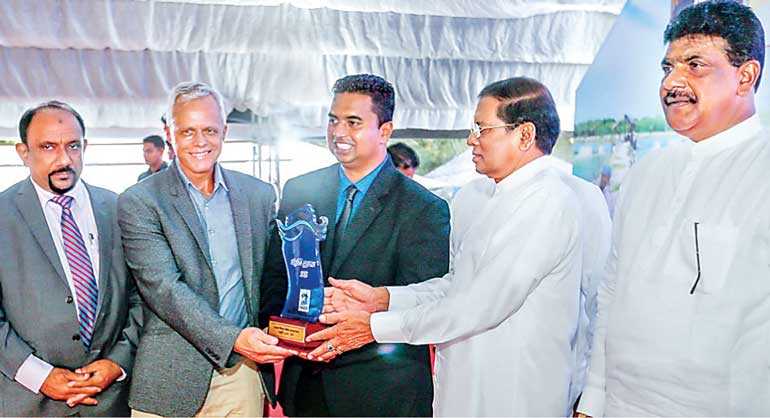 From left: Deputy Minister of Fisheries and Aquatic Resources Development Ameer Ali Shihabdeen, Divron Bioventures Director Dr. Tim Dejager, Divron Bioventures Director Shan Meemanage, President Maithripala Sirisena and State Minister Dilip Weddearahchi
The nation's leading seafood exporter, Divron Bioventures Ltd. was honoured for its significant contribution towards developing and uplifting Sri Lanka's inland fisheries and aquaculture sector recently.

The company received this prestigious award from President Maithripala Sirisena at the 'Miridiya Varuna 2018' awards ceremony organised by the National Aquaculture Development Authority of Sri Lanka. The ceremony was held at the Bandaranaike Memorial International Conference Hall in early October.

The award recognises the company's commitment to develop and grow export markets for sustainable seafood from Sri Lanka characterised by its exceptional quality and high value.

Receiving the award on behalf of the organisation were Divron Bioventures Directors Dr. Tim Dejager and Shan Meemanage. Attending the occasion were Fisheries and Aquatic Resources Development Minister Vijith Vijayamuni De Zoysa, State Minister Dileepa Wedaarachchi, Deputy Minister Ameer Ali, National Aquaculture Development Authority (NAQDA) Chairman Nuwan Prasanna Madavanarachchi, Director General Nimal Chandrarathne and other officials of NAQDA.

Divron was founded in 2015 with local and international expertise by Lankan Meemanage and Canadian-Belgian Dr. DeJager, who together have a cumulative four decades of experience in aquaculture, live and fresh fish and shellfish sales, and in research and development.

Today Divron is based in Pamunugama, and has a strong team of over 50 employees in breeding, grow-out, logistics, packing, and marketing.

Built in Sri Lanka, Divron's successful value chain involves direct participation and benefit to thousands of inland fishers who manage and harvest giant freshwater prawns (scampi) and other fish from the country's inland reservoirs.

The company understands the importance of these reservoirs, and the fisher communities whose livelihoods depend on them, as an important resource for the future growth of aquaculture and fisheries in Sri Lanka.

As its future roadmap, Divron intends to extend this model of development to coastal fisheries and aquaculture utilising lagoons and coastal areas for sustainable production and harvesting of additional products such as crabs, oysters, clams and other crustaceans.

Additionally Divron has also developed a value chain model that has enhanced the capacity of rural communities and integrated it together towards the commercial and technical advancement of sustainable aquaculture.

Collaborating with NAQDA through a Public-Private Memorandum of Understanding, Divron receives the services of the institution and its extension officers in facilitating the development of the value chain.

The development potential of Divron's value chain model has also been recognised by the Australian Government who has supported further enhancements through a contribution from its Market Development Facility programme through Australian Aid.