Following is the speech delivered by Minister of Finance and Mass Media Mangala Samaraweera as the Chief Guest at the Regional Symposium on Sustainable Development Goal organised by the Ministry of Fisheries and Aquatic and Rural Economic Development held last week at the TajSamudra Hotel: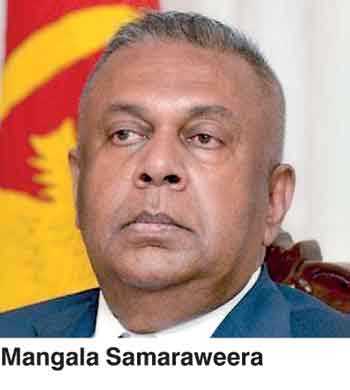 It is a pleasure to address you at this important and timely event.

The 14th Sustainable Development Goal aspires to conserve and sustainably use marine resources. Some of the majorthemes includemitigating the devastating effects of marine pollution, protecting marine and coastal ecosystems, and eliminating Illegal, Unregulated, Unreported (IUU) fishing.

Being an island nation, Sri Lanka owes much to its oceans, as it has become indispensable for industries such as fishing, tourism, and maritime transportation. The fisheries industry comprises close to 2% of GDP, contributes value addition of more than $ 1,300 million, and creates 222,000 direct jobs, supporting more than 191,000 households.

With the reinstatement of GSP+ in May 2017, there has been a125% increase in seafood exports to the EU in the year 2017. This has been one of the major success stories of the Government's efforts to open up market access for Sri Lankan exporters. Sustainable resource management is essential in order to successfully export into markets such as the EU. It is precisely this type of sustainable export industry that was envisaged in the 2018 Budget, themed 'Blue Green Economy: Enterprise Sri Lanka'.

A number of measures were proposed in the Budget to expand sustainable fisheries.A 50% subsidy is given for investing in technology such as refrigerated storage to mitigate post-harvest losses in multi-day boats. Additionally, a 50% subsidy is made available to those who purchase multi-day boats to encourage deep sea fishing. Such measures will enable the expansion of supply to cater to growing demand in these markets.

Rs. 2 billion will be spent in upgrading anchorages and landing sites of fishery harbours including those in Chilaw, Mirissa, Karainaga, and PuranaWella. This will help reduce post-harvest losses and enhance overall sustainability of the industry.

The 'wewaksahithagamak' program with the goal of improving fisheries villages has made significant progress. These programs have been completed in 38 villages, and include livelihood, housing, and social development projects for freshwater and marine fishermen. The objective is to improve social and economic development in this sector, and the government has also taken steps to improve environmental development, to complete the three pillars of sustainable development.

In parallel, it is important to control Illegal, Unregulated, Unreported (IUU) fishing. Fishing methods such as mechanised and bottom trawling have a multitude of negative externalities that need to be addressed in a holistic manner through multilateral cooperation.

Reducing marine pollution and mitigating its effects in Sri Lanka has been prioritised in the 2018 budget under the Blue-Green initiatives, and the Government of Sri Lanka has allocated close to Rs.6 billionto implement long-term solutions to reduce and eliminate marine pollution and developing sustainable fishing practices.

To protect the delicate eco-systems that thrive on coasts, as well as to create further investments in the tourism and fisheries industries, measures are taken to replenish and conserve the coast in areas such as Mt. Lavinia, Ratmalana, and Angulana. Programs for mangrove protection and replanting are also being financed by the budget.

The Government is taking initiatives to protect numerous lagoons around the island so as to restore their unique eco-systems and making them resilient to climate change. Hotels and other industries that dispose their waste to the ocean and lagoons will be assisted in investing in technology to ensure zero discharge of waste.

The tourism sector stands to benefit significantly from sustainable management of marine resources. Accordingly, areas such as Pigeon Island, Bar Reef, and Delft Island have been declared as conservation and marine protected areas.Several conservation measures have been adopted to protect turtles, dolphins, sharks, whales, and other marine animals by establishing the regulations under the relevant legislation.

In order to build on these initiatives and ensure longevity, a virtual institute for the blue-green economy has been launched as a pilot project, to create and sustain spinout programmes identified under the Blue-Green initiative.

TheGovernment of Sri Lanka will show continued commitment to the conservation of marine resources and sustainable industries associated with it. I trust this symposium will further strengthen our shared knowledge on best practices relating to sustainable development of maritime resources.