By Lanka Commodity Brokers Ltd

The auction prices paid for Orthodox teas from the High and Medium elevations showed a fair improvement when compared to the previous months, where the sale averages had been declining month-by-month from February 2018. CTC teas from these two elevations also followed a similar trend, with increases seen in the averages of July. Crop intakes, on the other hand, are at an all-time low on the Western Estates, which has sent the current costs of production to alarmingly high levels, following which most estates are now facing a loss situation.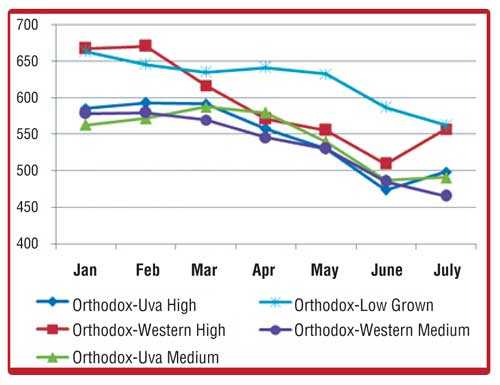 The dilemma faced by the Low Grown factories continued to worsen in July. Auction averages which commenced at Rs. 663.45 in January, have been steadily declining over the ensuing months, and last month's average has dropped to Rs. 562.47. Low Grown producers, who account for a little over 60% of the national tea crop, are facing a crisis over the continuing losses they have to suffer month after month from January this year up to date, as the green leaf from smallholders is purchased based on the factory average of the previous month, in keeping with the Sri Lanka Tea Board regulations.

At this week's auction, a total weight of 6.5 Mkg was on offer. Low Grown teas accounted for 3.1 Mkg, whilst the Ex-Estate High Grown quantity was 0.8 Mkg. The better-made Low Grown leafy grades held firm but secondary type teas were discounted. In the Tippy catalogues, the well-made FBOP's and FBOPF1's held firm, whilst others were irregularly lower. Iran was selective. There was fair demand from Saudi Arabia, Kuwait, Syria, U.A.E and Turkey. Iraq, too, was active for bottom level teas.

A range of improved Ex-Estate Uvas with seasonal quality saw dearer prices, with buyers closely following quality. The selection of better liquoring Westerns too were much dearer, whilst below best teas gained to a lesser extent. The best available teas were supported by buyers for Europe and Japan. There was maintained demand from Hong Kong and Japan for cleaner teas in the below best category, whilst Russia was active for "Tea Bag" types.