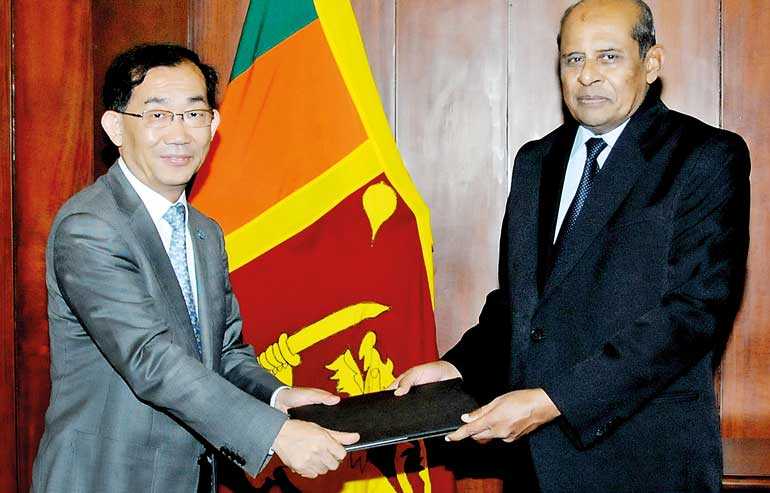 Xuebing Sun presents his credentials to Minister of Foreign Affairs Tilak Marapana, as the new FAO Representative in Sri Lanka
---
Xuebing Sun presented his credentials to Minister of Foreign Affairs of the Democratic Socialist Republic of Sri Lanka Tilak Marapana, as the new Representative of the Food and Agriculture Organization (FAO) in Sri Lanka, at the Ministry premises on Monday, 10 June.

Sun is a Senior Environmental Economist by training with 32 years of working experience in the field of climate change, biodiversity conservation, natural resources management, chemical management, agriculture, poverty reduction, rural development, circular economy and green growth in Asia and Africa.

Xuebing Sun advocates for stronger roles by the state systems and private sector in sustainable development. Sun notes that institutional strengthening, integrated strategic planning, improved policy processes and a programmatic approach with exposure to social justice and public participation are important for ensuring long term sustainability of development results.

Prior to his appointment in Sri Lanka, Sun, served as Senior Climate Economics Advisor (Asia) and Managing Director for China at Solidaridad Network Foundation in 2018, Assistant Country Director and Team leader for Energy and Environment at United Nations Development Program (UNDP) China in 2008. He has also held senior technical positions in Department of International Development (DfID, the UK), Worldwide Fund for Nature (WWF), World Food Program (WFP), International Fund for Agricultural Development (IFAD), United Nations Environment Program (UNEP), and the Department of Agriculture in China.

Sun, a national of China, holds a PhD in Environmental Economics from Wuhan University, China. He succeeds Nina Brandstrup as FAO Representative for Sri Lanka and the Maldives.