Nelfarms celebrated their 75th Anniversary in Business at the Cinnamon Grand Hotel along with shareholders, family, staff, industry stakeholders and guests. The company took the opportunity to recognise longstanding staff members who have made outstanding contributions to the company.
Noorani Estates Ltd. (N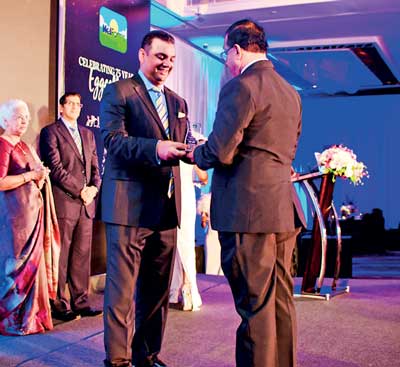 elfarms), which was incorporated in 1942 with the objective of purchasing and managing tea, rubber and coconut estates, is a family owned business, which is now in its sixth generation consisting of 45 shareholders in total. The origins of Nelfarms began in a coconut estate in Walahapitiya Nattandiya, where the company decided to diversify into livestock. Nelfarms has since has grown from an estate driven poultry business. Due to the seamless demand for their products, Nelfarms kept expanding annually until poultry became its core business.

In 1975, Seven Hills Ltd. was incorporated as a wholly owned subsidiary of Noorani Estates Ltd. situated at the foothills of the Seven Virgins mountain range in Maskeliya. The focus was on poultry production, dairy farming and dairy food processing.

Noorani Estates Ltd. or Nelfarms as it is more fondly known is one of the largest poultry farming operations in Sri Lanka today. They were one of the pioneers in catering to the protein requirement of the whole nation by supplying clean, safe and high quality table eggs to the entire island.

Nelfarms is a fully integrated poultry business, consisting of Breeder farms and Hatcheries where they produce both commercial layer and commercial broiler day old chicks. The company is a registered feed miller and produces their own feed. All raw materials both Local and imported are carefully selected for the highest quality.

The quality of raw materials, finished goods and the health status its flocks are constantly checked through the company's well equipped laboratory. Nelfarm carries out its own product distribution to ensure that the high company standards are maintained throughout the entire process.

In 2003 the company purchased 50 acres of land in Mangala Eliya which is located in the Puttalam District and began to expand its commercial layer operation to increase table egg production, in order to keep up with the growing demand.

The establishment of seven hills farm, nestled at the foot hills of the seven Virgins mountain range in Maskeliya further strengthened the sector in 2008 with the construction of a state-of-the-art commercial layer farm.

"The company will continue to expand and is on a continuous search for suitable land,Nelfarms will continue to stay true to our vision of delivering innovation, health and Nutrition through our products in the years to come," says Noorani Estates Ltd. Director Noordeen Sethwala, adding that the committed management team, experienced and skilful workforce and usage of cutting edge technology assure the continuous development of Nelfarms.

Nelfarms is a responsible corporate organisation that has a strong commitment to conserving the environment. Nelfarms maintains its commitment to the environment at all levels of production.

Manufacturing our very own paper pulp egg trays and cartons using waste paper is just one way in which we achieve this goal.

The company has also invested in renewable energy with the implementation of a 1 mega watt roof mounted solar energy plant at our breeder farm in Walahapitiya. This has helped us set a benchmark in Sri Lanka while minimising their carbon footprint.

As Nelfarms celebrates 75 years, they can take pride in being one of the largest producers of table eggs and day old chicks in Sri Lanka.