Inaugural MOD Dairy Enterprise Day is attended by nearly 1,000 dairy farmers, processors, input and service providers

Appreciation of progressive dairy farmers working towards developing model farms and sharing their best practices with fellow dairy farmers

Appreciation of progressive dairy farmers working towards developing model farms and sharing their best practices with fellow dairy farmers
---
Market-Oriented Dairy (MOD) Project held its inaugural Dairy Enterprise Day on 12 July to showcase dairy management best practices, recognise and encourage progressive dairy farmers and raise the profile of suppliers of inputs and service providers.

Together with the Project's partner dairy processors, MOD is building capacity in the value chain to meet the growing demand for quality milk by increasing farm productivity and expanding the trade of locally produced milk and dairy products.


Held in a farm setting in the north central province, the full day event offered opportunities for knowledge enhancement, exposure to new technologies and innovations and creation of business linkages. Agriculture, Livestock Development, Irrigation and Fisheries and

Aquatic Resources Development Minister P. Harrison, present as the Chief Guest and Guest of Honour USAID Mission Director Reed Aeschliman also launched 'SAVIYA' the mobile extension message service for the dairy sector developed by MOD in partnership with Dialog Axiata.
Dairy entreprenuers, input retailers, commercial fodder cultivators who shared their experiences after adopting MOD best practices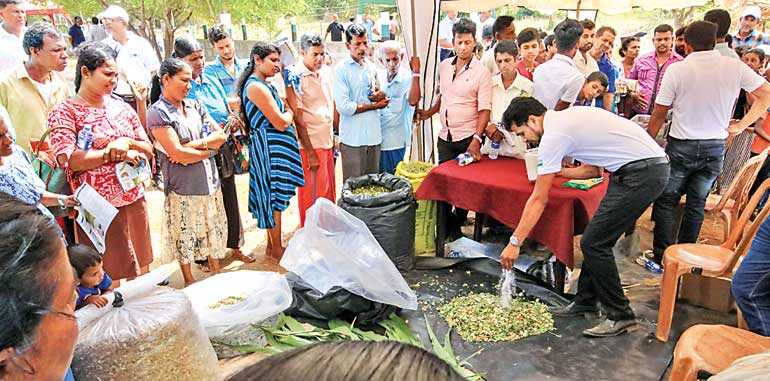 Demonstrating correct procedure to make silage to ensure year round availability of feed
---


'SAVIYA' will support existing extension efforts by the Department of Animal Production and Health (DAPH), Provincial DAPHs and Dairy Processing Companies enabling a broader reach by providing registered dairy entrepreneurs/farmers with time bound technical messages linked to the lactation stage of animals from pregnancy to calving including calf management.

Impressed with the ability to disseminate critical information to dairy farmers in a timely manner, Minister Harrison said: "I am pleased to launch the first mobile extension services for dairy in Sri Lanka. I have no doubt it will be extremely useful to dairy entrepreneurs and will complement existing services of public and private sectors."

Commenting on the overall event, the Minister added: "A few years ago the dairy farmers were feeling discouraged and I believe the Market-Oriented Dairy Project funded by the United States Department of Agriculture has stepped in at the right time giving a much-needed boost to enhance the capacities of our dairy farmers and the sector."


With MOD completing one year of on-ground interventions since its official launch in May 2018, MOD Project Director Matthew Krause stated that "the Dairy Enterprise Day is yet another major step in enhancing the dairy sector of Sri Lanka. We believe these farmers will gain much value out of the exhibition which exposed them to the best practices in dairy farming, new techniques and technologies and direct interaction with suppliers of services and inputs. These include 20 companies representing inputs and equipment suppliers such as silage, fodder, dairy and cultivation related equipment; three financial institutions; and representation of services provided by both the animal production and health and agriculture departments in the North Central Province".With the Minister and Aeschliman recognising MOD's model farmers as well as dairy entrepreneurs who have excelled in increasing milk production having applied the learnings from MOD interventions, Krause added: "Our primary objective is to produce more milk with less cows by empowering dairy farmers with knowledge of best practices in dairy management and milk quality improvement as well as in business basics and planning. Already, among those trained, adopting just one best practice has shown 1-3 litres of increase in milk production per cow."
"USAID Mission Director Reed Aeschliman: "I am happy to be a part of this event for two reasons. One, to help dairy farmers like you to strengthen your knowledge, adopt new technologies and innovations like the SAVIYA service launched today, and to facilitate networking and important business linkages. Second, and most importantly, today's event also represents one of the most important shared goals of the Governments of the United States and Sri Lanka: to help ensure Sri Lankans live in food secure households, eat nutritious food, and have opportunities for sustainable prosperity within their communities"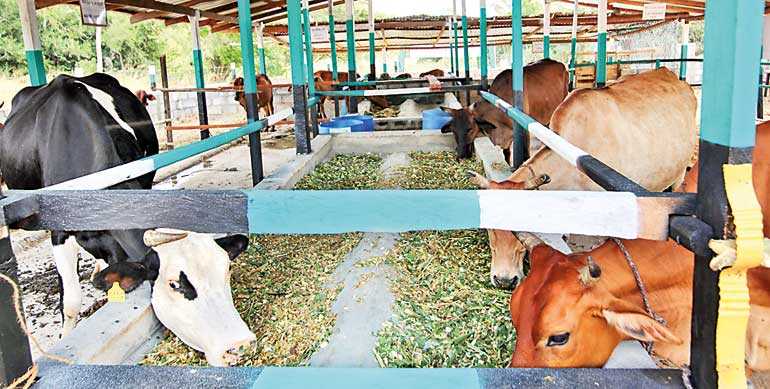 Loose barn model ensuring the five freedoms for livestock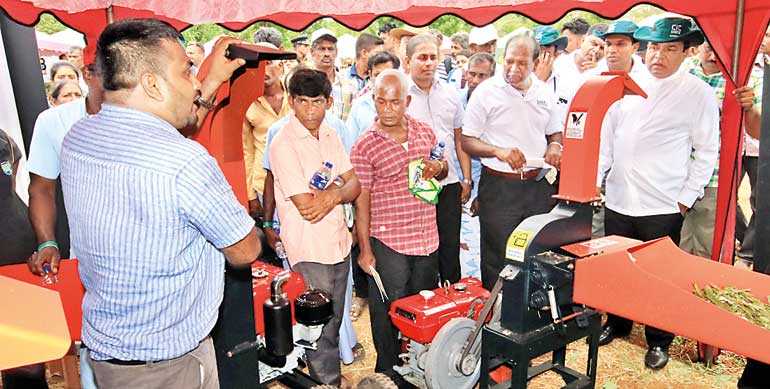 One of the 20 suppliers exhibiting their products and inputs to the dairy sector demonstrating a grass chopping machine
---
MOD Project holistic approach to developing the sector has led to the development of multiple partnerships across the sector, including the All Island Dairy Association (AIDA). These participants across the dairy value chain receive critical skills and training to help them create sustainable and profitable businesses.

The project's unique approach to reach dairy farmers through the processors, large and small, assure a market for the increased milk production by these farmers. The project also facilitates financing and investment opportunities.
Future activities include helping to raise public awareness of the benefits of fresh milk consumption. It is expected that providing the necessary knowhow as well as equipping the dairy sector to have a more business-minded approach will help create sustainable businesses, raise the profile and build pride in the role they play in the national economy.Market-Oriented Dairy (MOD) Project (www.market-oriented-dairy.org), based in Sri Lanka, is funded by the USDA Food for Progress Program (www.fas.usda.gov/programs/food-progress), and implemented by IESC (www.iesc.org). The project aims to double the milk production of participating dairy farmers and enable them to obtain a higher price premium for fresh milk through interventions primarily designed to enhance their technical knowledge and create an entrepreneurial, business-oriented mindset. The project also supports enterprises along the dairy value chain to meet the demands of the country's dairy sector to catalyse a sustainable growth.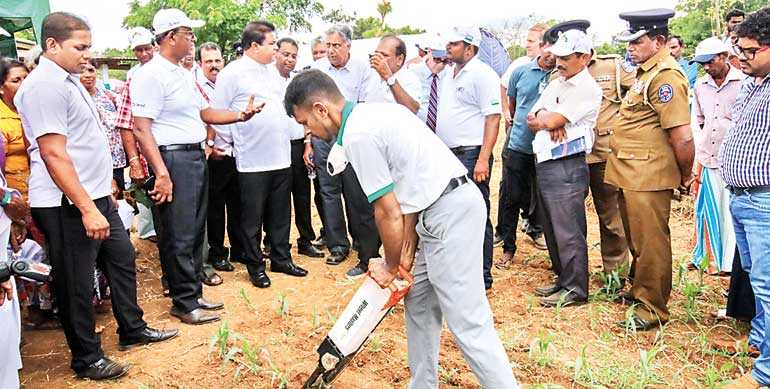 Atabatta seeder demonstration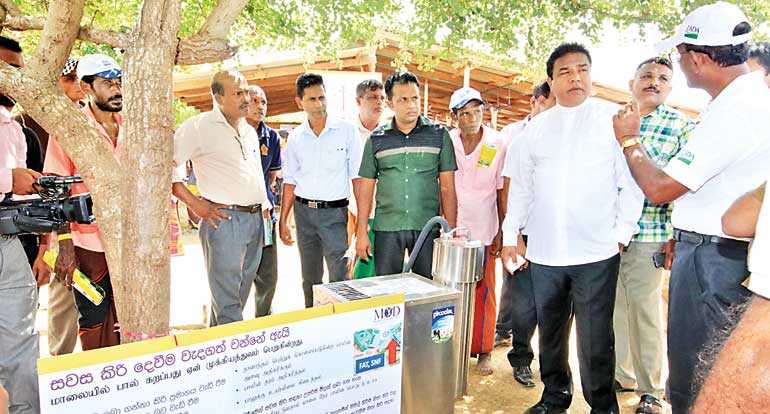 Demonstrating Dipcooler which facilitates chilling of evening milking enabling higher income for dairy farmers