From left: Prasanna Hettiarachchi (Moderator), Dr. Rohan Wijekoon (World Bank – Agriculture Modernisation Project), Chamara Ranasinghe (Sri Lankan Airlines), Gayani Wijayathilake (Export Development Board), Colin Wells (Panalpina), S. Gnanaskandan and Harsha Karunaratna (representatives from Lanka Fruit and Vegetable Producers, Processors and Exporters Association)
---
Envisioning a brighter future for the Sri Lankan agriculture sector
MIT Cargo Ltd., the exclusive agent in Sri Lanka for global supply chain solutions giant Panalpina, recently conducted a breakfast forum and panel discussion with key industry stakeholders focusing on the development of the perishable (fruit and vegetable) industry in Sri Lanka. The forum themed 'Let's Talk Perishables' was a collective of industry experts who shared their knowledge and expertise in relation to revitalising the Sri Lankan perishables market.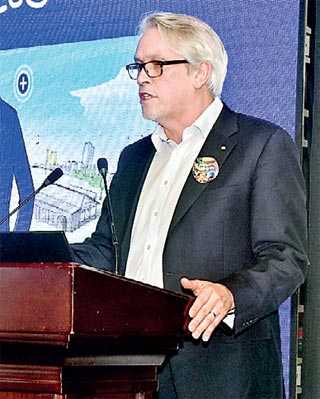 Panalpina Global Head of Specialty Vertical Perishables Colin Wells sharing his thoughts on global trends
MIT Cargo also engaged the global head of Perishables for Panalpina, Colin Wells, who visited Sri Lanka with the main intension of sharing his insights on this highly sensitive sector. During the session Wells shared his views on how Sri Lanka can better position the country's perishables in the global arena and how all stakeholders must work in tandem to achieve that. This gave a rare opportunity for all concerned parties to openly discuss and exchange ideas on a common platform with the shared purpose of improving the Sri Lankan agriculture sector with emphasis on export agriculture, a sector which has seen a downturn in recent years.

The panel of experts who graced the occasion consisted of Panalpina Global Head of Specialty Vertical Perishables Colin Wells, Export Development Board of Sri Lanka Export Agriculture Division Assistant Director Gayani Wijayathilake, Sri Lankan Airlines Head of Cargo Chamara Ranasinghe, Agriculture Modernisation Project Director Dr. Rohan Wijekoon, Lanka Fruit and Vegetable Producers, Processors and Exporters Association (LFVPPEA) Representatives, Eastern and Allied Agencies Ltd. Director S. Gnanaskandan and Transgrow Ltd. Director Harsha Karunaratna and was moderated by Saraketha Organics Founder and Managing Director Prasanna Hettiararchi.

The panellists shared insights on growing global trends such as consumer ethics and increasing demand in natural/convenient food products and went on to discuss concerns on the vulnerability of Sri Lankan perishables due to production limitations coupled with the wide variety of products, seasonal fluctuations, infrastructure development potential of Sri Lanka, post-harvest loss prevention strategies and their effect on the value chain amongst many other topics.

The forum also emphasised on the vulnerabilities Sri Lanka's agricultural sector would face, if the country was to continue to operate in silos with short-term plans. The panellists also shared their views on utilising their individual specialties in working towards the common purpose of establishing Sri Lanka as a globally recognised supplier of perishables. The rationale behind MIT Cargo stepping up to organise a forum of this nature was to highlight the importance of bridging these gaps amongst industry stakeholders.

With an extensive focus on the global perishables industry, Panalpina has chosen Sri Lanka from 160+ representative countries, under its Panalpina Perishable Network to support and develop the agriculture industry in Sri Lanka. With the support of its global network, Panalpina Sri Lanka (MIT Cargo) initiated this project to connect all parties in the industry and embark together on a journey to understand and achieve Sri Lanka's true potential in the perishable industry.

The Panalpina Group is one of the world's leading providers of supply chain solutions, headquartered in Switzerland. The company combines its core products – Air Freight, Ocean Freight and Logistics – to deliver globally integrated, tailor-made end-to-end solutions for twelve core industries. The Panalpina Group operates a global network with over 500 offices in around 70 countries, employing over 14,500 people worldwide. The company has been represented in Sri Lanka by MIT Cargo (Pvt) Ltd, since 1988.