The delegates at the DABD

The delegates with the Director of DABD - TNAU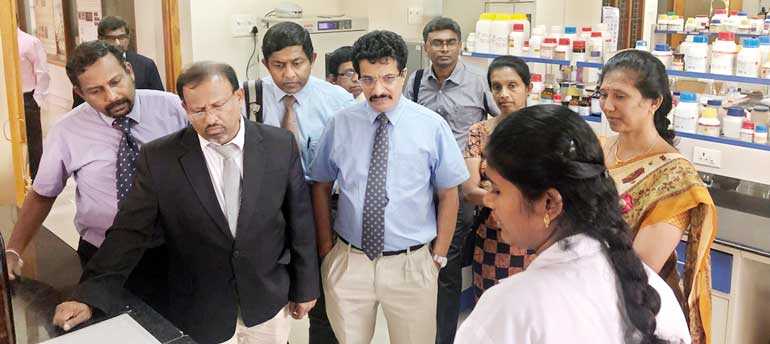 The delegates at the nanotechnology laboratory of the TNAU
---
A group of senior academics representing the Agribusiness Centre of the Faculty of Agriculture of the University of Peradeniya paid a visit to the Directorate of Agribusiness Development of the Tamil Nadu Agricultural University (TNAU) to learn about successful agribusiness models in India. The program is funded by the India-Sri Lanka Foundation (ISLF).
The TNAU is a leading agricultural university in South Asia that was established as far back as in 1906, and the Directorate of Agribusiness Development (DABD-TNAU) is functioning as an outreach arm of the TNAU; it provides a one-stop solution to all the business, entrepreneurial and technopreneurial needs of South Asian communities and technology developers. The activities led by the DABD-TNAU are accessible to anyone who is interested in any particular branch of agriculture such as agronomy, farming automation, horticulture, plant protection, post-harvest technology and other value addition activities.

The DABD-TNAU functions with the vision of benefiting the farmers by enabling easy access to new and improved agricultural technologies and innovations developed by researchers, and other services. Moreover, the DABD-TNAU is involved in technology transfer through its network of Technology Business Incubators, and the services provided by these facilities are in great demand and much appreciated by a large number of farmers operating at various scales.

This incubation concept has gained momentum across the globe and has resulted in the creation of start-up ventures, which gradually develop and establish themselves as stable companies, some of which even incorporate IT solutions for agriculture. Indian Central Government Agencies such as ICAR have recognised the Agribusiness Incubators system administered by TNAU.

Professor Gamini Puhspakumara, Dean of the Faculty of Agriculture, led the university delegation. The ISLF funds immensely useful to Sri Lankan agriculture experts by giving them the opportunity to visit Tamil Nadu and gain familiarity with a wide range of successful approaches adopted by the DABD-TNAU says Professor L.H.P. Gunaratne, Director of the Agribusiness Centre.

He added that during this field tour the group closely observed and study various processes, such as the incubation of start-up companies formed with the expertise of DABD-TNAU, business promotion, technology support and handholding services, commercialisation of TNAU technologies, market linkages development, promoting student entrepreneurship, patenting of innovative processes and products, and the TNAU's innovative culture setting. He further appreciated the support of the India-Sri Lanka Foundation.