---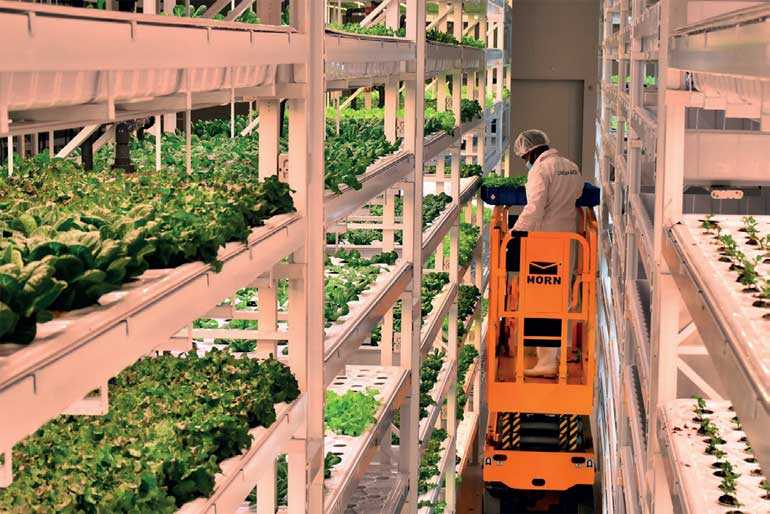 Picking the produce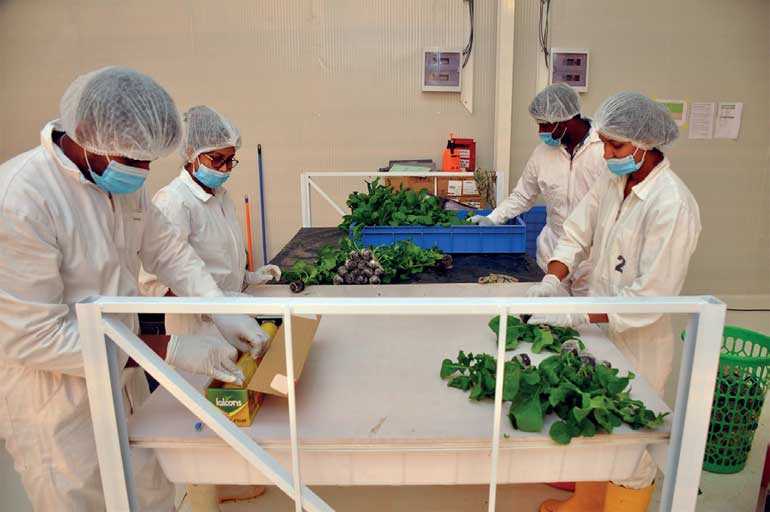 Preparing the produce
Packaged produce
---
By Shailendree Wickrama Adittiya

Availability and affordability are two main barriers to a healthy diet around the globe, but this is especially true in Sri Lanka. While nutritional diet plans often consist of foods like leafy greens, berries, seeds, and nuts, the unavailability of these at affordable prices in local supermarkets is a challenge many face.

While there are many contributing factors to this, domestic food production affects both the availability and affordability of healthy foods, especially leafy greens. Many who work in Colombo and its suburbs will admit to opting for a lunch of rice and curry over a salad due to the price of the latter.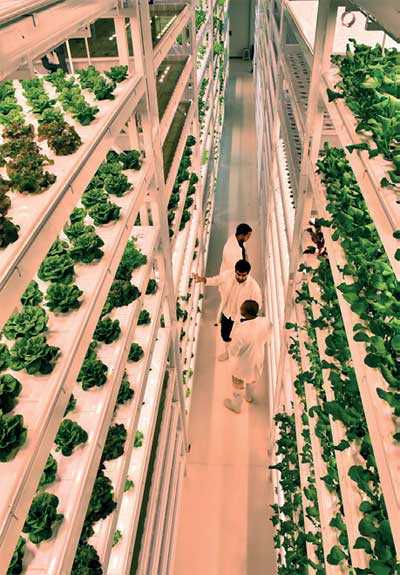 "Both research and historical trends on food consumption have witnessed that the Sri Lankan population, particularly vulnerable groups such as the poor, are sensitive to food prices," states a policy brief titled 'Food prices: An effective way of shifting diets towards healthier habits in Sri Lanka' by the Food and Agriculture Organisation of the United States and the Peradeniya University.

It adds: "To manage high prices of imported food, people have substituted wheat-based food items with rice-based food items."

While domestic production of healthy foods like kale can encourage consumers to switch to a healthier diet, it also ensures food security, which is the availability of food and one's access to it.

Contributing to food security is one of the main objectives of Honest Greens, a local vertical farm co-founded by Aneeshan Tyagarajah, Sanuja Cooray, and Ashish Advani. Friends for 24 years, the three schooled together and founded the company at the end of 2015.

The vertical farm is located close to Dankotuwa, a one-and-a-half hour drive from Colombo, and provides locally-produced, fresh, and environmentally-conscious greens to select supermarkets, UberEats, as well as the HoReCa (hotel, restaurant, and café) industry.

Daily FT visited the Dankotuwa farm and spoke to the trio to get a better idea of the operation and the benefits of vertical farming.


Where it all began

The early years were focused mostly on research and development and their research showed that due to Sri Lanka's geographic location near the equator, the country would be among the first to be affected by global climate change. "So we went on a journey to figure out the best way we could implement climate-resilient technologies in Sri Lanka," explained Advani.

The Honest Greens journey began with spinach. According to Cooray's retelling of the story, they went around the world learning about hydroponics and related fields. They then grew a small spinach plant in Tyagarajah's cupboard. "That plant tasted better than any spinach plant we have ever tasted, so we knew there was something here but we needed to make it financially feasible," said Cooray.

Thus research and development continued for three-and-a-half years, a trial-and-error process that started with a small office space in Colombo. Once they had a better understanding of how the operation would function, Cooray, Advani, and Tyagarajah spent two-and-a-half years setting up the facility in Dankotuwa.

"We decided that we needed to help Sri Lanka bring a change in the agriculture sector. There is a lot of infrastructure development with a lot of hotels and new businesses coming up but no one was investing in the agricultural sector," explained Advani.

The project was self-funded by Cooray, Tyagarajah, and Advani, but they also received a grant from the World Bank under the agricultural sector modernisation project category.

Cooray studied business initially but later dropped out, eventually going on to study technology; Advani left the country to study business and supply chain management and so did Tyagarajah, who studied business in the UK. It was once they returned to the country that the three friends teamed up to start Honest Greens.

None of them have previous experience in agriculture, but they make up for it by being as thorough as possible with research, while also expanding their knowledge by attending exhibitions, hydroponic training programs and seminars. Having done a lot of research into the operation, they started commercial operations in April 2019.

They also surround themselves with the right people, hiring according to necessary knowledge and experience. Upper management handles the crop science and agricultural aspect, while the local State university curriculum at relevant departments have good agricultural programs that are enhanced through the special training they receive at the farm. Training takes place onsite.

According to Advani, most of the people on the factory floor are employed from the area and do not necessarily have agricultural experience. However, tasks are allocated depending on their skill level. At present, there are 25 individuals in the Honest Greens team.


The future of farming?

What motivated Cooray, Advani, and Tyagarajah to start Honest Greens was the lack of high quality and fresh produce available locally.

"If you look at it from a holistic approach, if you have an unhealthy population, how is it going to be a productive nation? There are things like that that toyed with us," Advani said, adding that there had been a huge change in the local diet, with the increased consumption of carbohydrates.

In addition to this, climate change is causing vegetable prices to constantly increase and Advani said this would at some point become a major economic issue. "Not that we can save the whole economy, but we are trying to make a change from wherever we can," he added.

While the futuristic farm was a concept they were excited to work on, the increasing need for agricultural land was also a reason to invest in the project. According to Tyagarajah, Sri Lanka needs over 10% additional agriculture land to meet rising demand. This is a concern given the lack of land to grow crops on. Vertical farms address the land issue to a great extent.

"We had no idea where we were going to find this free land to grow crops so that is one of the reasons we started this. Hopefully, in the future, we can grow more local crops and cater to different segments in the country as well," said Tyagarajah.

Cooray added that, in the future, not all agriculture would be similar to this concept with various segments expected to expand. And he believes that vertical farming has the potential of playing a larger role in the agricultural sector.

"Land in central city areas will become more expensive so we have to go further and further up, but then there are more transport miles," Cooray said. "Abroad, these types of farms are in the city. They are literally one km away from the restaurants. So it's a completely different ballgame."

While Honest Greens is located quite a distance away from Colombo, the availability of land was the key factor for choice of location. The land belongs to Tyagarajah's family and is conveniently located close to the Bandaranaike International Airport, through which export orders are sent, with easy access to the Colombo and down south markets as well.

Said Tyagarajah: "Traditionally, these are all up country vegetables so the delivery truck would take around seven hours just to get to Colombo, whereas for us, within an hour-and-a-half, we can be there to service our customers."

Honest Greens currently supplies to Negombo, Colombo, and Galle, but plans to expand to Ja-Ela, Gampaha, Kalutara, and Kandy.


State-of-the-art operations

The technology implemented at the Honest Greens farm differentiates them from traditional farms. Firstly, Advani said, there is no use of pesticides and insecticides. Their water footprint is also lower than traditional farms as Honest Greens uses a recirculating system.

"Furthermore, we are able to control the environment in which the plants live. This allows us to play with elements such as the temperature and humidity. By being able to control these parameters, we are able to give a season-less product," Advani added.

"The prices of vegetables in the market are fluctuating. During the season, they are very affordable but during off-season, very expensive. We give a flat price throughout the year so that consumers are unaffected by these changes."

The products thus benefit consumers and the HoReCa industry in terms of availability, but there are many more benefits in opting for Honest Greens, one of the main highlights being the taste profile.

Cooray described first-time consumers' reaction to their leafy greens, as being taken aback by how crunchy and fresh the produce is. "This is something completely new for them and then we tell them the plant has been in the pack for one week and it blows their mind," he added.

There are three main benefits to the way Honest Greens grows its produce. The first is the premium quality produce, the second is guaranteed delivery, and the third is the fixed price. In addition to these key benefits, consumers also benefit from zero use of pesticides.

Besides the product itself, Honest Greens considers the technology used within the farm as another benefit of the operation. "This is being done around the world. However, we have had to make it fit the Sri Lankan market context," Advani explained.

According to Cooray, the computer control system used at Honest Green was built in-house and allows the top management to monitor and track the farm throughout the day. This sets it apart from traditional farming methods, especially regarding remote monitoring and tracking.

The computerised system allows them to change settings, whether it is of lighting or irrigation, from a mobile device or laptop. This allows the trio to instruct the team working within the facility on operations even if they are not physically present at the farm.

"Agriculture is a very haphazard sector and we are trying to bring more technology and streamline these processes," Advani said.

In addition to the technology used and the fresh produce grown at the farm, the entire supply chain remains in-house. This gives Cooray, Advani, and Tyagarajah more control over the operation, ensuring the quality of the product. From importing seeds from countries like the Netherlands to germination, growing, packing, and delivery, the entire operation takes place at the Dankotuwa facility.

The agriculture supply chain traditionally requires a number of middlemen between the farmer and the consumer, which results in higher priced products and delays. What sets Honest Greens' vertical farm apart is that it leaves no room for middlemen and intermediaries, enabling them to get the product to the market faster and fresher.


Sustainability balancing act

Launching and expanding the operation was not without its challenges, with one of the main challenges at the beginning being convincing people to buy their product.

As Advani explained, when they first started the project, many people had spoken about the fertile soil in the country as well as the ease of agriculture and the belief that a plant would grow anywhere you throw a seed in Sri Lanka.

While this may have been true in the past, the challenges in the agriculture sector are increasing, especially with climate change, high usage of fertiliser and water, and the increasing redundancy of land.

People still had doubts about the futuristic vertical farm but their minds easily changed when they realised the produce was fresher and had a better taste profile. Consistent delivery, regardless of weather or season, was another factor that convinced the HoReCa industry to purchase from Honest Greens.

While food security was one of the driving forces in setting up the vertical farm, Cooray said their "ultimate goal is to be one of the most sustainable agriculture companies in Sri Lanka and in the world". This also means a premium product produced in the most sustainable manner and available at a good or fair price.

However, sustainability is where they are having some trouble. Honest Greens currently uses plastic packaging and this is an area they are working towards improving, but concerns remain about how this would impact the price of the product.

The packaging used at the moment is a modified atmospheric packaging which keeps the product fresh for a longer period of time, further enhanced by the Honest Greens practice of selling a living plant to the consumer as opposed to the stems and leaves only.

"Sri Lanka is a price-sensitive market so we will slowly phase it in. Our produce is already sold at a slight premium because we fix the price throughout the year so we did not want to add that burden onto the consumer just yet," Advani said.

Added Cooray: "We want to switch to wire plastic, a biodegradable form of plastic made from starch. We get heat for the plastic, but that is what helps maintain the freshness of the product to the consumer. We are looking for a compostable alternative that would meet all our criteria."

However, packaging is only an issue with the produce sold directly to the consumer. Their deliveries to the HoReCa industry are made in food-grade reusable plastic crates.

Cooray added that they were also looking at getting a water conscious certification due to their water saving practices. Solar power is also something they are looking at, in line with their goal to be a carbon neutral company someday.

"We will be producing fresh, quality greens, without any negative externality to the environment. That is the final goal," stated Cooray.

Honest Greens also recently received the Sri Lanka Good Agricultural Practices (SL-GAP) certification and is in the process of receiving International Organisation for Standardisation (ISO) certification for the entire process that takes place at the farm.

"Usually, it is only given for the packing process, but with how and what we are growing our leafy greens, we are able to get it for our entire process," Advani said, noting that the certification would make the produce more attractive to international buyers.


What comes next?

Close to a year of commercial operations has seen a growing demand for Honest Greens produce, both locally and internationally. They are now planning on exporting to take the brand beyond the local market.

As the company grows within Sri Lanka though, Honest Greens is also looking to expand to the South Asian region. A number of countries in the region rely of food imports and this poses many food security problems. By taking the concept to other countries, the trio aim to address some of these issues.

"There are opportunities for us to set similar types of farms in neighbouring countries as well, so we hope to pursue them," Advani said, while Cooray added they were also looking at new varieties and business models too.

Consumers can also expect more in terms of product range – Currently Honest Greens sells kale, rocket, Swiss chard, lettuce, basil, and mixed blends, but hopes to expand beyond leafy greens.

"The reason we chose Honest Greens is that the brand has legs. We can go into Honest Berries or Honest Flowers. There is an additional pipeline we are looking at but the economic feasibility of doing those things right now is not so great," Cooray said.

He added that as their work and the technology improve, they plan on expanding and diversifying.

While Honest Greens has the potential of further expansion in Sri Lanka and in South Asia, it would be remiss not to acknowledge the exemplary efforts of Cooray, Advani, and Tyagarajah in improving food security, and planning for a future many of us may not be prepared for.
Pix by Indraratne Balasuriya
A practice of growing crops in layers that are stacked vertically as opposed to a traditional horizontal layout, vertical farming often uses a controlled environment as well as soilless farming techniques. At Honest Greens, the equivalent of 20 acres of crops are grown in an area of 1,000 square feet.

The source of water at Honest Greens is a tube well in the premises and the water is subjected to various filtration processes before use. Reverse osmosis (RO) pulls out the nutrients in the water and ultraviolet (UV) purification kills any microorganisms in the water.

Proprietary nutrient solutions are then added to the purified water and the entire process purifies raw water, turning it into RO water, to which a solution is added. The water is then stored in nutrient tanks and used depending on the requirement.

Inside the farm, one will find rows of stacked layers in which the various leafy greens are grown. Seeds are imported from around the world and germinated here. These are then transported to grow towers, where horticultural lights aids in the growth of the plants.

The farm is equipped with technology built in-house that can be accessed remotely and the climate and nutrient control systems constantly monitor the growing environment. A humidifier extracts water from inside, ensuring the humidity is lower inside than outside. There is also no contamination between the inside and the outside.