Kushani Rajapakshe, HR and Corporate Sustainability Deputy General Manager Anuruddha Gamage, Hayleys Plantations Managing Director Dr. Roshan Rajadurai, National HR Conference 2019 Chairman Ajith Bopitiya, CIPM President Dhammika Fernando, Great HR Practices 2019 Chairperson Rajee Ravichandran, Krishna Chathuranga and Sangeetha Dharmasekara
---
Leading Sri Lankan regional plantation company Hayleys Plantations continued to set new benchmarks for the domestic industry, bagging the Gold Award for Great HR Practices for the second consecutive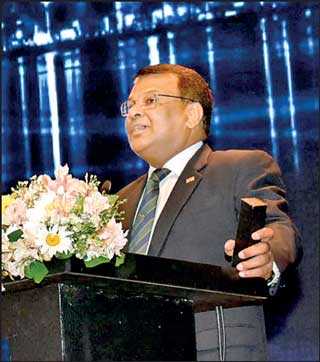 Dr. Roshan Rajadurai presenting the success story for the gathering at the National HR Conference 2019
year at the recently concluded Chartered Institute of Personnel Management's (CIPM) National HR Conference 2019.

This year's award was presented to Hayleys Plantations in recognition of its Green Learning Drive, a pioneering program incorporating a knowledge-driven culture towards sustainable environmental best practices related to cultivation, soil-plant-air conservation techniques in an impactful manner through structured awareness building training programs, engaging the entirety of the 22,000-strong Hayleys Plantations workforce, including management, staff and field employees.

"In recent years, Hayleys Plantations has been at the centre of some of the essential advancements taking place in the Sri Lankan plantation sector. At the core of our success has been an unprecedented and uncompromising focus on actively engaging with our workforce, building consensus and adding value to both their personal and work lives. While the challenges that we face across our industry are uniquely entrenched, Hayleys Plantations is working to develop progressive solutions that ensure a positive triple bottom line, making employee engagement a central pillar around which all of our strategies are based.

"In that regard, we are delighted to have once again been recognised for our efforts to leverage the power of our people to establish progressive, environmentally sustainable strategies across our estates. By ensuring that all our employees are well versed in environmental conservation and sustainability, we can work towards a common goal of preserving our resources for future generations while ensuring the long-term viability of our business model," said Hayleys Plantations Managing Director Dr. Roshan Rajadurai.

Working hand-in-hand, Hayleys Plantations' sustainability and HRM teams introduced multiple environmental training modules and workshops, including those governing sustainable forest management techniques, good agricultural practices, environmentally friendly waste management systems, energy consumption management and waste management projects and awareness programs, to the annual employee training calendar.

Furthermore, the Green Learning Drive led to the establishment of a comprehensive Environmental Management System (EMS) focusing mainly on the management of materials, energy, water, soil, health and habitats.

"The success of this initiative helps to reinforce what our employees have learned, and our next goal is to carefully document and archive what we have learned so that we create a Green Knowledge Hub comprised of carefully curated information related to environmentally sustainable best practices gathered from the experiences and findings of our employees. We hope that these findings, in turn, can be used for the benefit of our organisation, and the plantation industry as well," said Hayleys Plantations' HR and Corporate Sustainability Deputy General Manager Anuruddha Gamage.

"There are many different metrics which we can use to gauge the success of our Green Learning Drive. Some of our most impressive results have been measured in terms of the drastic decrease in the consumption of electricity, firewood and agrochemicals on Hayleys Plantations estates," stated Hayleys Talawakelle Tea Estate Plc Sustainability and Quality Systems Development Assistant Manager Krishna Chathuranga.

The Hayleys plantations sector has been consistently lauded for its innovative management approaches. In 2018, the company bagged the award for its ground-breaking 'You Are Identified' initiative which established an extensive Performance Management System (PMS) encompassing every level of employment within the organisation. Hayleys Plantations comprises Kelani Valley Plantations Plc (KVPL), Talawakelle Tea Estates Plc (TTEL) and Horana Plantations Plc. The three companies have consistently ranked among the upper echelon of Sri Lanka's regional plantation companies in both tea and rubber. The group manages 60 tea and rubber estates, with a direct workforce of over 22,000 and more than 140,000 individuals from the plantation community. In total, Hayleys Plantations manages over 26,000 hectares of land and accounts for annual production of 13.5 million and 4.5 million kilogrammes of tea and rubber production respectively. The RPC was also the proud recipient of the Gold Award at the National HR Excellence Awards 2016, Asia-Pacific HR Awards 2017 and 2018, Global HR Excellence Awards 2018 and SLITAD Peoples' Development Awards 2016/2017. Similarly, Hayleys Plantations bagged the gold and silver awards at the National Business Excellence Awards, Green Awards, Annual Report Awards, Social Dialogue Awards and Health and Productivity Awards over the last few years.