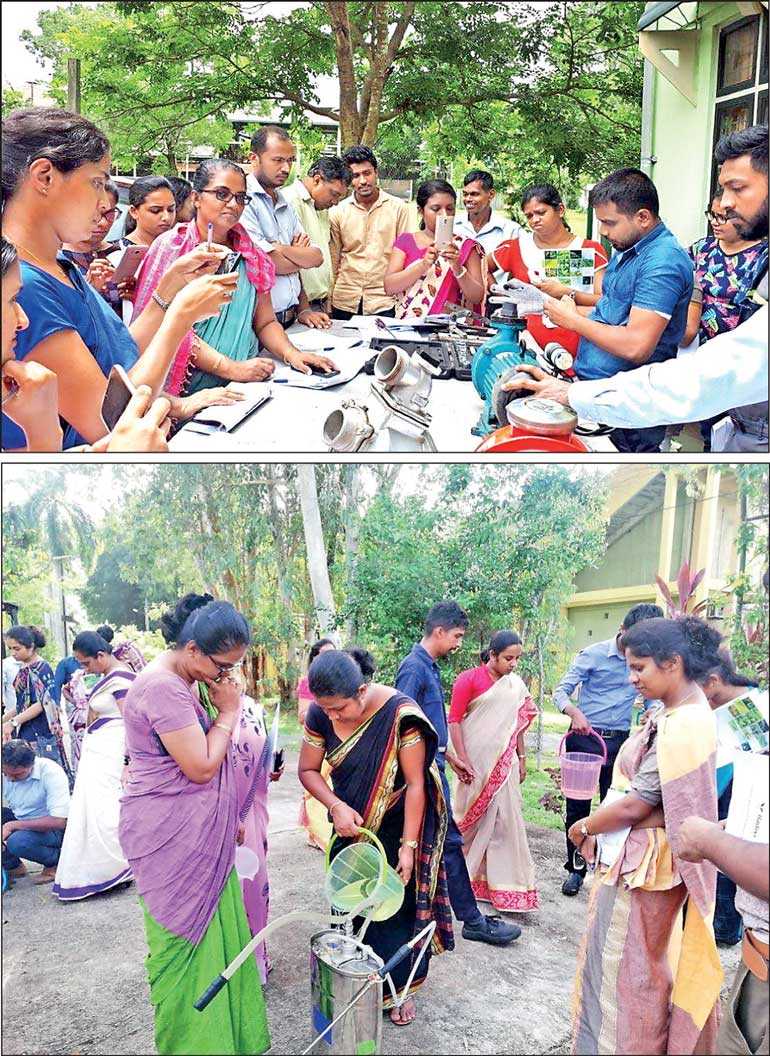 ---
Hayleys Agriculture together with the National Institute of Education conducted two programs yet again in May and June to share best global practices and new technologies in Agriculture with A/Level science teachers.

The two residential workshops were held at Hayleys Agriculture Training School in Ekala on 29, 30 and 31 May and 19, 20 and 21 June. These programs are part of a series of programs designed to help the AL teachers to grasp the practical aspects of the new subject introduced to the A-level bioscience curriculum, bio systems technology.

In 2018 Hayleys Agriculture successfully conducted two similar training workshops for AL agricultural science teachers at their Ekala Training Centre. On receipt of positive feedback from the participants, Hayleys Agriculture was once again called upon to carry out practical training workshops for AL science teachers on the subject bio systems technology.

The National Institute of Education introduced several new technical subjects into the curriculum of the AL science stream in 2013 and one of which is bio systems technology. The syllabus was further updated in 2017.

According to the published syllabus of Department of Technical Education, Faculty of Science and Technology, National Institute of Education, Maharagama, the subject bio systems technology has been prepared by combining the use of modern technology in the fields of agricultural science, ecological science, practical science and biology.

This subject includes activities that give the necessary skills for various agriculture-related occupations or self-employment to the students. The subject is also expected to give entrepreneur skills that can contribute to the economic development of Sri Lanka and improve the skills that are necessary for personal livelihood. The National Institute of Education has found a perfect training partner in Hayleys Agriculture to provide practical training on bio systems technology to AL teachers.

Over 100 GCE Advanced Level teachers who are teaching the new subject bio systems technology were trained by a qualified and experienced team of Hayleys Agriculture. They were exposed to the best global practices and new technologies in agriculture.

Hayleys Agriculture Holdings which spearheads the agriculture sector in Sri Lanka consists of eight divisions; crop protection, crop production, agri equipment, plant rejuvenation and nutrition, animal health, the export of agricultural produce (dood and non-food) and pest management.

The company represents some of the world's most respected and cutting edge brands in the agriculture sector and therefore is exposed to the best global practices. The team at Hayleys Agriculture has gained much knowledge and experience through their interaction with farmers here in Sri Lanka as well as by attending training programmes overseas. The culture within Hayleys Agriculture is to share that knowledge with all stakeholders of the agriculture sector.

The training workshop conducted by Hayleys Agriculture for AL teachers consisted of four key areas. They were:

The introduction to 'agricultural' land preparation and machinery

Introduction to protected houses and agricultural irrigation systems

Cultivation and maintenance of cut flowers

Principles of landscaping

To broaden the learning, the training program also incorporated testimonials from successful players in the cut- flower and foliage industry in Sri Lanka. The Managing Director of Mahima, Plant Nursery, General Manager of Asian Cuttings Lanka Ltd. and Nursery Manager of Omega Green Ltd. shared valuable insights with the participants. Hayleys believes that these inspirational journeys and real-life experiences would help young future entrepreneurs to embark on self-employment ventures.

The answer to our economic woes lies in the modernisation of agriculture and export of value-added crops. The teachers will no doubt inculcate a passion for modern agriculture among their students and we do hope that the next generation would be inspired to take up environmentally sustainable commercial agriculture.