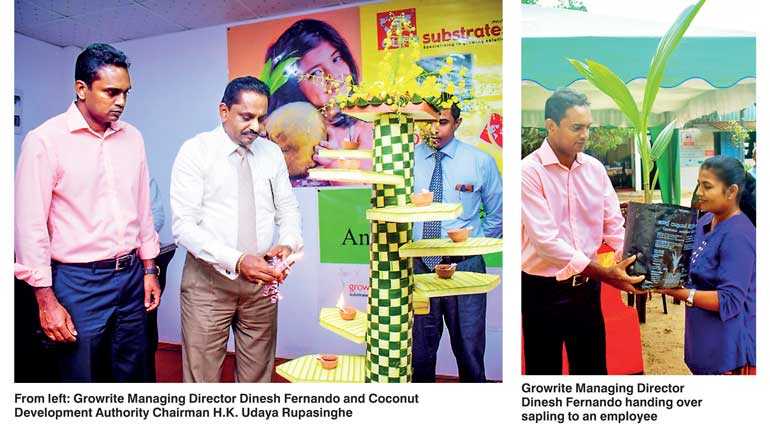 Growrite Substrates Ltd. a proudly responsible business built on sustainable thinking commenced its 'Anagathaya Wawamu – Kapruka Rekaganimu' program in its journey towards a sustainable environment growth, and is currently setting up a Sustainability Management Framework.

The program targeting the planting of 100,000 coconut trees will help the company to collate sustainability in a structured manner. The project underlines the theme that 'Children and Trees are our Future' and is aimed at literally growing that future. It was initiated on 15 May at the Wariyapola Growrite Factory. As an initial step, 5000 seedlings were distributed among its employees who have sufficient space to plant these trees.

Coconut trees are an integral part of Sri Lanka's scenic beauty, traditional cuisine, cosmetics, household products and last but not the least, the economy. Coconuts offer a wide array of uses from agriculture, energy, construction to medicine. At the present rate of land clearing and felling of these palm trees, climate changes and lack of replanting, several industries are affected including the consumers; due to the rising and prohibitive prices of coconuts in the market.

The severe shortage and sharp rise in coconut prices has created a crisis, and permission by the Government to import frozen coconut kernel for selected industries such as milk and desiccated coconut is simply a temporary solution to protect these industries. In fact, the import of coconut kernel may even worsen the crisis. They are palliatives that cannot resolve the fundamental problem of inadequate production to meet consumer demand.

Coconut Husk related products, with an export earning of over $ 200 million per year (January to December 2017) constitutes 33.0% of the total export of coconut products from the country. (Data – Coconut Development Authority)

Growrite Substrates Ltd. Managing Director Dinesh Fernando stated, "We are aware of the need to meet this socio-economic requirement and are committed to developing our long-term business growth and success by being a responsible member of all the communities we operate in. This is a journey we've already begun; we've been tackling sustainability-related issues across our diverse business group for many years. But, in an ever-changing business landscape, we acknowledge there are still many challenges to understand and achieve and expectations from employees, governments and the wider society are high."

He added, "We are continuously working on our long-term sustainability, designed to tackle this vital issue across every aspect of our value chain – from how we work with our upstream Supply Chain partners and responsibly source raw materials, to the way all our products are exported.

Growrite Substrates Ltd., together with its associate companies Euro Substrates Ltd. and Tropicoir Lanka Ltd. is an experienced manufacturer and supplier of high quality coconut husk- based substrates. Established in 1997 and founded by Dinesh Fernando, it is one of the leading suppliers of coir to growers in various countries and is Sri Lanka's leading substrate manufacturer. The company's production facilities in the coconut triangle with their coconut rich soil and adherence to strict production procedures, ensures high quality products. Development of specific coir blends to suit various crop needs with regard to rooting, moisture levels and nutrient requirements, among other factors is a vital feature of its successful export business.