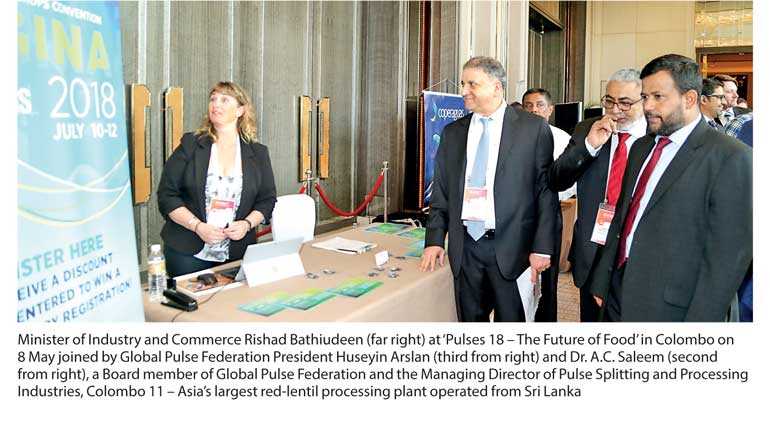 Colombo Accord major milestone in global pulse, food trades: GPC's Arslan
We are honoured with GPC's interest in SL: Rishad
New Accord covers $ 100 b global pulse businesses
Accord also introduces new GPC Contract
Industry says Accord is like a WTO Agreement
More than 500 high-profile global pulses heavyweights who arrived in Sri Lanka began finalising the Colombo Accord – the biggest milestone in the global pulses industry.

The Accord, once concluded on 10 May, will cover colossal pulses transactions volume of $ 100 billion, the entire value of global pulses trades done annually.

"I thank the Global Pulse Confederation (GPC) for choosing Sri Lanka to host this event in Colombo. It's an honour to us," said Minister of Industry and Commerce Rishad Bathiudeen yesterday, addressing 'Pulses 18 – The Future of Food,' the latest in Global Pulse Confederation's Convention series unveiled in Colombo on 8 May.

More than 500 leading pulse and legume industry representatives from 40 countries are at this high profile, three day session which is expected to conclude with the Colombo Accord, the blueprint for industry growth involving production, consumption, trade policy and trade contracts of global pulses industry.

"The Colombo Accord is the biggest milestone in world pulses trade history and a milestone in world food trade. The Accord calls for free and fair trade in global pulse industry. It's in some way like the Uruguay round of WTO talks for this industry. We, the industry players, must be unified. This Accord is the blueprint for the GPC to strengthen the role that pulse crops play through their contribution to social and economic goals at national and international levels," said GPC President Huseyin Arslan.

"GPC members are committed to working together and with our partners across the value chain, to build knowledge and awareness to expand pulse crop production in countries around the world, increase pulse consumption in the diets of people and animals, foster predictable and transparent trade environments at the government and trade levels, increase order and discipline in pulse trade, and promote the use of GPC Contract that protects the interests of the entire value chain. The GPC will act to ensure WTO member countries' trade policies on tariffs and quantitative restrictions are compliant with WTO obligations," Arslan added.

The new GPC Contracts mechanism will facilitate pulses buyer-seller contracts through GPC rather than directly between the buyer and seller, thereby reducing transaction irregularities and enabling effective arbitrations, if any.

Minister Bathiudeen, who praised GPC for choosing Sri Lanka to host Pulses 2018, said Sri Lanka was a big consumer of pulses. "In Sri Lanka pulses are a main source of protein, mainly as red lentils. Over the years Sri Lankans have also been used to consuming locally-grown pulses. Sri Lanka's consumption of red lentils is around 150,000 MT. We import around 18,000 MT of chick peas, 25,000 MT of yellow split peas, and 16,000 MT of mung beans. Red lentils are also a major item among our principal food commodity imports. In 2016 we imported more than 154,000 MT of red lentils which was around 7% of the total tonnage of our principal food commodity imports of that year. Looking at the current situation we foresee that pulses have the greatest potential to help eradicate hunger."

"Pulses are of great importance for food security in low income countries where the major sources of proteins are non-animal products," said Dr. A.C. Mahmud, a Board Member of GPC and the Managing Director of Pulse Splitting and Processing Industries Ltd., Colombo 11 – Asia's largest red-lentil processing plant operated from Sri Lanka. "Our company is proud be a part of Sri Lankan food supplies."

Globally, pulses are the fourth leading item in the world's annual grain and pulses output-after corn, wheat and rice. Annual global pulses trade is at $ 100 billion. Pulses are increasingly considered as a sustainable superfood due to their multiple benefits, and their production levels too are unable to keep up with the increasing demand for them.