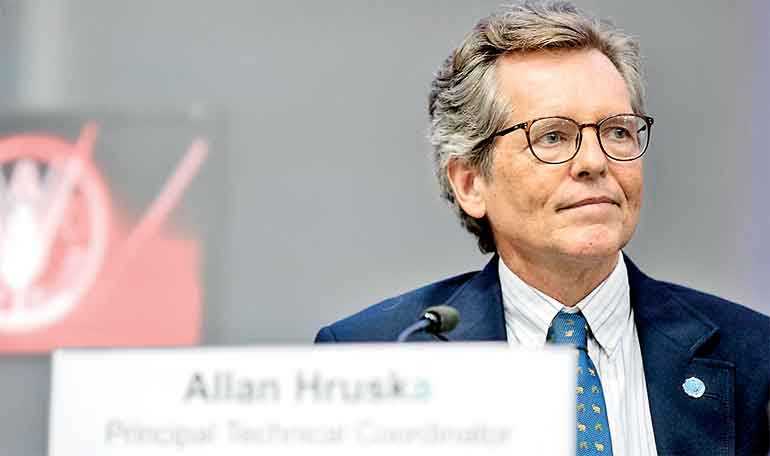 Allan Hruska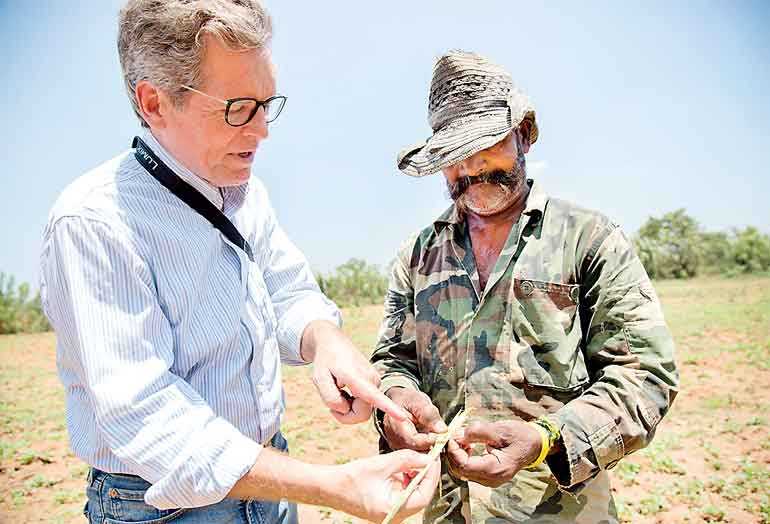 FAO's Allan Hruska with a farmer in a field prepared for maize cultivation in Anuradhapura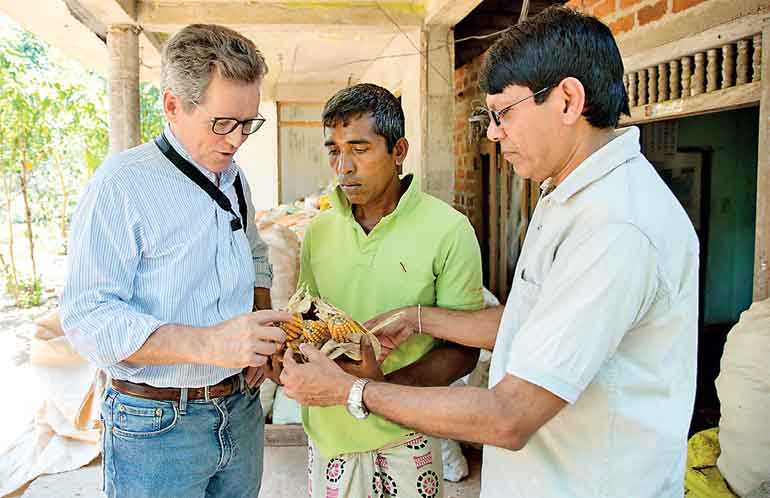 FAO's Allan Hruska and Assistant FAO Representative (Programme) in Sri Lanka Dr. D.B.T. Wijeratne inspecting maize damaged by FAW
---
Fall Armyworm is here to stay, but no reason to panic
Subsidies for pesticides not solution, focus on simple natural solutions in the field
Need to communicate better with farmers to motivate innovative local solutions
By Darshana Abayasingha

The breakout of Fall Armyworm in Sri Lanka wreaked panic amongst agricultural communities all over the island, however UN Food and Agriculture Organization (FAO) Plant Production and Protection Division Fall Armyworm Principal Technical Coordinator Allan Hruska says there's no need to panic, albeit the pest is here to stay.

Hruska cautions against rushing into afford subsidies to farmers for pesticides, and advises that simple but effective solutions are available within nature itself in the fields, and it is more about process to educate and encourage farmers on these practices.

"I had the chance to meet researchers and officials and go to the field and talk to farmers, and obviously Fall Armyworm is here to stay, it is not going to be eradicated. I saw that there has been some damage in the field, and I also saw that some farmers and officials have reacted a little too much to Fall Armyworm infestation. I say that based on a lot of experience I have with Fall Armyworm, literature and what's known scientifically in terms of actual yield loss and different infestation levels.

"The damage looks really bad to a farmer, and that led to a bit of an overestimation of yield loss. The media tends to pick up on that and sensationalise it and make it sound very dramatic, and when that gets into the political world, governments and ministers tend to react in a panicky way with a response that is not appropriate."

"We have seen that Sri Lanka – like many other countries – had gone down that path quickly with the provision of pesticides, subsidies for pesticides and compensation to farmers for yield loss. The good news is that when talking to high-level ministry officials they had quickly realised that this is not a sustainable path to talk about and probably not even necessary. What is necessary is to make farmers understand that the Fall Armyworm is here to stay, and for the Agriculture Ministry to help validate sustainable control practices."

"Coming from the Americas where Fall Armyworm has been for hundreds of years, and Africa where we have been working with governments and farmers for three years now, there are in fact sustainable ways of managing it. Government officials here have been very proactive, reaching out to the FAO and requesting a Technical Cooperation Program, and in fact Sri Lanka was the first country in the Asian region to do so, as many other nations in the region (India, China, Myanmar, Bangladesh, etc.) are also experiencing Fall Armyworm infestation.

"So, kudos to the Sri Lankan Government for doing that, and I see government officials have already done a lot of work. They have presented a report on the level of natural infestations and mortality of organisms that kill Fall Armyworm. So, we are very pleased to see that they recognise subsidies on pesticides and compensation is not the viable way forward. They see there are sustainable ways of managing it and are already doing research and helping farmers do that. Therefore, I'm very optimistic and I think we are on a good path," Hruska says.

There is still a lot of work to be done, Hruska adds, and institutions such as the Rice Research Institute is proactively looking at ways to minimise potential damage to paddy harvests from Fall Armyworm. The pest is found predominantly on maize plants, but when there is a dearth of maize there is fear it could move onto other crops such as paddy, sugar cane, vegetables and more.

The menace can be controlled and the onus falls on hands of farmers, as it is they who must manage Fall Armyworm in the fields. Hruska recommends that Farmer Field School programs to be rolled out aggressively to educate farmers on management methods in the field; implement and experiment with proven practices as done in South America – try them here and validate them – as there is no magic bullet to kill Fall Armyworm.

"The kinds of practices farmers do is very context specific. It depends on cropping systems, elevation, and humidity, the natural organisms that control Fall Armyworm; so, we need to work quickly with farmers and try these things."

"The FAO also developed an application to help farmers and even policymakers manage it better, and provide good data. The application is called FAMEWS. On one hand it provides information on Fall Armyworm movement and what crops its affecting, and also as and when we get these data, we can start asking questions like what variety of maize did you use, when did you plant them, did you plant it in association with another crop? Then we can do analysis of big data which will allow us to look at questions and solutions."

"We also have information for farmers so they can learn about natural enemies, organisms that kill Fall Armyworm, there is a whole host of them and you can read all about them here on the app. There is a fungus that kills them, there is a virus and there are natural predators like ants. So, we want farmers to learn about these natural controls and take advantage of them. These natural controls are the basis on which farmers in Central America manage Fall Armyworm."

"First of all, they (farmers in Central America) are calm about it, because they have been doing it all their life. So, they see a little bit of damage to a maize plant and it is not a big deal because the yield loss is not going to be great if it is only one plant infested. If they see a number of plants infested in the field then they may take some really simple actions, like just pick up dirt or soil from the ground and put it on the maize plant. It sounds primitive or desperate, but in fact it is not. Because the soil can kill Fall Armyworm in a number of ways. Its abrasive, so it cuts and the larvae desiccate.

"It can also deliver pathogens and fungus which are in the soil that can kill Fall Armyworm. The use of local botanicals; neem is widely known and can be used as a botanical pesticide. There are many other plants that can be extracted, squeezed or crushed that can be used as a pesticide and is highly effective. They also mix cropping systems; they plant beans with their maize. It makes the maize harder to find. Also, if there are beans in there, they don't like the smell of that so the female will fly away. This has been scientifically tested as well as tested by farmers in South America in the field for hundreds of years. We know it works, and we hope farmers in Sri Lanka will get accustomed too," Hruska says.

The FAO's foremost authority on Fall Armyworm control, Hruska states it is imperative to get the message out to farmers not to panic. He also points out that even though damage can happen to one or more plants it would not cause massive yield loss as damage is usually on the early leaves on maize plants, whereas it is the later leaves that provide real yield.

Plus, the maize has incredible capacity to compensate for a little bit of damage. He adds that the media must play a pivotal role in educating farmers to not panic and discuss ways and means to control the pest, which was not what happened in Sri Lanka.

"We have to show them that these solutions work. Hopefully in a year of two they will be fine, and you don't have to worry about the media saying devastation in the country because of Fall Armyworm, famine in the country. No. It will always be here, it's just one more pest that farmers have to deal with. Drought is far more important to reducing yield than Fall Armyworm. We have to put that in context, what priorities are there and Fall Armyworm is not really there. The first year any new pest invades, all those natural enemies haven't found them yet. So, you get the peak of the new invasive species and that is what happened last year. The virus and pathogens will kill fall army worms much better in coming seasons."

"Farmers can simply go into the field and crush egg masses, which again sounds primitive and simple, but it is also extremely effective. There is a preferred time the females look for maize that is about 20 to 40 days after planting. Farmers can go into the field and identify these eggs masses, because they lay a whole bunch of eggs – about 80 eggs – it becomes easy for farmers to go out there and destroy them. It kills 80 to 100 potential larvae in one time. Because the female only comes into one plant in the field, and lays only 10 of these egg masses in her lifetime, and if farmers do that a few times in the field, you have done a good job of reducing the overall population. These sounds simple, but they are very effective."

"In Africa we have seen farmers innovate. They have put soil, ash or lime in the plants. Maybe a little bit out of desperation, but then they know things. Women farmers in Malawi, they saw ants going into the fields and picking out Fall Armyworm larvae and eating them. You simply think of ants all over your kitchen, but now ants are something completely different to them and they are the farmers' friends. These are not typical ants who are drawn to sugar; these ants are predators they go smelling for protein.

"I spoke to some women in Malawi and they make a fish soup; they boil up a broth and it smells strong; they went out and poured it around their maize plants and attracted ants into the fields. So, they figured out ants are good, they figured out they are attracted to the odour, and figured out a local solution from their kitchen to easily apply in their fields. That's an example of local innovation, and that's what we want to do with Farmer Field Schools in Sri Lanka and encourage local innovations," he adds.

In Sri Lanka, the UN along with the FAO are working on translating the FAMEWS app, which is already available in 20 languages, so it becomes easier for farmers and even local field officers. The FAO's TCP project in Sri Lanka is directly funded by the FAO to fill the technical gap in this area of control, with a lot of research on breeding natural enemies, gaps in monitoring and awareness creation.

The project is worth close to $ 500,000, and they are often springboards to larger initiatives as seen in Africa with other donors also coming in if a country does it well.