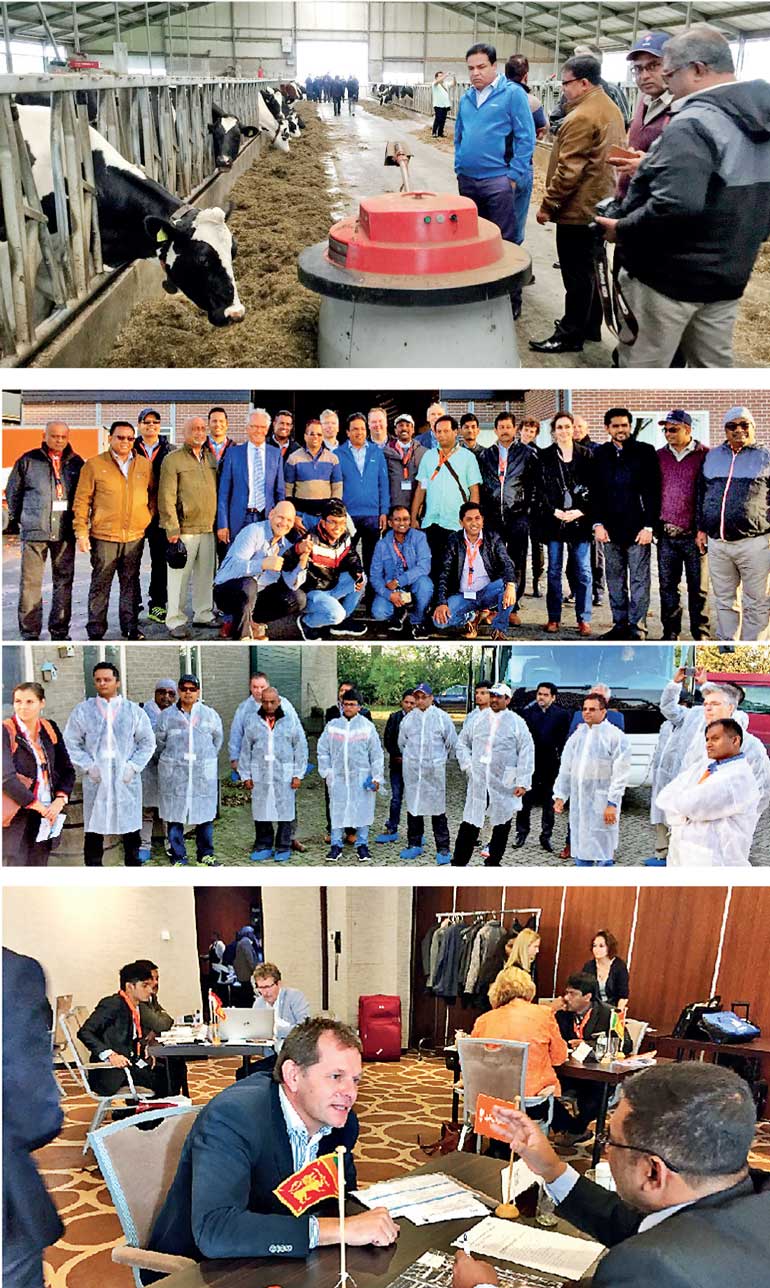 The Embassy of Netherlands in Sri Lanka organised a trade delegation trip to the Netherlands from 24-27 October.

This mission was part of the embassy's numerous activities to facilitate sustainable relationships between the Sri Lankan and the Dutch private sectors. The main focus of the mission was to enhance Dutch engagement within the Sri Lankan dairy sector, transferring bilateral knowledge and knowhow and facilitating B2B matchmaking. It turned out to be a successful and fruitful trade mission.

The Embassy has been facilitating bilateral relationships in the dairy sector in the past. In 2014 and 2015 trade missions from the Netherlands to Sri Lanka were organised and this resulted in long-term collaborations between Sri Lankan and Dutch dairy sector organisations. Netherlands has previously supported the development of the dairy sector with development assistance. Many senior officials in the Government and private sector have received training in the Netherlands. These past joint experiences and positive attitude towards Dutch support form a strong base for more Dutch involvement in the Sri Lankan dairy sector.

This time, a total of 13 Sri Lankan dairy companies, headed by the Sri Lankan Minister of Livestock and Rural Economic Affairs, the Deputy Director of the Ministry and the Chairman of the National Livestock Development Board, joined the delegation to the Netherlands.

A number of stakeholders in the Sri Lankan dairy chain were represented within the delegation involving businesses active in the feed, processing, cattle genetics, dairy equipment and organic farming sectors. The participating Sri Lankan companies were able to meet with relevant Dutch companies in the same field while gaining knowledge and insights in the Dutch dairy sector, including on genetics, vocational training, equipment, feed and processing.

Following an exposure visit to a few dairy establishments, the delegation met with Dutch industry players during a matchmaking session and a networking event was held at the Hague. Overall, the mission offered both Dutch and Sri Lankan companies and organisations the chance to get to know each other and find out how and where they could cooperate and benefit from each other.

The embassy has planned for a number of follow-up activities including further support by transferring Dutch knowledge and technology to the dairy sector in Sri Lanka. The two countries have a history of working together in the dairy sector. In the past the focus was on development cooperation and knowledge exchange. Today the Dutch focus on building and strengthening economic ties. This focus is reflected in the embassy's slogan 'Sri Lanka – the Netherlands; Old Friends – New Trends'. For further details or questions contact COL@minbuza.nl.