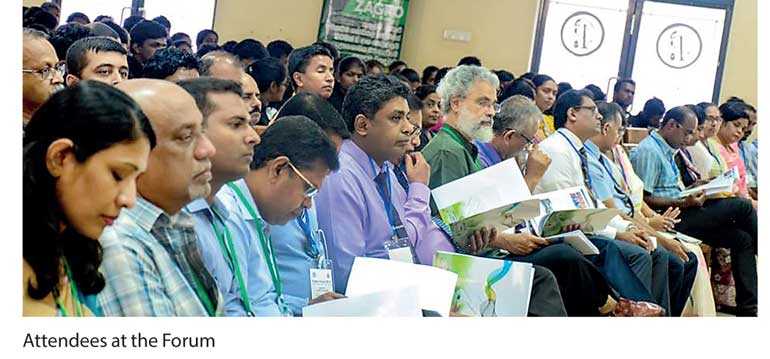 Acting in its capacity as a leader in the poultry industry, Crysbro sponsored the recently held Poultry Forum 2018 themed 'The Future of the Poultry World: Smarter and Greener Production' organised by the University of Uva Wellassa.

Held at the university premises for the second consecutive year, the Poultry Forum saw the participation of over 300 industry experts, academics as well as students. University of Uva Wellassa Vice Chancellor Dr. J.L. Ratnasekera was the Chief Guest at the occasion while Crysbro Senior Manager R.P.C.S.K. Rajapaksa represented the Company at the Forum.

The forum discussions revolved around substantial analyses and information sharing on current issues and solutions relating to the industry such as sustainable and environmentally friendly production processes and animal welfare.

The Poultry Forum incorporated a number of sessions facilitated by industry experts with in depth knowledge about poultry management to discuss crucial matters such as poultry management, poultry feed, production approaches and the latest research and development in the industry.

Commenting on Crysbro's decision to sponsor the Poultry Forum 2018, Crysbro Group of Companies Senior Marketing Manager Amores Sellar said, "We are well aware of the valuable contribution that the University of Uva Wellassa consistently offers the poultry industry. The Poultry Forum acts as a platform to allow industry experts to network and share new developments. As such, in appreciation of the work that the University carries out to develop the poultry industry, we sought to assist the University to organise the Poultry Forum 2018."

As the only local poultry company to possess 6 ISO 14001 standard certifications, Crysbro brand markets a wide range of poultry products that meet the internationally established standards. Established 46 years ago, Crysbro has grown at a steady pace to become a Group of companies with six subsidiaries and an employee base comprising 1,100 individuals. Crysbro operates among 17 business locations and markets 39 poultry products.