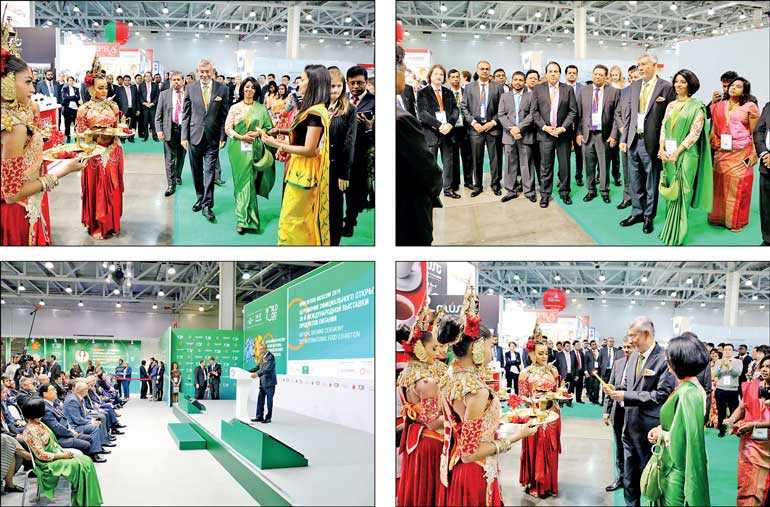 On 24 September, the Sri Lankan Tea Board launched its Global Compaign in Moscow at the 28th International Exhibition WorldFood 2019, one of the largest exhibition serving the global food and drinks industry and the main export platform for reaching buyers of Russia's leading retail chains and wholesale companies.
More than 1,700 key players and representatives of the industry from 65 countries come together at one place to showcase their new products and to facilitate export opportunities in Russia.

Ambassador Jayatilleka declared the Sri Lankan Tea Board Pavilion open. The officials from the Ministry of Plantation Industry, National Pavilion Exhibitors and Russian guests were present at the ceremony, which was marked by lighting of the traditional oil lamp and a national dance performance by Chandana Wickramasinghe and The Dancers' Guild.

Ambassador Jayatilleka was among the honoured guests who participated in the ribbon-cutting ceremony to inaugurate WorldFood Moscow 2019 Exhibition.

Ambassador Jayatilleka in his speech at the Official Opening Ceremony said that the universal aspect of food and drinks and the Ceylon tea Global Promotional Campaign being launched in Russia was symbolic of the greatly valued relationship between the two countries.

The event was attended by Government officials and industry associations, representatives of national trade bodies and ministries from the participating countries and heads of diplomatic missions accredited in Russia.

In his closing remarks the representative of ITE Expo International, the organiser of the exhibition, referred to the speech of Ambassador Jayatilleka who underscored the notion of "universality" which concept they even symbolised in the logo of the World Food event.

The official opening of the exhibition was followed by the VIP Tour of the Pavilions and VIP Lunch, which Ambassador Jayatilleka and Sanja Jayatilleka attended at the invitation of the ITE Expo International. The new ways to improve the tea trade between Sri Lanka and Russia were addressed during the lunch discussion.