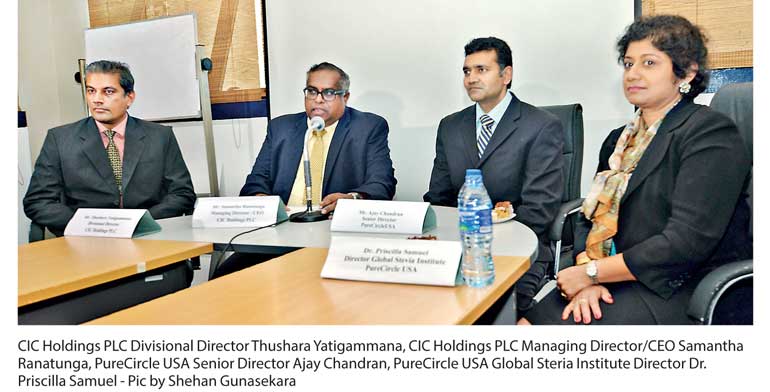 By Hiruni Dabarera

CIC, in partnership with Pure Circle, introduced stevia to the local market recently with the aim of reducing the high calorie intake of its consumers.

Stevia is an herb which was originally discovered in Latin America and its leaves are reputed to carry the same sweetening flavour of sugar. However, unlike sugar, stevia has zero calories.

Pure Circle is the global pioneer in producing and distributing stevia. Its Senior Director Ajay Chandran said their efforts to replace sugar with stevia have resulted in reducing 3.8 trillion calories from the global public health debate.

At present 1.9 billion people around the world are suffering from obesity. In Sri Lanka one in three adults are overweight. Stevia will undoubtedly be a good solution to this problem.

"CIC hopes to tackle several health problems associated with the local consumer like inactivity, obesity, diabetes and waste management through the substitution of stevia," stated CIC's CEO Samantha Ranathunga. He stressed that stevia was already introduced to local brands like Elephant House and Kist. However, these products have not substituted sugar in full. They have partly reduced the sugar intake of an average consumer per day.

Moreover, stevia's Global Head Priscilla Samuel assured how it has no side effects. "I guarantee this for over two hundred research papers validate how stevia lacks any adverse effects to its consumer. It is a natural sweetener," she asserted.

Currently the global market has incorporated stevia in the substitution of sugar for a wide ranging number of products like yoghurt, soft drinks, cereal, condiments, sweets, baked foods and even kids' products. Japan was the first to commercialise it 1971 and today over 10,000 products have been launched globally with stevia.

This herbal plant, which is also called 'Madhu-Pathra', is grown in farms around the world, notably Kenya, China and the US. Both organisations shared how they plan to grow stevia in Sri Lanka in future. It is proven to be 400 times sweeter than sugar. Therefore, its cultivation will reduce the land area that is occupied for sugar cane cultivation at present (five metric tonnes of stevia equals 1,500 metric tonnes of sugar).

Further, when comparing the production costs where sugar and stevia is incorporated it was revealed how there was no significant increase in production cost owing to the introduction of stevia. Therefore, manufacturers will be motivated to use it as it brings greater health benefits to the consumer.

Major regulatory bodies like EFSA (EU), US FDA, FSSAI (India), China, JECFA and WHO have also approved the usage of stevia.

CIC hopes to soon introduce stevia as an over-the-counter sweetener for consumers in the form of sachets.