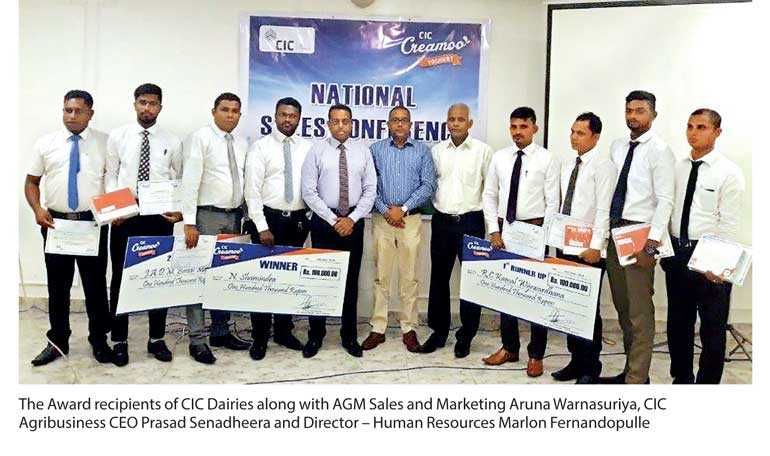 CIC Dairies recently recognised and rewarded their island-wide distributor sales representatives who had performed exceptionally well during the last financial year at the Annual Sales Conference.

Three of their top performing DSRs received cash prizes while five other DSRs received tabs for their performances.

The Annual Sales Conference was attended by all sales and marketing employees of CIC Dairies together with the countrywide distributors and sales representatives.

CIC Dairies Assistant General Manager – Sales and Marketing Aruna Warnasuriya briefed the audience on the future plans of the Company while CIC Agri Businesses CEO Prasad Senadheera and Director HR –Marlon Fernandopulle distributed the awards.

CIC Dairies which commenced operations in 2013 markets yoghurt and drinking yoghurt under the brand name Creamoo. The brand has gained significant market share during the short period of time, mainly due to the unique taste of the yoghurt and drinking yoghurt. Both products are manufactured at the Rangiri Dambulla Milk Processing Centre which boast of a state of the art production facility adding to the quality of the products.

The Company has set up five milk chilling centres in the area to source its daily milk requirement from over 2,500 rural farmers. The Company also manufactures curd, for which the buffalo milk is sourced from its own farms at Hingurakgoda and Siddhapura.