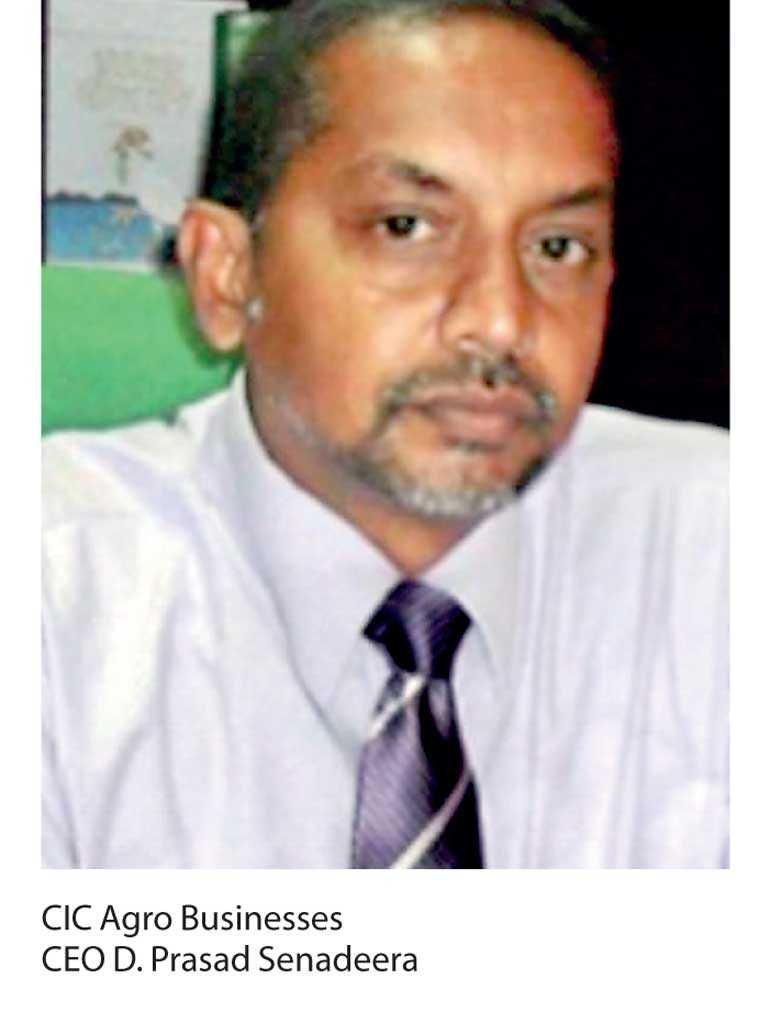 Says that it is too early for regulation reforms
Predicts local maize production will improve from 2018
Stresses that the Govt. needs to adopt new technologies to mitigate from climate adversities
By Maleesha Sulthanagoda

The recent budget proposal to allow the feed millers to import maize under a special limited quote has been met with resistance from CIC Agro Businesses.

CIC Agro Businesses CEO Prasad Senadeera told the Daily FT that these regulation reforms have been put into action because of low yield of maize cultivations in recent years.

"There are two things. Firstly there is a deficit. In the history of the feed industry, the maize requirement was never able to be fulfilled locally. So import of maize will always continue to happen. That deficit has to be compensated but these import taxes should all the while protect local maize farmers. These taxes also change from time to time depending on the local harvest. When there is a shortage in the market it should happen. This year's main harvest is already finished. The other harvest will be from August and again the main harvest will be again from February, next year. Till then there is a deficit and to compensate for this, maize has to be imported. Secondly the weather had a large impact on the last two seasons of maize cultivation. These weather impacts are cyclic. These are recurring events with certain intervals. If we had drought two or three consecutive years, then there will be seasons of good weather as well," he explained.

According to Senadeera adverse climatic complications during the last few years had the biggest effect on the maize cultivation. The improvement in yield of maize and the increase of number of maize farmers were allegedly overshadowed by this. "Since the last decade, there were a lot of measures taken by policy makers and the Govt. to improve local maize production in order to meet the full requirements of feed industry. Because of these interventions two things have happened; the extent of planting has gone up during the last decade and the farmer productivity has gone up. So farmer productivity which was at 2.6 tons per hectare in 2009/2010 has gone up to 3.8 tons per hectare in 2014/2015 before the bad weather spell came. It is practically a 50% increment in farmer productivity," he added.

The Cropwiz CEO also elaborated that the time to bring in these regulation reforms needed to be carefully calculated as it could have adverse effects on the inter-dependent industries of poultry producers and maize cultivators. "The agriculture ministry has a mechanism to evaluate the stocks in the system. Based on that, all related Government agencies can take a decision. When we look at the local production, it is low. This is because of a myriad of reasons. Land fragmentation, inability to engage in large scale commercial cultivation, high cost of production (CoP), but it is also our country's duty not to over depend on imports. It is important that the Government finds a balance between local production and import because of food security. Our local CoP is high right now and imports are cheaper. If there are no import duties, the country will only consist of imported maize. So I think the Govt. has to put in to play, the correct mechanisms to protect food security," he further stated.

He also shed light on what the Government could do in order to mitigate weather complication adversities on the maize cultivation of the country. "We should look at other countries and their solutions to these climate complications and benchmark ourselves. Then we must try to incorporate these solutions and workarounds to suit our needs so that we can improve these industries and mitigate from adverse weather situations," he elaborated.

Maize accounts for approximately 60% of raw material inputs for the poultry sector. Prior to the recently announced reforms, the sector had been compelled to buy maize at Rs. 52 per kg, when it could be sourced at Rs. 35 per kg (CIF Colombo) when imported.

According to the Food and Agriculture Organisation of the United Nations (FAO), Sri Lanka is forecasted to produce approximately 180,000 metric tons (MT) of maize by the end of the year, which is a significantly lower volume compared to the actual requirement of 400,000 MT, amounting to a 40% decrease from last year's yield of 242,000 MT. While only 170,000 MT was imported last year.