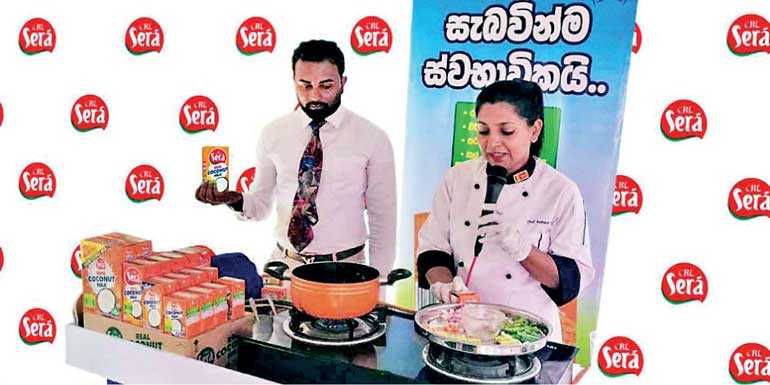 Ceylon Biscuits Ltd.'s (CBL) much-favoured brand 'Sera' coconut milk recently sponsored a workshop in Kurunegala, organised by the Coconut Development Authority, which operates under the purview of the Ministry of Agriculture. The workshop mainly focused on the application of best methodologies for coconut extraction.

The program was held in conjunction with International Coconut Day, which falls on 2 September. Many topics were brought to light with emphasis on the importance of coconuts, along with the reasons for inculcating best practices in coconut consumption to gain a sustainable coconut cultivation. Demonstrations were also held to further explain about efficient methods of extracting coconut.

Attendees were enlightened on the issue of how a great amount of coconut is wasted when coconuts are scraped manually, or when grated coconut is squeezed to extract milk. The gravity of issue in the context of the country is alarming, as coconut is consumed throughout the island, thus increasing the amount of waste considerably.

The program further elaborated that when local coconut farmers fail to meet the growing consumer demands, the circumstances lead the country to import coconuts from overseas. This in turn paves the way for a substantial outflow of money, consequently impacting the local economy, as well as the livelihoods of small-scale coconut cultivators.

Sera coconut milk is manufactured using high quality coconut produce directly from the local small-scale coconut farmers. CBL's 'Sera Real Coconut Milk' is an ideal choice that brings great convenience for busy housewives, as it is high in hygienic safety and quality.

Sera coconut milk has become quite popular among consumers as it is manufactured using only pure coconut milk and does not contain any artificial flavours, colours, preservatives or stabilisers whatsoever.

Being a 100% local product that supports to strengthen the livelihoods of local coconut farmers, 'Sera Real Coconut Milk' will not only prevent waste of coconut during consumption, but will also make a notable contribution towards uplifting the economy of the community as well as the nation.