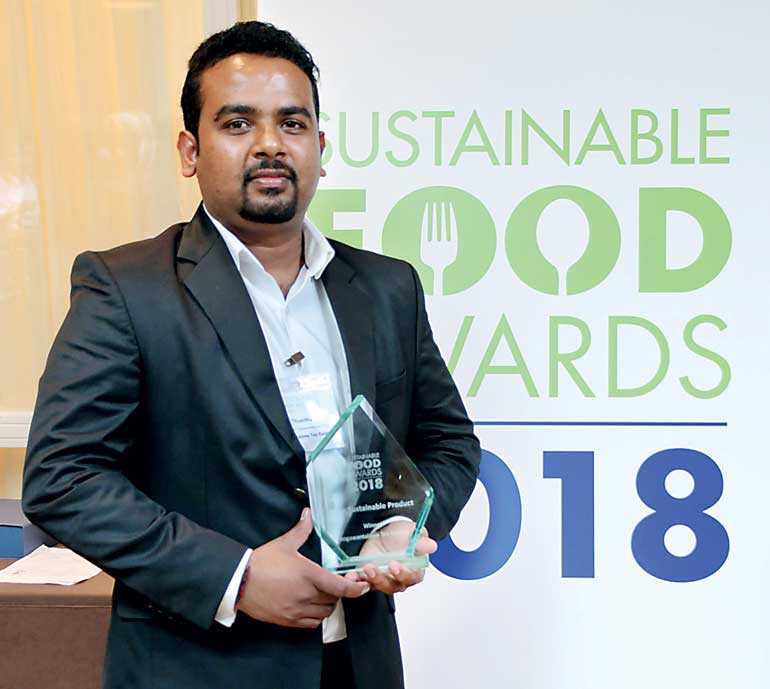 Thusitha Bandara, General Manager of Sustainability and R&D with the award for New Sustainable Product at the Sustainable Food Awards 2018 awarded to Bogawantalawa Tea Estates

in Amsterdam
Leading the way in sustainability and causing a paradigm shift in the tea industry and the way it is viewed globally, Bogawantalawa Tea Estates triumphed amongst the world giants winning the award under the category of New Sustainable Product at the Sustainable Food Awards 2018 held on 7 June in Amsterdam.

International companies such as Chocolero Energy Drink (Belgium), Coop Switzerland Insect-Based Food Products and SeaMore, Sea Bacon Meat Substitute (the Netherlands) were among the finalists under the category of 'New Sustainable Product' aimed at recognising new food/beverage product with important sustainability credentials.

Sustainable Food Awards is dedicated to sustainability in the international food industry recognising operators who are pushing the sustainability needle and driving a positive change. Since 2009, the Sustainable Foods Summit has been covering major developments in sustainability and eco-labels in the food industry. As quoted by the Founder and President of the organisation Amarjit Sahota, "Food is intricately linked to the environmental and societal issues facing our planet. By launching the Sustainable Food Awards, we want to honour those who are helping build a sustainable food industry, as well as inspire others to take the green path."

Bogawantalawa was taken as the shining example during the Sustainable Food Summit held in Amsterdam last year. Following this, Nina Pullman the deputy editor at the Fresh Produce Journal and reputed freelance journalist for the Guardian in the UK made a special visit to the Golden Valley to witness and report the case study on Huffington post (UK).

Group Chairman Dinesh Ambani said, "Sustainability is in our DNA," and Thusitha Bandarathe General Manager of Sustainability and R&D commented, "This award is a great source of pride and recognition of our efforts in creating a new direction for the Industry for social, economic and environmental sustainability which undoubtedly is the way forward."

'Bogawantalawa' has always been well known as the 'Golden Valley of Ceylon Tea', since 1869. The terroir and the unique microclimatic conditions lend to making it such. With great heritage and tremendous passion Bogawantalawa is dedicated to offer uncompensated carbon neutral teas of the finest quality.