Dr. Sabine Scheucher is visiting Sri Lanka to explore living as a guest and contributing her 24 years of experience in training in organic agriculture and horticultural therapy to the island. She discovered Sri Lanka as a result of her work in Thailand and having visited here she absolutely loved the potential the island has. Her interest is in writing publications about the many-faceted relationships that exist between plants and humans and how economic growth can take place at the same time.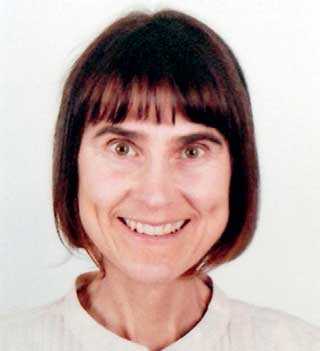 Dr. Sabine Scheucher
Her research has shown that the universities in Sri Lanka do not provide much training to lecturers or youth specifically in organic farming leaving much of the programs to be through self-study and outside consultants or as optional topics. Dr. Scheucher hopes to share her learnings as a guest in Sri Lanka with the academics and peers so they can in return share this knowledge with the students and also share this knowledge with the farmers itself.

Dr. Sabine has a Master of Science with a major in Organic Farming at the University of Innsbruck, Austria and a Ph.D. in botany with majors in herbs and warm-climate fruits form the University of Salzburg, Austria and a Certificate in Horticultural Therapy from the New York Botanic Garden, USA. Her vast experience ranges from lecturing, project management, horticultural therapy to research and botany across Austria, Portugal, Laos, Germany, Japan Nepal, China.

She speaks eight different languages which includes English, German, French, Japanese, Lao, Nepali, Tibetan, Portuguese and she looks forward to adding Sinhala to it. Dr. Scheucher has also published several publications internationally in Canada, Germany, China, Czech Republic, Nepal, Japan and Austria. She is also a renowned speaker at conferences in Austria, Thailand, Japan and Canada on her research.

She is also keen on exploring whether through organic farming and linking that with the much trendy horticultural therapy whether she assists the country to improve both economically in the agricultural transformation and also improve depression levels and community healing.

She would also like to experience the beauty of the island and use time to research and author international research publications on how agriculture and horticulture can impact economies and improve overall health impact. Where organic farm products become available more freely in Sri Lanka equal to the current exports of the best produce.

Dr. Scheucher says that coming from Europe and Austria where organic farming and horticultural therapy models are extremely successful, she is keen to share these with the local industry as well as youth. She has already been providing peer support to teachers at the University of Peradeniya and also to key Montessori's as starting this process at a young age gives society an added advantage. She is keen to assist universities also to adopt these as part of their programs.

She says, "Sri Lanka is a beautiful country of natural resources and warm hospitality, bringing and sharing successful models and sharing this success with the world can enrich our lives and contribute to academia. As they say: "Nature is a free, accessible and equitable means to well-being for all."

She is excited to do research on the many-faceted relationships that exist between plants and humans playing an integral role on the development of our civilisation that goes merely beyond some productive aspects, involving other scientific sectors like anthropology, ethno botany, geography, art and environmental sciences and, above all, the group of social sciences like psychology and sociology.