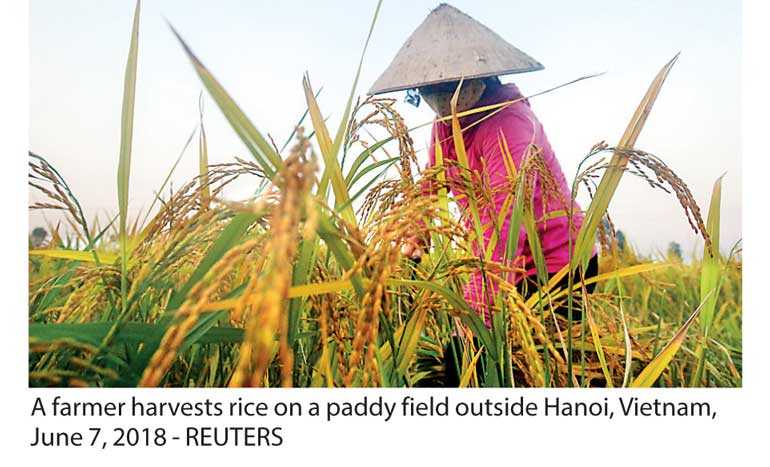 Vietnam prices jump to over 6-year high
Tepid demand for Thai variety
BENGALURU (Reuters): Rice export prices in India fell last week to their lowest this year on sluggish demand before top buyer Bangladesh slapps import duty on exports of the grain after domestic production recovered.

Rates for India's 5% broken parboiled variety fell by $ 6 to $ 393-397 per ton.

Bangladesh is imposing a 28% tax on rice imports to support its farmers after local production revived, Finance Minister Abul Maal Abdul Muhith said.

He said 25% customs duty and 3% regulatory duty would be imposed on rice imports.

Indian exporters said they were going to lose competitiveness due to the duty hike. India was the biggest supplier of rice to Bangladesh in 2017.

"Exports to Bangladesh would become nearly impossible if it raises the import duty," said an exporter based at Kakinada in the southern state of Andhra Pradesh.

In Vietnam, prices of 5% broken rice climbed to their highest since January 2012 at $ 465-475 a ton, versus $ 455-$460 a week earlier, despite an ongoing mini-harvest.

"Prices are too high for any deals to be clinched while supplies remain tight, though the spring-summer harvest has begun," a Ho Chi Minh city-based trader said.

Output from the ongoing harvest is low while the rice quality is not very high, traders and farmers in southern Vietnam said.

"Exporters are now only looking at government-to-government deals," the trader said, adding that the Vietnamese Government was not buying output from the current harvest for stockpiling.

Elsewhere in Southeast Asia, Thailand's benchmark 5% broken rice narrowed to $ 430–432 per ton, free on board (FOB) Bangkok, compared with $ 430–446 in the previous week.

Thai rice traders said that demand has been flat with no new interest registered from overseas this week.

"We probably have to wait until after Ramadan to see if there is fresh demand from Africa," a Bangkok-based trader said, referring to the Muslim fasting month.

African markets usually import parboiled rice from Thailand every year, but the same trader said the demand from there has been slowed in the first half of this year.

Thailand's commerce ministry said the country had exported 4.98 million tons of rice from the beginning of the year until 1 June.