Launch of the book 'Tea Men'. From left: CTTA Vice Chairman Paani Dias, 'Tea Men' Editor Richard Simon, 'Tea Men' Author Ajith Chitambalam, 'Tea Men' Picture Researcher Dominic Sansoni, CTTA Immediate Past Chairman Anselm Perera and CTTA Chairman Jayantha Karunaratne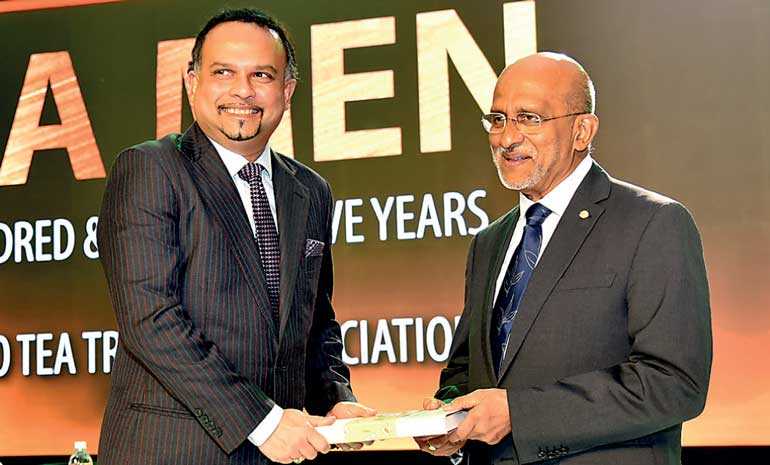 'Tea Men' being presented by CTTA Immediate Past Chairman Anselm Perera to Chief Guest Plantation Industries Minister Navin Dissanayake

The Colombo Tea Traders' Association, the apex body of the country's tea industry, recently celebrated its quasquicentennial on a grand scale.

A workshop to present the 'Ceylon Tea Road Map 2030', compiled in collaboration with the stakeholder of the industry, to serve as a benchmark for the development of the industry over the next 10 years, was held along with the launch of a commemorative publication titled, 'Tea Men', which records a well-researched history of the Association.


The 125th Annual General Meeting of the Association, was also held following the conclusion of the book launch, at which Minister of Plantation Industries NavinDissanayake was the Chief Guest.

One of the primary functions of the Colombo Tea Traders' Association is the management of the Colombo Tea Auction, which it has handled since 1894. The first undertaking of this Association, on being formed in 1894, was to review the loose collection of rules under which the auction of tea had been, hitherto, conducted, so as to ensure the orderly and efficient operation of the auction. The set of by-laws and conditions for the sale of tea by Public Auction and by Private Treaty, has been reviewed and updated by the Colombo Tea Traders' Association, at regular intervals, to provide a stable, reliable and credible procedure for the sale of tea and to meet the requirements of the changing circumstances of the trade, with the progressive increase in production volumes and the development of the tea industry. In its capacity as the apex body of the tea industry, it plays a pivotal role in promoting and fostering the Sri Lanka tea industry, with a view to contributing towards the commercial and the economic development of the country. It serves as the main link representing the tea Industry in the private sector with the Government and statutory and other authorities to advise on the improvement of the Industry through appropriate measures and incentives which would encourage and stimulate it.
Exerting influence on organisations in Sri Lanka and overseas with similar objectives, the Colombo Tea Traders' Association participates in promotional initiatives and co-operates and confers with agencies and institutions in developing improvements and agricultural and technological advances in the tea industry globally.

It considers of fundamental importance the fostering of a spirit of unity and co-operation among its members and all the stakeholders of the Industry, in acting as a compelling and inspirational force to move forward in harmony and fortitude.



Pix by Ruwan Walpola