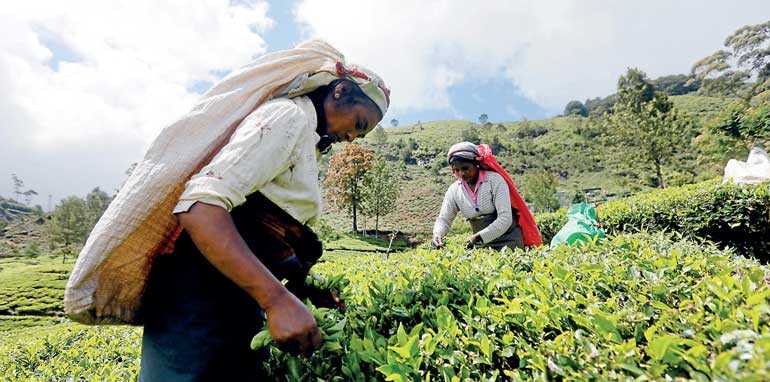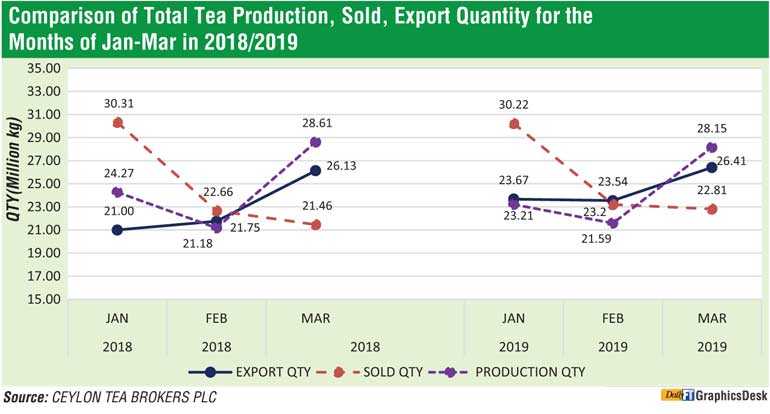 By Ceylon Tea Brokers PLC
The 1st quarter of the Sri Lankan Tea industry saw a downward momentum, with elevation averages decreasing to the comparative period in 2018. Tea production saw a decrease in the period of review whilst exports witnessed a marginal gain.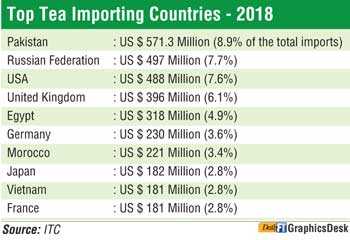 The oil sector posted gains during the first quarter of 2019 which would contribute towards the economic wellbeing of our major tea-importing countries.

A new set of sanctions imposed on Iran by the US and political volatility in the Middle-East Region is anticipated to be a major setback to the industry.

The total Sri Lanka tea production for the first quarter (January-March 2019) recorded 73.19 million kgs in comparison to 74.33 million kgs (-1.1 million kgs) for the same period last year. Production has decreased by 1.1 million kgs and Exports have increased by 4.74 million kgs compared to the same period in 2018. The total national average of the teas sold for the first quarter of the year 2019 was Rs. 585.30 in comparison to Rs. 629.77 (- Rs. 44.47) for the same period last year. Low Growns averaged Rs. 608.85; Mid Growns recorded Rs. 510.96 with High Growns at Rs. 573.81. The averages for High, Medium and Low Growns in Rupee and Dollar terms, shows a decrease for the period January – March 2019 when compared to the same period in years 2018 and 2017. Low Growns with the largest market share with 64.17% of the production recorded a decrease of (-Rs. 35.05) whilst High and Medium Growns recorded a decrease of (-Rs. 54.23) and (-Rs. 60.90) respectively when compared to the corresponding period in the year 2018.


Sri Lanka tea exports for the first quarter of 2019 amounted to 73.62 million kgs vis-à-vis 68.89 million kgs recorded for the same period last year (+4.74 million kgs). The FOB average price per kilo for this period stood at Rs. 847.57 as against Rs. 828.45 recorded for the same period last year. (+Rs. 19.12) The total revenue realised for the period January - March from tea exports was Rs. 62.40 billion ($347.41 million) compared with Rs. 57.06 billion ($368.78 million) (+ Rs. 5.33 billion) recorded last year. It's an increase in Rupee terms and a decrease in Dollar value compared to the year 2018. Iraq has emerged as the largest buyer of Sri Lankan tea in the period of January-March 2019. Turkey and Russia records as the second and third largest importers of Sri Lankan tea for the mentioned period.
Global economic outlook

Despite better than expected Quarter 1 GDP outturns for many countries, global growth is still seen dipping this year due to softer dynamics amongst developed countries. The global economy is projected to expand 2.9% in 2019.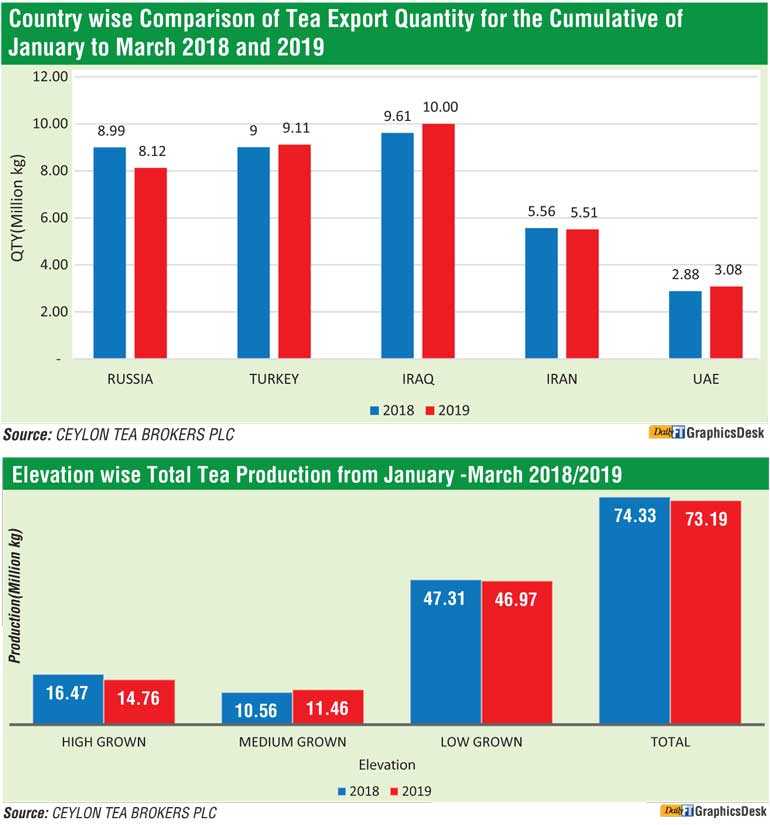 United States economic outlook

Although growth accelerated rapidly in Quarter 1, turning to Quarter 2, the trade war is likely to muddle the reading again as importers scramble to avoid possible new tariffs on $ 300 Billion of Chinese goods. Growth will slow this year with higher interest rates, fading fiscal stimulus and lower global growth.
Eurozone economic outlook

Growth surpassed expectations in the 1st quarter of the year, reviving after last year's sharp slowdown. Activity is seeing slowing down in 2019 as tougher external backdrop dents exports and hinders investments. Growth is seen at 1.2% in 2019.
The Middle East and North Africa (MENA) economic outlook

Growth prospects for Middle East and North Africa are deteriorating on the back of elevated geopolitical risks. Regional inflation jumped from 7.7% in March to 8.2% in April. The rise reflected mounting inflationary pressure in Iran on the back of US sanctions.
Russian economic outlook

A sharp slowdown in Russia reverberated across CIS and is seen driving regional growth to a 3 year low this year. Growth plunged in the first quarter this year, recording one of the worst readings since the economic downturn in 2015-2016. Growth is seen slowing noticeably in 2019 on dampened household spending and limited oil exports.
Iranian economic outlook

The Iranian economy was badly affected for several years by sanctions imposed by the international community over the country's nuclear program. The following year after the nuclear deal was implemented, Iran's economy bounced back and GDP grew 12.3% according to the Central Bank of Iran. The reinstatement of US sanctions last year, particularly those imposed on energy, shipping and financial sectors in November, caused foreign investments to dry up and hit oil exports. The Iran economy is expected to shrink 6% in 2019 in retreat from its 2018 high and is forecasted to remain so throughout this year.

The US Federal Reserve is expected to keep interest rates unchanged this year but is looking at the possibility of a rate cut later this year.
Sri Lankan rupee

The Sri Lankan rupee reached an all-time high of 182.80 in January 2019 against the US Dollar.

The Sri Lankan rupee is expected to remain stable with a heavy dip in Imports.
Global tea imports

Global purchases of imported tea totalled an estimated $ 6.5 billion in 2018. From a continental perspective, Asian countries bought the highest dollar worth of tea imported during 2018 with purchases valued at $2.3 billion or 35.5% of the global total. In the second place were the European countries at 34%, while 16.9% of the world wide tea imports were delivered to customers in Africa. The North Americas imported tea amounted to 10% of the share.
Top tea importing countries 2018 (Source: ITC)

1.Pakistan : $ 571.3 Million (8.9% of the total imports)

2.Russian Federation: $ 497 Million (7.7%)

3.USA: $ 488 Million (7.6%)

4.United Kingdom: $ 396 Million (6.1%)

5.Egypt: $ 318 Million (4.9%)

6.Germany: $ 230 Million (3.6%)

7.Morocco: $ 221 Million (3.4%)

8.Japan: $ 182 Million (2.8%)

9.Vietnam: $ 181 Million (2.8%)

10.France: $ 181 Million (2.8%)

Major tea-producing countries are currently witnessing healthy production levels. Therefore a decline in prices is being witnessed. With the global economic growth expected to decelerate in 2019, trade disputes between USA and China, and tension in the Middle East, the Sri Lankan tea industry is likely to face another challenging year.