Kaneesha Dawood, an alumnus from Lyceum International Panadura, reached Scholarships for USA seeking admissions to a US university accredited, reputed and affordable. Out of many offers SUSA was able to attract (from Montana to Pennsylvania and from Ohio to Indiana) Kaneesha selected Indian Hills Community College in Ottumwa Iowa – the only community college (ranking among the top 10% of all CCs in US) SUSA partners with. Having earned an Associate degree in finance already, Kaneesha has headed to Virginia to commence a one year of paid internship under Optional Practical Training (OPT).

In past 16 years, guiding over 300 youth to the US as Sri Lanka's only recruiter working exclusively with US colleges and universities, SUSA has been frequently asked whether a community college education is worth investing in. Kaneesha's candid account provides all the answers to such inquirers. Very few Sri Lankans are aware that there are nearly 1,500 community colleges in US educating over a quarter of all undergraduates. And a sizeable percentage of them are international students from developing countries seeking the world's top most college education at a price affordable.

Following is her candid account of past two years in rural Iowa excelling in academics, making lasting friendships and earning hands-on experience before heading to a four-year college to earn her bachelors: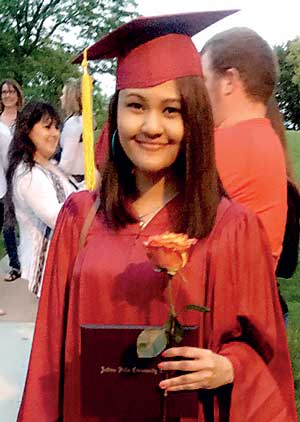 The journey to any success story begins from the education one receives in one's lifetime. Former politician, philanthropist, and President of South Africa Nelson Mandela claims that "education is the most powerful weapon which you can use to change the world". College education in America taught me great life lessons and proves to be very useful in my life. I would like to narrate an insight of my expectations, challenges, and experience I obtained while being an international student in the United States of America.

My passion for education started when I was little. Like most students in the high school, I had a strong belief in pursuing a college education and obtaining a successful career in life. While I was researching for colleges after the completion of Cambridge Advanced Level examination in Sri Lanka, a friend in my high school introduced me to Scholarships for USA Ltd. run by two great guidance counselors in Colombo. Mr. and Mrs. Dissanayake provided me a lot of information about universities in the United States and answered all my questions promptly. They were extremely genuine, professional, and authentic in helping me make the right choice about college.

I started my college education in fall 2015 at Indian Hills Community College in Ottumwa, Iowa. I had to face various challenges when I stepped into the United States of America. I was beginning to think that life in college would look more like in the movies which made me eager to experience a glimpse of life in the countryside. The initial adjustment moving from the city and adapting to the countryside life was different. It took me awhile to adjust, but once I gradually adapted to the remote setting I was able to call it my new "home".

When I attended classes in IHCC for the very first time one major aspect I noticed was the difference in classrooms. The classes were conducted in small numbers and were more hands-on and interactive, rather than simply lecture. This allowed me to participate and interact with professors and fellow students.

The expectations for a student in American colleges were different than in Sri Lanka. To enumerate, a student was expected to be an independent learner and have more upfront knowledge. Students were expected to speak up in class, share their opinions, and ask as many questions as possible. It was great that assignments were graded based on class participation and performance.

Moreover, students were invited to swing by the professor's office during office hours whenever they needed help in a particular subject. This helped me clarify most of the unclear aspects in a certain chapter and discuss on improving my academics. Professors were easily accessible, kind, and welcoming. I learned much more through open communication with instructors regarding different aspects such as history, literature, and culture.

The interactive class setting in Indian Hills Community College is definitely one of the reasons for me to perform well in college and get nominated to the President's List and Dean's List multiple times. My college experience at the Hills provided me a competitive edge in real life work experience in corporate America.

Accordingly, most of the foreign students experience a lot of cultural barriers in the United States. My expectations like any other international student toward culture were high. However, I was able to learn and adapt different customs by associating with the locals in Iowa. As a matter of fact, the locals in Iowa were very kind and welcoming. Thereupon, I volunteered to various activities off campus such as "The Annual Run for cancer by 'Relay for Life' and other projects in the church.

Furthermore, through the International Friendship Program in IHCC, I was given the opportunity to interact with a host family in Ottumwa. Kathy and Bob Higgins accepted me as part of their family and took me to different local events. I am grateful for them for sharing wonderful moments such as Thanksgiving, football, gardening, and mowing. The touch of family and friends in the United States has proven to be an incredible blessing during my stay in America.

The opportunities offered for international students in Indian Hills Community College were impressive. Some of the struggles I experienced while attending college at the initial phase was the fear of public speaking and not knowing which classes to enroll each term. However, the academic advisors at One Stop in IHCC advised and helped me plan out my class schedule at the Hills. Thus I was able to graduate early than I expected.

Furthermore, international students get the chance of working on campus part-time on student wages. I was given the privilege of working in the IHCC Library, Academic Success Center, and as a peer tutor in Accounting. Equally important, there were various students clubs that helped me develop important skills in my life such as, critical thinking skills, communication skills, and public speaking skills.

The diverse setting and exposure I acquired through student clubs at the Hills were amazing. Some of the clubs I involved in college were The Academy, Business Professional Club, and International Student Organisation. I was also given the opportunity to compete in Business Professionals of America (BPA) state competitions and then be nominated to compete in BPA National competitions in Boston in May 2016.

Due to financial aspects, I decided to pursue the Optional Practical Training (OPT) program and gain real-life work experience in my field of study. This is a program directed towards international students for a period of twelve months after the completion of their Associates Degree.

I moved to Virginia for job opportunities. The real-life work experience in America was very different than Sri Lanka. To elaborate, most jobs in corporations for recent graduates involved hands-on entrepreneurial training programs. My very first interview was an experience of a normal work day in the business so that I could have an idea of the tasks involved in that particular position. The recruiters shared the expectations of the organisation, duties that I needed to perform, and described the growth opportunities. Hands-on learning even before receiving the offer of employment was truly fascinating.

After three business days, I was called to sign the letter of employment. I started off as an Account Representative and then was promoted to Leadership/ Account manager role in two weeks. This program taught me valuable lessons such as people skills, leadership skills, and speaking skills. I am currently working for a non-profit organisation handling reconciliations and administrative tasks in the DMV in Virginia. The knowledge I obtained from IHCC was extremely valuable in applying into practice in the real world corporation. After the completion of my OPT, I plan on transferring to a four-year university to complete the Bachelor's degree in Accounting.

Overall, the education I received from Indian Hills Community College has been my stepping stone to fulfilling my goals. I am truly thankful to Mr. and Mrs. Dissanayake from 'Scholarships for USA' and Indian Hills Community College for providing me the opportunities to pursue my education and improve important skills in life.

My advice to fellow students in Sri Lanka: Take advantage of the resources you can get on campus and build your network from the start. Fight the weather if you are not accustomed to snow in America. Ask for help whenever you stumble in college. I did not know how and where to start but I learned how to adapt simply by meeting different people and engaging in great conversations. All I did was ask and everyone was there to help me. Therefore, with the support and encouragement of the professors, I was able to pursue my passion.

The culture I come from is very different from the US but once you learn to be confident and adapt to new aspects in life pursuing your goals becomes a lot easier. So embrace challenges, treat them as opportunities, and learn something new every day.