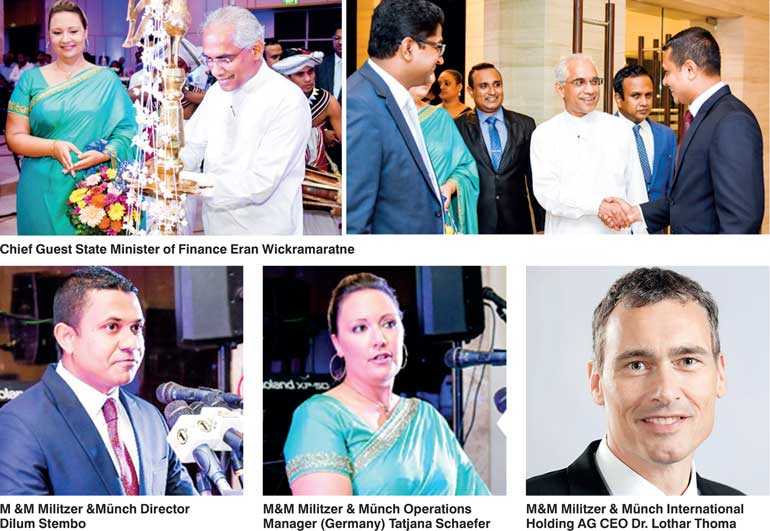 Militzer & Münch Group celebrated the inauguration of its own organisation in Sri Lanka. At the new location near the Port of Colombo, Militzer & Münch will be consolidating shipments and handling sea freight transports to the regions of the Indian Ocean and Asia. From Sri Lanka, Militzer & Münch also serves the CIS markets.

Militzer & Münch had already been represented by a delegation office in Sri Lanka since 2015. In view of the eminently growing importance of Sri Lanka as a logistics location over the past few years, Militzer & Münch now opened its own country unit in the South Asian country. The festive opening ceremony was attended, among others, by State Minister of Finance Eran Wickramaratne.

With this unit in Sri Lanka, Militzer & Münch is further expanding its network in South Asia. "At our location near the port, we will be handling a big part of our sea freight consolidation for ocean transports via the Indian Ocean and to Asia," says M&M Militzer & Münch Ltd. Managing Director Dilum Stembo.

"Our five-person team offers standard transports as well as comprehensive complete solutions for complex projects." With transports to the CIS countries, Militzer & Münch in Sri Lanka additionally serves a niche markets. Plans are to expand the Militzer & Münch Sri Lanka service portfolio by adding door-to-door shipments to Europe and the USA.


The logistics industry in Sri Lanka: on a growth course

Sri Lanka has turned into an important maritime logistics hub in South Asia. The Port of Colombo has been undergoing major upgrading since 2008. The government of Sri Lanka aims at sustainably strengthening the country's logistics sector and meeting the requirements of modern logistics.

"We are going to tap into the potential of this emerging market," says M&M Militzer & Münch International Holding AG CEO Dr. Lothar Thoma. "The central location of Sri Lanka provides us the possibility to offer our customers comprehensive services in the South Asian area."

The Government's measures are crowned with success. The 'Liner Shipping Connectivity Index 2017' of the United Nations Conference for Trade and Commerce (UNCTAD) declares Sri Lanka one of the best-connected countries for sea freight in South Asia, which makes the Port of Colombo one of the most important logistics hubs of the region.

The Militzer & Münch Group employs a staff of about 2,000 at 100 locations in around 30 countries. Strategic partnerships in numerous other countries complete the dense network. Militzer & Münch offers worldwide air and sea freight services as well as road and rail transports and project logistics along the East-West axis in Eurasia and North Africa. The Group operates with a dense network of branch offices in Eastern Europe, the CIS, the Middle East and the Far East as well as in the Maghreb countries. The head office of the company that goes back to 1880 is in Sankt Gallen, Switzerland.