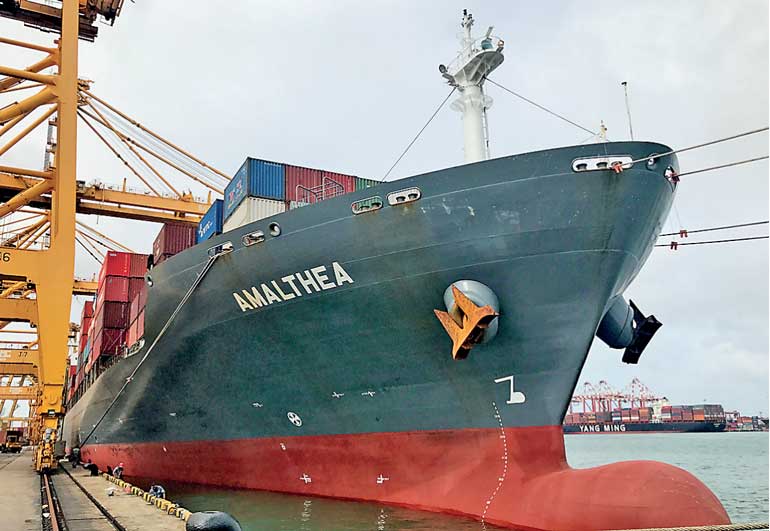 Hong Kong-registered Pendulum Express Lines' (PEL) MV Amalthea berthed its maiden voyage at Jaya Container Terminal in Colombo, Sri Lanka recently.

The senior management of JCT, SLPA and MAC Equity Maritime Services Ltd, the PEL local agency graced the occasion to commemorate the inaugural berth and the traditional exchange of plaques took place on board.

PEL commenced business in 2001, offering various feeder services as a vessel operator and has over 10 weekly scheduled feeder services in the region currently. PEL is recognised as an emerging player in the feeder business and has extensive growth plans to be positioned as one of the most desired feeder carriers in the market in the coming years. The new service, North Asia-India Subcontinent Service (NISC), is operated together with partners HMM, CMA, KMTC and SCI. Each partner including Pendulum contributes one vessel, while HMM contributes two vessels. Port rotation: Xingang (Tianjin), Qingdao, Ningbo, Singapore, Port Klang, Nhava Sheva, Mundra, Hazira, Colombo, Port Klang, Singapore and Xingang.

PEL's other service Pakistan India Express service (PIX) has a rotation from Singapore-Port Klang-Colombo-Karachi-Mundra-Port Klang and serves its clients through slot arrangements with a partner carrier.

MAC Equity Maritime Service Ltd. is the general shipping agent providing full-fledged agency services together with all customary ancillary and incidental services to the principal. MAC Equity Maritime Services Ltd. is a majority-owned subsidiary of MAC Holdings Ltd.