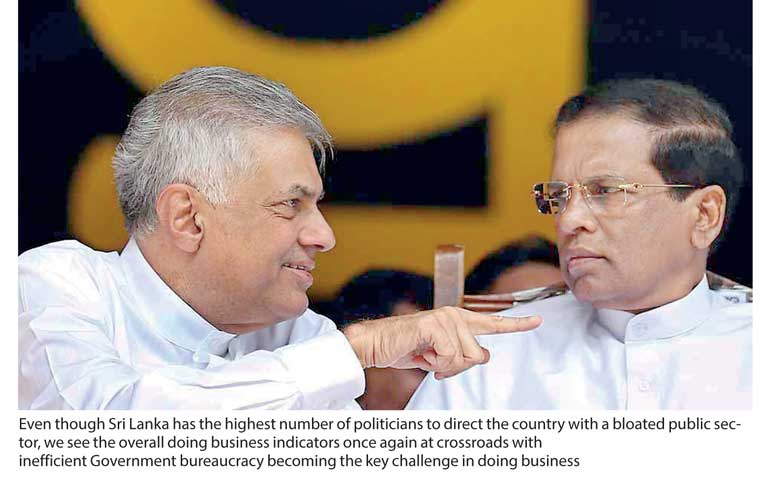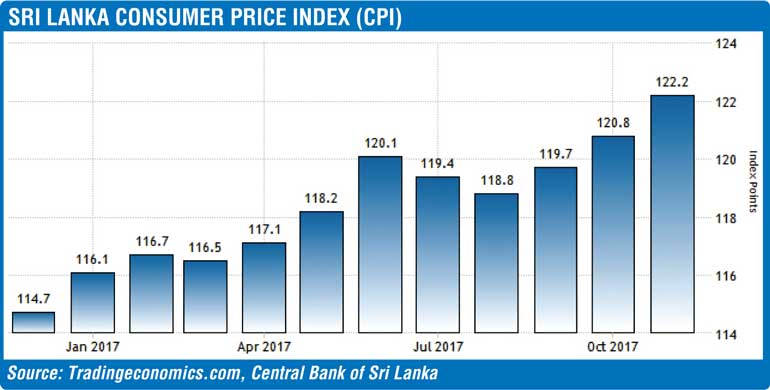 The other day I was at the Daily FT-Interbrand awards 2017 presentation and global expert from Holland was explaining how a country brand can be calculated and if the brand is strong then we can attract higher quality tourists, stronger FDI and find more attractive export markets.

After three years of a progressive government at play on all fronts, Sri Lanka has slipped. On tourist arrivals an all-time low of 0.2% growth was registered last month (November) with cumulative arrivals at a low ebb of 2.5%. Exports have declined from $11.3 billion to $10.5b whilst on FDIs Sri Lanka has been able to attract $ 0.6 billion from a $1 billion performance.

In simple words Sri Lanka's performance is a disaster. Brand value has plummeted to register 5% growth to $78 billion when the country was at a 25-35% performance in the last six years.
Consumption drops to -3.6%
On the household end Sri Lanka has been on a bumpy road in 2017 with overall consumer consumption dropping for three quarters in a row between 2-4% and the latest insight been Q3 GDP tapering down to 3.3% as per the global research company Nielsen which does not augur well for an economy driven on a private sector agenda.

The mainly reason for the declining consumption is the steep escalation of prices. As the per Sri Lanka Consumer Price Index, in the graph we see in the last 11 months Sri Lanka has lost its grip on the cost structures and from an index point of 114 in January 2017, we have moved up to a 123.4 performance which explains the behaviour change at the consumer end.
GDP at 3.4% and price index 122.4
In the backdrop of the country losing its grip on inflation management, one option to ensure the typical lifestyle of an average Sri Lankan is maintained is by driving up income. But what we see is that there no quantum increase on GDP with Sri Lanka performance decline quarterly from 4% to a Q3 performance of 3.4%. The listed company performance on revenue has dropped by 2% which mirrors the poor macroeconomic indicators.

What is dangerous in this situation is that for a small economy like Sri Lanka which is around 80 billion dollars, if we do not grow by at least 6%, a typical consumer will not feel it. At the up and coming elections on 10 February will be interesting to see the people's reaction as some politicians in the Government are highly critical on their own performance in the last three years.

The performance is compounded by the Central Bank bond scam where almost 10-15 Parliamentarians have been involved directly or indirectly, resulting in the Finance Minister and Central Bank Governor exiting the system, which has never happened in the history of Sri Lanka or for that matter in South Asia.

Neighbouring country India is registering GDP growth of 6-8% and estimating to average at 7.2% by end year whilst Bangladesh's GDP growth is estimated to be 6.8% for 2017. Pakistan which is on an IMF program will touch a commanding 5.7% which intimates the aggressiveness of the South Asian economy and the reforms driving competitiveness.
Doing business in Sri Lanka
In the above macroeconomic backdrop if we examine Sri Lanka's doing business performance given that almost

75% of Sri Lanka's GDP is generated by the private sector, the environment is not healthy.

Even though Sri Lanka has the highest number of politicians to direct the country with a bloated public sector, we see the overall doing business indicators once again at crossroads with inefficient Government bureaucracy becoming the key challenge in doing business.

We could have accepted this situation before 2015 but with the progressive Government that was voted in, we expected a stronger performance on policy but sadly this has not happened. If one does a deep dive we see that corruption yet looming high, defeating the very purpose for which this Government was voted in. It's a very sad situation for Sri Lanka as we had a chance to make a difference on 8 January but as mentioned by the President, not even three months into the era the biggest fraud in this country was hatched and executed to near perfection but now as the private sector terms it, 'the excreta has hit the fan'. It's all over!
Private sector – 10 pick-ups
In the above macro environment we see Sri Lanka's private sector having to keep the fires burning just like war times. Their buzzword is 'resilience'. When I decided to study for my doctorate way back in 2007, I decided to observe the country at national level economic policy, exports, tourism and retail trade and my single-minded research area was 'how much can Sri Lanka's private sector be resilient?'

Even once I graduated and went back to the private sector in 2017, I have not found the answer 'when will the private sector snap?' I guess a respected professional like Dr. Indrajit Coomaraswamy might have a better insight to this question. All I know is that as mentioned before the listed company revenue is at -2% in the last quarter and companies have started putting their shutters up on R&D and expansion ventures. Let me highlight 10 key pick-ups of the private sector in 2017.

1) Close to customers but stalk competitors

FMCG companies that are on track on numbers are companies which invested on consumer research so that behavioural nuances were identified whilst stalking competitors to grab market share. We saw the launch of smaller packs as consumption contracted, and aggressive discounting on price whilst regional brands sprouted across the country.

2) Sensitive to change and ready to transform

Companies that operated in the leisure industry had to change strategy given the downturn in the traditional markets like China and moved to breakeven strategies whilst cutting costs. Some have even pondered salary cuts at the management level whilst others have taken decisions to divest their leisure portfolio. A new strategy seen by the large players is the movement to boutique tourism which is a drastic reform process away from the DNA grain that the companies possess.

3) Guarding your name and clear on who you are

Professionals who decided to serve the Government on the promise of Yahapalanaya when having to deal with challenges on implication moved out of the system and resorted to guarding the name and building one's own identity. In fact many moved back to the private sector and focused on their grail that made them successful totally away from policy. There have been many invitations to the private sector people to be ambassadors in attractive markets and chairmen of key public sector entities but people have stayed clear. This is very unfortunate for Sri Lanka but it's the reality we saw in 2017.

4) Customers are diverse, moved to the first

Whilst the typical profile of the target customers remains diverse in Sri Lanka, especially in the housing and real estate market we saw that rather than sticking to strategy, companies moved into grabbing the first customers that came their way. There are instances where traders from the outskirts were accommodated into the lifestyle property brands, just to boost the sales revenue that will help meet the month-end loan payment. So the focus was survival given that Central Bank cautions created a ripple in the market.

5) Good package at a fair price

The outbound tourism sector resorted to fair pricing at good packaging in the Budget. The logics was get critical mass whilst top businessman have queried why Sri Lanka does not attract budget airlines just like Malaysia and Thailand that attract 30-35% segment of business on these lines. Interesting argument when all of us talk of higher ARR visitors.

6) Private sector is available to spread good news

Amazing but true, Sri Lanka has the highest number of conferences, especially education-related conferences, than any other country in South Asia. In fact this supports the 'Education Hub' identity. One key trend seen in 2017 is that professionals are always obliged to spread the good news at staged events even when the macro economy is going the other way round.

7) Working closely with the Government

Let's accept it, the Sri Lanka private sector relies heavily on Government policy for business. Hence the key companies remain very close to the Government at play to protect their business. A key area that emerged on media recently is on the liberalisation of the shipping industry and the backdoor interventions that allegedly took place. I have seen this across industries from apparel, tourism, tea, cinnamon and rubber, where working closely with the policymakers is mandatory.

8) Movement to apps

An interesting insight seen in a depressed market was everyone moved to the service business game using technology like apps. A local operator led the way and registered over 11,000 pick-ups from a suburb of Sri Lanka. In a country where many have two mobile phones with 100% penetration I guess this will be the way forward.

9) Hiring talent from the outskirts

In a country where unemployment is at below 5%, there is no option but having to move to talent hiring from the outskirts. We see it in reality in our own companies we resort to this option and are increasing looking for Bangladesh and Indian labour.

10) Information-driven but

wisdom at play

Whilst we see that Sri Lanka is totally information-driven given the access to internet, the issue is reliability. Hence whilst there is an information overload, many business decisions are taken in wisdom, which is interesting. I guess when the SME sector is almost 70% of business, we will see this trend in the years to come.

Conclusion

I am going back to the area of focus. How much can the private sector be resilient in a market? When will it break?
(The author can be contacted via rohantha.athukorala1@gmail.com. He is a CEO/President of a global entity and thoughts expressed are strictly personal in nature.)