Singapore owes its success as a highly developed free-market economy in large part to its remarkably open

and corruption-free business environment, prudent monetary and fiscal policies, and a transparent legal framework
---
By Anwar A. Khan

National Day in Singapore is celebrated annually on 9 August. It commemorates the founding of Singapore's independence from Malaysia on this day in 1965. The day is one of the best Singaporean holidays, both for what they celebrate and how they celebrate it.

Singapore is a rainbow nation – red, yellow, brown, black, and white – and they are all precious in humanity's sight. The evolution of humanity says that Singapore reaffirms that she is continuing her rise from the ashes. The babies who live in Singapore go on to enjoy one of the best education systems in the world. The OECD has ranked 15-year-old Singaporean children number one in the world in a recent global ranking of 'Universal Basic Skills' in mathematics and science. Singapore students also topped the OECD PISA problem solving test in 2012.

Singapore is officially known as the Republic of Singapore and is located in Southeast Asia. It is an island country off the Malay Peninsula and is 137 kilometres north of the equator. It is comprised of 63 islands which are separated from Malaysia by the Straits of Johor. As a country, it has been extensively urbanised. Current population in Singapore is expected to be 5.66 million.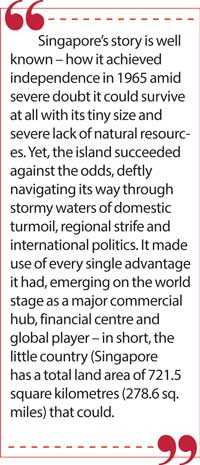 Bangladesh is located nearly south side to Singapore. Distance between Singapore and Bangladesh is 2883 km/1791.4 miles. Singapore is two hours ahead of Dhaka, Bangladesh. Throughout the year, its weather almost remains the same – ranging from 30-35 degree Celsius.

The air travel shortest distance between Bangladesh and Singapore is 2,866 km= 1,781 miles. If you travel by an airplane (which has average speed of 560 miles) from Bangladesh to Singapore, it takes 3.18 hours to arrive.

When I read great literature, great drama, speeches, or sermons, I feel that the human mind of Singapore has not achieved anything greater than the ability to share feelings and thoughts through language. Wisdom is wealth! One thing I respect deeply about Singapore is the treasure of wisdom their ancestors have handed down to them. While some of their leaders may have forgotten them, the rest of them don't need to. From prudent sayings on wisdom itself, to judicious encouragements, warnings and even quirky advice on learning, patience, unity, wealth, poverty, community, family, love and marriage – all these will inspire them to be the best they can possibly be in the world.

I know many Singaporeans, especially Lee Cher Leng, for a long time. He told me, "From the Singapore with slums that I grew up in, we now have the highest home ownership of any country in the world, with 90% of residents living in homes they own." Even amongst households in the lowest 20% of incomes, over 80% own their own homes. Rapidly rising salaries and strong compulsory saving schemes, through the Central Provident Fund, led to this incredibly high home ownership.

Singapore roars to life on National Day, as it remembers its colourful rise to independence and beyond. As a foreigner to visit this splendid country on many occasions, I have witnessed the lead-up to the country's National Day when the island starts turning a particular shade of red and white largely from the flags fluttering from buildings, houses and even cars.

Singapore's story is well known – how it achieved independence in 1965 amid severe doubt it could survive at all with its tiny size and severe lack of natural resources. Yet, the island succeeded against the odds, deftly navigating its way through stormy waters of domestic turmoil, regional strife and international politics. It made use of every single advantage it had, emerging on the world stage as a major commercial hub, financial centre and global player – in short, the little country (Singapore has a total land area of 721.5 square kilometres (278.6 sq. miles) that could.

Singapore has succeeded so comprehensively because of their exceptional leadership. Many in the world have heard of Lee Kuan Yew, the founding Prime Minister of Singapore. Far fewer have heard of Dr. Goh Keng Swee, the architect of Singapore's economic miracle, and S. Rajaratnam, Singapore's philosopher par excellence. Together, they made a great team.

Singapore's economic freedom score is 89.4, making its economy the 2nd freest in the 2019 Index. Its overall score has increased by 0.6 point, with increases in scores for trade freedom and government integrity outpacing modest declines in labour freedom and property rights. Singapore is ranked 2nd among 43 countries in the Asia-Pacific region, and its overall score is well above the regional and world averages.

Singapore owes its success as a highly developed free-market economy in large part to its remarkably open and corruption-free business environment, prudent monetary and fiscal policies, and a transparent legal framework. The government has continued to promote economic growth through an active industrial policy that targets fiscal incentives, increases public investment, promotes development of skill sets attractive to foreign investors, and focuses on economic diversification. Well-secured property rights promote entrepreneurship and productivity growth. The rule of law is undergirded by a societal intolerance of corruption.

The combined value of exports and imports is equal to 322.4% of GDP. The average applied tariff rate is 0.1%. As of June 30, 2018, according to the WTO, Singapore had 182 nontariff measures in force. The country's openness to global investment encourages vibrant commercial activity. The government continues its ownership in the financial sector but has steadily been opening the domestic market to foreign banks.

Singapore's gross domestic product shrank 3.4% quarter-on-quarter in the three months to June 2019, after expanding 3.8% in the previous period and missing market expectations of a 0.1% expansion, advanced data showed. It was the sharpest contraction since the third quarter of 2012, as the services sector (-1.5% from 4.4% in Q1) and construction output (-7.6% from 13.3%) shrank. Meantime, the manufacturing sector contracted 6%, less than a 6.4% decline in the prior period.

On an annual basis, the economy advanced 0.1%, the weakest growth rate since the second quarter of 2009, slowing from a downwardly revised 1.1% expansion in the first quarter of the year and well below market forecasts of a 1.1% rise. GDP Growth Rate in Singapore averaged 6.60% from 1975 until 2019, reaching an all-time high of 27.20% in the second quarter of 2010 and a record low of -10.90% in the third quarter of 2010.

Statistics – GDP increases S$ 372.807 billion (nominal, 2019 est.), increases S$ 589.187 billion (PPP, 2019 est.) GDP rank: 36th (nominal, 2018) and 36th (PPP, 2018). GDP growth: 2.8% (2016) 3.9% (2017) and 3.2% (2018e) 2.3% (2019e). GDP per capita increase S$ 65,627 (nominal, 2019 est.), and increases S$ 103,717 (PPP, 2019 est.). Unemployment: Positively decreases 2.1% (2018 est.)
Main industries: Electronics, chemicals, financial services, oil drilling equipment, petroleum refining, biomedical products, scientific instruments, telecommunications equipment, rubber, food and beverages, ship repair, offshore construction, life sciences re-exportation and ease-of-doing-business rank. Exports: about S$ 400 billion (2019).

This exceptional team also implemented three exceptional policies: Meritocracy, Pragmatism and Honesty (MPH). Indeed, they share this secret of MPH formula with every foreign student at the Lee Kuan Yew School, and they assure them that if they implement it, any country will succeed as well as Singapore. Meritocracy means a country picks its best citizens, not the relatives of the ruling class, to run a country. Pragmatism means that a country does not try to reinvent the wheel.

As Dr. Goh Keng Swee said, "No matter what problem Singapore encounters, somebody, somewhere, has solved it. Let us copy the solution and adapt it to Singapore." Implementing honesty is the hardest thing to do. Corruption is the single biggest reason why most third world countries have failed. The greatest strength of Singapore's founding fathers was that they were ruthlessly honest.

With the lush displays, rousing songs and pulsating energy creating such an electric atmosphere, spectators at the show also get a fun-pack – the National Day Parade version of a goodie bag. Large, lightweight and water-resistant, the design varies every year but will invariably be stuffed with all sorts of things, from snacks and drinks to bandannas and light-sticks. In recent years, the contents of these fun-packs have been made as practical as possible so that they can be used long after the party is over.

The national parade features performances from military and school bands, drums ensemble, solo vocalists, professional dance routines, and displays by the Singapore Armed forces, which include free fall parachute displays, tower repelling, vehicle shows, a presidential gun salute and a national flag fly-by.

In present time, Singapore is known as one of the safest places to live in Asia and, in fact, the entire world. This wasn't always the case. From 1942-1945, Singapore suffered under the harsh rules of Japanese occupation. After the Japanese surrender in 1945, Singapore was returned to Britain, however, its citizens no longer had any confidence in Britain's ability to govern and protect Singapore due to its quick fall to the Japanese in 1942. The result of this was that Singapore saw devastatingly widespread revenge-killing, looting, and general destruction.

From 1945-1955, Singapore held its first two Legislative Council Elections and started the slow move towards becoming a democracy. The Second Legislative Council election saw the debut of the People's Action Party (PAP), which would go on to be Singapore's ruling body for over 50 years. Over the next decade, the PAP increased in size as Singapore moved from a partial internal government to being fully self-governed. In 1963, PAP leaders decided that the way for Singapore to move forward was through merging with Malaya and so, along with North Borneo and Sarawak, the Federation of Malaysia was born.

On 9 August 2019, Singapore marks 54 years since independence. In these long years, the former British colony has transformed itself into one of the world's wealthiest countries. We hope the boost of the anniversary and recognition of the legacy of Lee Kuan Yew will help Singapore to reach at its highest peak of its development. It will remain as a bright example for other nations to learn many things from Singapore. Their National Day, therefore, serves as a reminder to all that the guarantee of freedom requires all to remain permanently vigilant against corruption and the erosion of the values of the freedom struggle and to build an active citizenry that will work towards wiping out the legacy of illiteracy, inequality and the promotion of the rights embodied in Singapore's constitution. This is a time to reflect on the strides they have made in achieving the vision of a better life for all.

The Singapore population is one of the best educated populations and, hence, globally mobile. They can vote with their feet if Singapore is a stifling un-free society. Most choose to stay. Equally importantly, some of the most talented people in the world, including Americans and Europeans, are giving up their citizenship to become Singapore citizens. Maybe, they have noticed something that the Western media has not noticed: Singapore is one of the best places to be born in and to live in. Quite amazingly, a society destined to fail in 1965 has become one of the world's greatest success stories.

Being a visitor of Singapore on many occasions for many years, I have found the country as splendiferous in all respects of life, and its people are very kind, hospitable and cooperative. Nothing can stop Singapore! It shall be at peace at all times! Let us join together to salute Singapore and its people on their 54th National Day. Long live Singapore!

(The writer is a senior citizen of Bangladesh, writes on politics, political and human-centred figures, current and international affairs.)