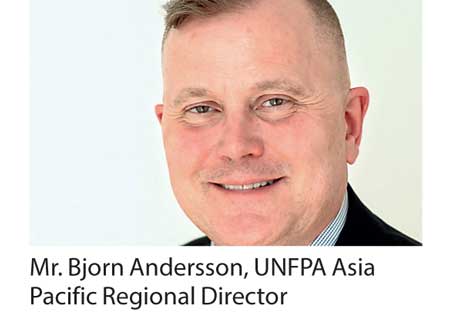 To forge partnerships for women, youth and the elderly
The newly-appointed Asia Pacific Regional Director of the United Nations Population Fund (UNFPA), Bjorn Andersson, will arrive in the island tomorrow for a five-day mission. This will be his first official mission since he took up his post as Regional Director in September 2017.

Andersson will participate in the 12th General Assembly of the Asian Forum of Parliamentarians on Population and Development (AFPPD), which will be held in Colombo this year. The AFPPD is a regional non-governmental organisation, supported by UNFPA, which serves as a coordinating body of 29 national committees of parliamentarians on population development.

"I'm delighted to be heading to Sri Lanka, a country with leading socioeconomic indicators in the region. I am very much looking forward to working with partners in Sri Lanka and Parliamentarians from across Asia-Pacific to advance progress on reproductive health and rights, the wider ICPD agenda and the Sustainable Development Goals," says Andersson.

The International Conference on Population and Development (ICPD) program of action was adopted by 179 countries in 1994. The program acknowledged reproductive health and rights, as well as women's empowerment and gender equality, as cornerstones of population and development programs.The Sustainable Development Goals are a universal call to action to end poverty, protect the planet and ensure all people enjoy peace, prosperity and healthy fulfilling lives by 2030.

During Andersson's mission in Sri Lanka, he also plans to engage in a series of high-level meetings to discuss the work of the UNFPA in Sri Lanka. Scheduled meetings include discussions with the Presidential Secretariat, Ministry of Women Affairs and Children, Ministry of Health, Nutrition, and Indigenous Medicine, Ministry of Social Empowerment, Welfare, and Kandyan Heritage, Ministry of Skills, Development and Vocational Training, Ministry of National Policies and Economic Affairs, Ministry of Education, Department of Census and Statistics and the University of Colombo.

Andersson is a Swedish national with over 25 years of extensive experience in international development cooperation, both in the bilateral and multilateral arena. He has held key positions in program management, policy development and strategic organisation management in the UN system and with government agencies.

The UNFPA is the lead UN agency for delivering a world where every pregnancy is wanted, every childbirth is safe and every young person's potential is fulfilled. With significant demographic shifts in the Asia-Pacific region in particular, UNFPA's work is increasingly important in ensuring countries use population data to drive evidence-based policies that enable the full realisation of reproductive and health rights of women, young people and the elderly.