---
High Commissioner of Pakistan Maj. Gen. (R) Dr. Shahid Ahmad Hashmat, met with Opposition Leader Mahinda Rajapaksa on 10 August, and briefed him on the latest situation in Jammu and Kashmir.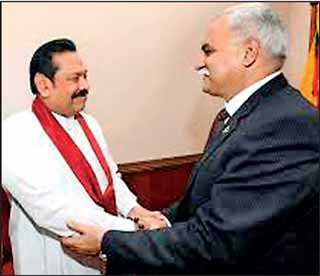 The High Commissioner apprised the Opposition Leader that the unilateral actions taken by India to scrap the special status of Jammu and Kashmir by revoking the Article 370 were gross violation of international law. He emphasised that Pakistan is strongly opposed to any move that would seek to alter the demographic structure of Jammu and Kashmir as it is an internationally-recognised disputed territory. He further stated that these illegal steps have the potential to escalate the situation in the area, with grave implications for peace and security in the region.

He also stressed that ultimate resolution of the Jammu and Kashmir dispute is to be determined through a plebiscite by the United Nations, in accordance with numerous resolutions of the Security Council.

The High Commissioner underscored the importance of cooperation among SAARC countries to promote peace and harmony in South Asia.