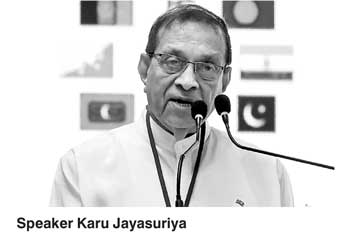 Speaker Karu Jayasuriya says the present Government has taken steps to introduce many concepts of good governance and best practices to the parliamentary system during the last three years.

Speaker Jayasuriya delivering the welcome address at the Conference of Association of SAARC Speakers and Parliamentarians on Wednesday highlighted the measures taken by the Government to strengthen the parliamentary system.

The eighth Conference of the Association of SAARC Speakers and Parliamentarians (ASSP) was inaugurated under the patronage of President Maithripala Sirisena and Prime Minister Ranil Wickremesinghe in Colombo, on Wednesday.

Speaking further, Jayasuriya said that a parliamentary budget office will be established in the near future while a code of conduct for the members of parliament has been drafted and almost finalised with the intention of regulating the conduct of MPs in their capacity as representatives of the people.

He said the passing of the 19th amendment to the constitution established the Constitutional Council which is responsible for the appointment of members to nine independent commissions that contributes to empower the rule of law.

In addition, the Prime Minister's question time was initiated. The committee system was strengthened by the establishment of Sectoral Oversight Committees and a public Finance Committee. The chairs of committees are equally shared between the Government and the opposition, said the speaker.

At the event the chairmanship of ASSP was handed over to Sri Lanka from the Maldives and Speaker Jayasuriya became the chairman while the Deputy Speaker of Afghanistan Mohammad Nazir Ahmadzai was appointed deputy chairman of ASSP.

The Chairman of the ASSP Conference on the previous occasion, Speaker of the Maldives Parliament, Abdullah Masheed said he believes that ASSP under the chairmanship Karu Jayasuriya will play a major role in the future.

Sri Lanka's Prime Minister Ranil Wickremesinghe delivered the keynote address at the opening ceremony. A commemorative stamp was issued to mark the eighth Conference of the Association of SAARC Speakers and Parliamentarians.