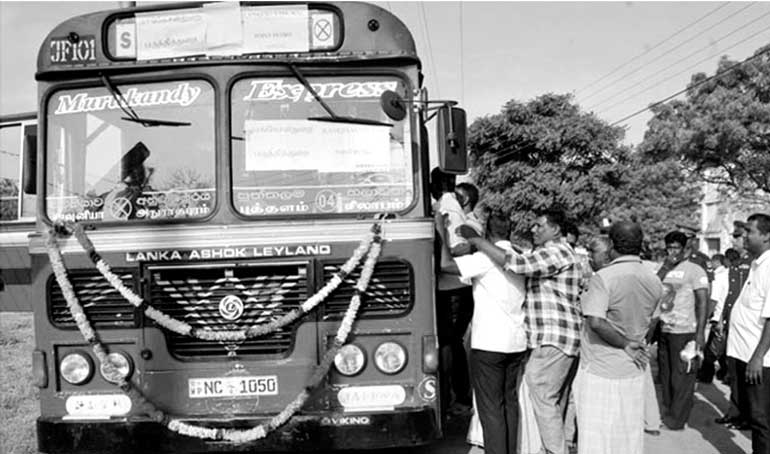 Turning yet another page in the chapters of the reconciliation process, a
part of the road that runs through the Security Force Headquarters - Jaffna (SFHQ-J) was reopened for public use early this week. According to Army media, the stretch of the AB 21 road from Kankesanthurai (KKS) to Point Pedro (PPD) was opened for public use after a period of 28 years.
This gesture of goodwill on the part of the troops in Jaffna was received with much joy by the local people who up to now were compelled to take a longer route to reach their destination. The road bypasses the main entrance of the SFHQ-J in Palaly and runs through the cantonment connecting Thondamanaru and other villages thereby enabling the Jaffna people to easily reach their land and properties there. It will also facilitate easier vehicular movement, both passenger and commercial, within the Jaffna Peninsula.
The recommencement of public transport was signified by a simple ceremony where a state passenger bus made the maiden journey to Kankesanthurai amidst cheers from the people.
Jaffna District Secretary Nagalingam Vedanayagam, Commander, Security Forces - Jaffna (SF-J) Major General Dharshana Hettiarachchi, senior state and military officers and local people were present at the occasion.
Recently, another road in Mullaithivu which had been closed for the public was reopened heralding a new era of development to the region. This road that cuts across the Security Force Headquarters - Mullaithivu (SFHQ-MLT) connecting Vattappalai and Mullaithivu was opened for the public last month (01 January). This measure was taken after the release of a 133-acre stretch of land in the Keppapilavu and Seeniyamottai areas in the Northern Province.