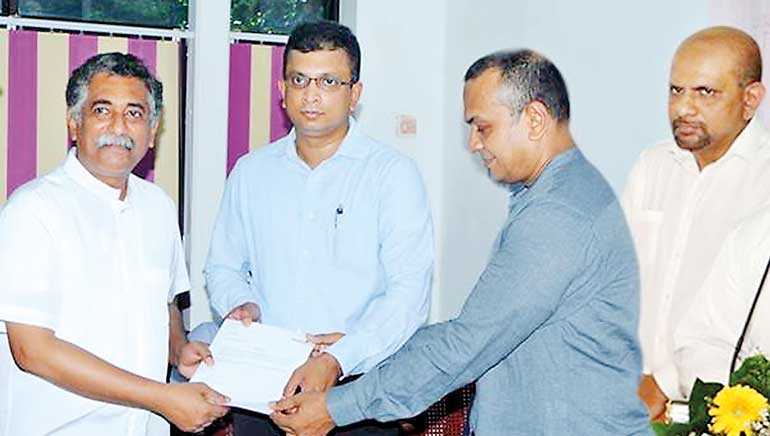 From left: Pastor of Zion Church Rev. Roshan Mahesan, Dialog Axiata Group Chief Executive Supun Weerasinghe, Sarvodaya Executive Director and Attorney-at-Law Chamindha Rajakaruna and Dialog Axiata Group Chief Corporate Officer Shayam Majeed
---
Project initiated by 'Rally to Care' from Dialog Foundation


The Rally to Care initiative by Dialog Foundation, continued its relief efforts on 9 June, by providing long-term educational support for children affected by the tragic incidents of Easter Sunday at Zion Church, Batticaloa.

The relief disbursement activities were initiated in Batticaloa on 9 June at a temporary location being used by the Zion Church; which is currently under reconstruction, following the tragic events. Dialog Axiata PLC Group Chief Executive Supun Weerasinghe, representing the Rally to Care initiative by the Dialog Foundation, pledged to support the relief efforts in providing long-term educational support for affected 71 children in Batticaloa until the age of 19.

Furthermore, 71 school bags with stationary that were donated by the Executive Committee of Colombo Model United Nations 2019, were disbursed to the affected children.

Complete eye check-ups were conducted for the affected by Vision Care, with required prescriptions for spectacles being provided on the same day, following which, the prescribed spectacles will be distributed free of charge by Vision Care.

Sarvodaya, Sri Lanka's most broadly embedded community-based development organisation network engaged in relief efforts, peace building and welfare in the country, will oversee coordination and on-ground execution of the relief disbursement in the Eastern Province.

In attendance during the commencement of relief activities in Batticaloa were the Pastor of Zion Church Rev. Roshan Mahesan, ASP Batticaloa G. Kumarasiri, Dialog Axiata Group Chief Corporate Officer Shayam Majeed and representatives of Sarvodaya including Executive Director and Attorney-at-Law Chamindha Rajakaruna and Director – Field Operations Ravindra Ariyawickrama.

The relief disbursement in Batticaloa by Rally to Care follows the initiation of the Life Healing Centre in Katuwapitiya, which was set up to provide psychosocial rehabilitation for affected families through its team of certified counsellors. The provision of educational support and medical check-ups are were also conducted in Katuwapitiya.

The Rally to Care initiative together with its partners World Vision Lanka, Sarvodaya, My Doctor, Vision Care and Ratmalana Audiology Centre, will continue its relief disbursement efforts and its mission of providing immediate term outpatient support for victims of physical disability and trauma, long-term educational support for 200+ children, and psychosocial rehabilitation for 250+ families that were affected by the tragic incidents of 21 April. Visit dialogfoundation.org/rallytocare for more information and further updates on the Rally to Care initiative.