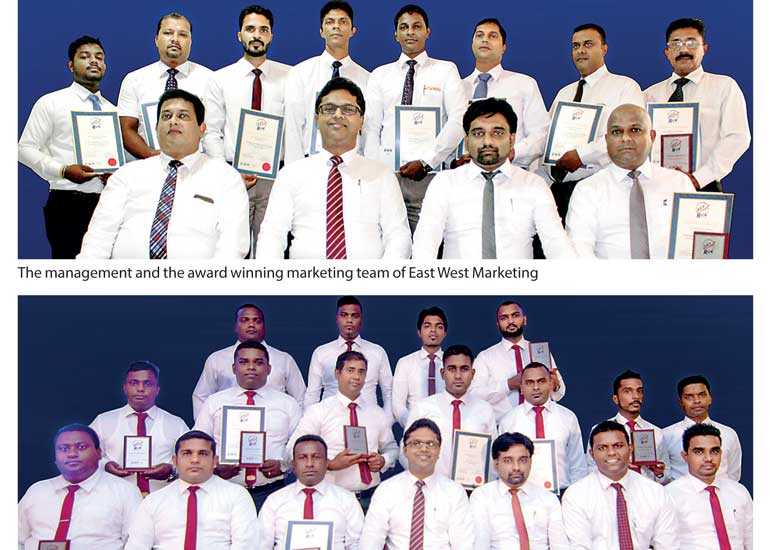 East West Marketing (EMW), a subsidiary of Nawaloka Holdings honoured and rewarded high performers in the sales force at a gala event held recently. Members of the company's senior management led by Chief Executive Officer Dinesh Hamangoda graced the occasion in addition to the sales force who were enthusiastic participants at the event.

The company rewarded top performers of the sales force with foreign tours as well as a number of other equally attractive gifts. Sales Representatives, Sales Executives and Sales Managers from General Trade, Modern Trade and Bakery segments of EMW were amongst those honoured during the occasion.

"Our sales force is the backbone of the company and it is their dedication and professionalism coupled with strong work ethics that drive us forward in an upward trajectory. We continue to enjoy an increasingly high customer demand mainly as a result of the consistent effort that our sales force puts forth. We plan to build on this platform and further enhance our service offering to customers," commented EMW CEO Dinesh Hamangoda. EMW is a prominent player in the country's FMCG and Bakery sector. Each sector distributes high quality products to stores and bakeries island-wide through two dedicated sales teams that work tirelessly to maintain sound industry partnerships and provide a high standard of services to clients. Armed with three decades of experience and long lasting and trustworthy relationships with local and foreign partners, EMW maintains a reputation as a trusted entity that distributes some of the world's leading FMCG brands across the island.

EWM also manufactures a range of food products through its own manufacturing facilities and joint ventures. The Company is well-equipped with a robust distribution network, a state-of-the-art warehouse as well as a brand new vehicle fleet to ensure efficient and timely distribution of products across the country. EWM is a member of respected conglomerate Nawaloka Holdings which operates in diverse sectors such as Healthcare, Construction, Manufacturing, Trading, Lubricant, Education, Real Estate and Finance.