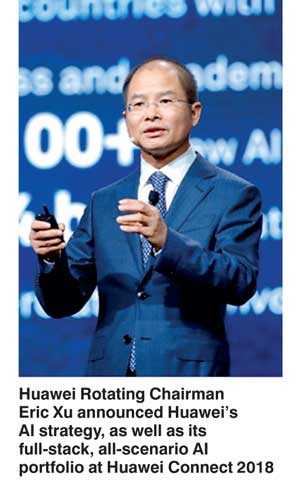 The third annual 'Huawei Connect', a global event for the ICT industry, has opened at the Shanghai World Expo Exhibition and Convention Center. Themed 'Activate Intelligence', this year's event focuses on AI: Its challenges, opportunities, innovations, and practices.

At the event, Huawei Rotating Chairman Eric Xu announced Huawei's AI strategy, as well as its full-stack, all-scenario AI portfolio. Huawei's AI portfolio includes its new Ascend series of AI chips – the world's first AI IP and chip series designed for a full range of scenarios (see below for more information). The portfolio also includes new products and cloud services that are built on Ascend chip capabilities. With its full-stack AI portfolio, Huawei aims to provide pervasive intelligence to help drive industry development and build a fully connected, intelligent world.

Huawei predicts that by 2025, the world will see upwards of 40 billion personal smart devices, and 90% of device users will have a smart digital assistant. Data utilisation will reach 86% and AI services will be readily available, as prevalent as the air we breathe. According to Huawei, AI has become a new general purpose technology and will change all industries and organisations on earth.

"Huawei's AI strategy is to invest in basic research and talent development, build a full-stack, all-scenario AI portfolio, and foster an open global ecosystem," said Eric Xu during his keynote.He explained: "Within Huawei, we will continue exploring ways to improve management and efficiency with AI. In the telecom sector, we will adopt SoftCOM AI to make network O&M more efficient. In the consumer market, HiAI will bring true intelligence to our consumer devices, making them smarter than ever. Our Huawei EI public cloud services and FusionMind private cloud solutions will provide abundant and affordable computing power for all organisations – especially businesses and governments – and help them use AI with greater ease. Our portfolio will also include an AI acceleration card, AI server, AI appliance, and many other products."

Backed by its AI portfolio, Huawei Cloud EI will be able to deliver a full-stack portfolio for enterprise and government customers, and HiAI will provide a full-stack portfolio for smart devices. HiAI services are deployed on Huawei Cloud EI.