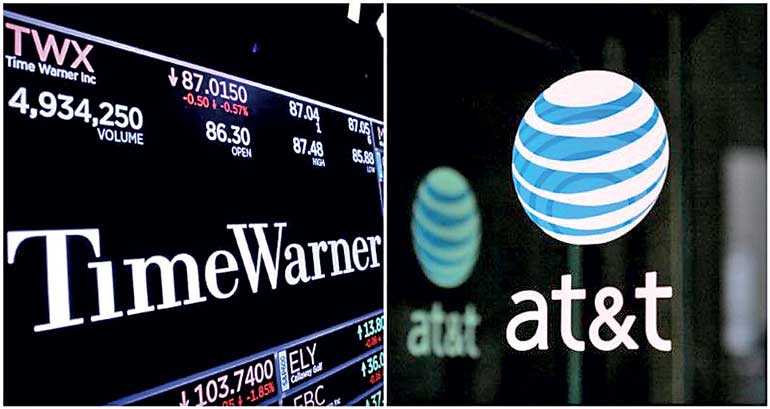 WASHINGTON (Reuters): AT&T Inc. won court approval on Tuesday to buy Time Warner Inc. for $ 85 billion, rebuffing an attempt by US President Donald Trump's administration to block the deal and likely setting off a wave of corporate mergers.

The deal, which could close next week, is seen as a turning point for a media industry that has been upended by companies like Netflix Inc. and Alphabet Inc.'s Google, which produce content and sell it online directly to consumers without requiring a pricey cable subscription. Cable, satellite and wireless carriers all see buying content companies as a way to add revenue.

Trump, a frequent detractor of Time Warner's CNN and its coverage, denounced the deal when it was announced in October 2016. US District Judge Richard Leon found little to support the Government's arguments that the deal would harm consumers, calling one position "gossamer thin", and another, "poppycock."

The ruling could also prompt a cascade of pay TV companies buying television and moviemakers, with Comcast Corp.'s bid for some Twenty-First Century Fox Inc. assets potentially the first out of the gate.

The merger, including debt, would be the fourth largest deal ever attempted in the global telecom, media and entertainment space, according to Thomson Reuters' data. It would also be the 12th largest deal in any sector, the data showed.

In a scathing opinion, Leon concluded that the Government had failed to show competitive harm and urged the US government not to seek a stay of his ruling pending a potential appeal, saying it would be "manifestly unjust" to do so and not likely to succeed.

"That's a legal shocker," said J.B. Heaton, an attorney and consultant on litigation and regulatory proceedings. "I think we'll see now that companies will be much more confident about vertical mergers," he added, referring to deals where a company merges with a supplier.