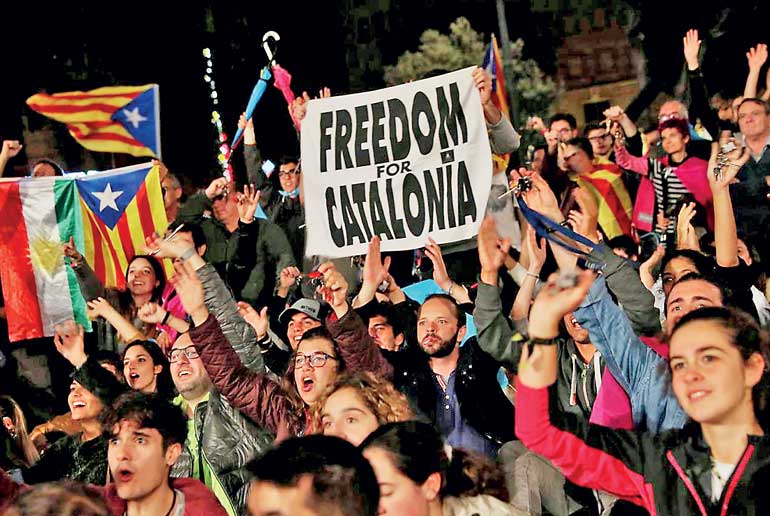 BARCELONA (Reuters): Prime Minister Mariano Rajoy faces Spain's biggest constitutional crisis in decades after Sunday's violence-marred independence referendum in Catalonia opened the door for its wealthiest region to move for secession as early as this week.

The streets of Barcelona, the Catalan capital, were quiet on Monday, but newspaper editorials said the banned referendum, in which Catalan officials said 90 percent of voters had chosen to leave Spain, had set the stage for a decisive clash between Madrid and the region.

"It could all get worse," the moderate Catalan newspaper La Vanguardia said in an editorial after Spanish police used batons and rubber bullets to disrupt the vote, sparking violence that Catalan officials say injured around 840 people.

"We're entering a phase of strikes and street protests ... and with more movement, more repression."

Catalonia is a centre of industry and tourism accounting for a fifth of Spain's economy, a production base for major multi-nationals from Volkswagen to Nestle, and home to Europe's fastest-growing shipping port.

Catalonia's regional leader declared late on Sunday that voters had earned the right to independence and said he would present the results to the region's parliament, which then had the power to move a motion of independence.

Carles Puigdemont's comments fell short of a declaration of independence, but they threw down a challenge to Rajoy, who has the constitutional power to sack the regional government and put Catalonia under central control pending fresh elections.

That would raise tensions further in the region of 7.5 million people, a former principality with its own language and culture, and potentially hurt the resurgent Spanish economy.

Catalan trade unions have called a general strike for Tuesday.

Rajoy offered to call all-party political talks on Sunday to "reflect on the future" of Catalonia, but maintained his outright rejection of independence as an option.