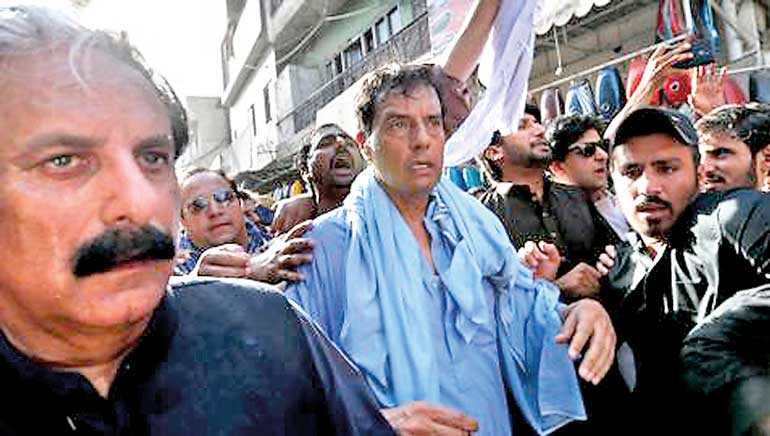 Karachi, Pakistan (Reuters): Pakistani authorities arrested the son–in-law of ousted Prime Minister Nawaz Sharif on 8 July, who was sentenced in absentia to 10 years in prison over a corruption ruling linked to his family's purchase of luxury flats in London on 6 July.

Sharif's daughter Maryam, seen as his chosen political heir, was sentenced to seven years in prison and her husband Muhammad Safdar was given a one-year jail term, in a ruling many see as a blow to the Pakistan Muslim League-Nawaz (PML-N) party before the 25 July election.

Pakistan's anti-corruption National Accountability Bureau (NAB) said in a statement that Muhammad Safdar handed himself in. Earlier in the day Safdar and supporters had driven around the garrison city of Rawalpindi holding impromptu rallies, local television showed.

"After continued raids of National Accountability Bureau (NAB) at his houses in Abbottabad, Mansehra and Haripur, Captain Safdar decided to surrender before NAB," NAB said.

NAB also requested media not to air Safdar's live speeches, saying they are against the law and the code of conduct of the country's media regulator.

After the verdict on 6 July, Safdar said "justice has been massacred" and railed against the judiciary.

Sharif was jailed as the family could not explain how the obtained funds to purchase four luxury flats in London's exclusive Hyde Park area. Maryam was given a prison term for allegedly providing a forged trust deed, for which Safdar was a witness.

Sharif and his daughter would return to Pakistan on 13 July from London where they are tending to the veteran leader's wife, Kulsoom, who is being treated for cancer and is in a coma after suffering a heart attack last month.

"We will reach Lahore on 13 July," Maryam told reporters.

Sharif and Maryam will face arrest on arrival in Pakistan just before the election, in which his party is in a tight race with opposition figure Imran Khan's party.

Both Sharif and Maryam deny wrongdoing and plan to appeal the NAB decision.

Sharif had denounced the court proceedings against him as politically motivated and a judicial witch-hunt, often suggesting the military was to blame.