Jerusalem (Reuters): Israel's Prime Minister Benjamin Netanyahu said yesterday his coalition government remained stable and would continue to govern despite police recommendations he be indicted for bribery.

"I want to reassure you, the coalition is stable. No one, not I, not anyone else, has plans to go to an election. We will continue to work with you for the good of Israel's citizens until the end of the term," Netanyahu said at a conference in Tel Aviv.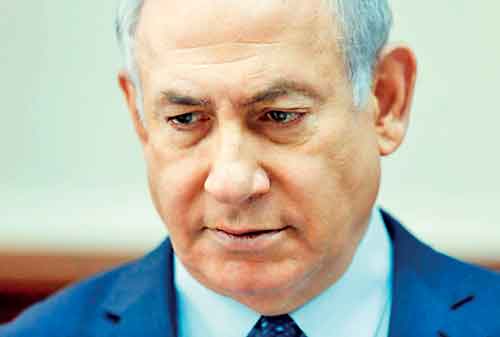 His remarks came the morning after Israeli police made public their recommendations, presenting Netanyahu with one of the biggest challenges in his political career. It is now up to Israel's attorney general to decide whether to file charges, a process that could take months.

Netanyahu has denied wrongdoing in both police criminal investigations that have gone on for more than a year.

One of the cases, known as Case 1000, alleged the "committing of crimes of bribery, fraud and breach of trust by the prime minister, Mr. Benjamin Netanyahu."

Police named Arnon Milchan, a Hollywood producer and Israeli citizen, and Australian businessman James Packer, saying they gave gifts that included champagne, cigars and jewellery to Netanyahu and his family.

In all, the merchandise was worth more than one million shekels ($ 280,000), the statement said. Any legal proceedings would likely focus on whether political favours were sought or granted. Netanyahu's lawyers said the presents were simply tokens of friendship.

On 13 February, Israel's Channel 10 television quoted a lawyer for Milchan as saying that occasional gift-giving was devoid of any business interests.

In an emailed statement on 13 February, after the police recommendations were made public, a spokesman for Packer said: "There is no allegation of wrongdoing on Mr. Packer's behalf. The Israeli and Australian police have confirmed that he was interviewed as a witness, not a suspect."

The second, Case 2000, also alleged "bribery, fraud and breach of trust by the prime minister" relating to his dealings with Arnon Mozes, the publisher of the biggest-selling Israeli newspaper Yedioth Ahronoth.

The two men, police said, discussed ways of slowing the growth of a rival daily newspaper, Israel Hayom, "through legislation and other means". Police said they believed there was sufficient evidence to charge Mozes with offering a bribe.