Reuters: Former USA Gymnastics doctor Larry Nassar, already convicted of molesting young women athletes and sentenced to 175 years in prison, was due to receive a further sentence yesterday for his plea of guilty to related charges.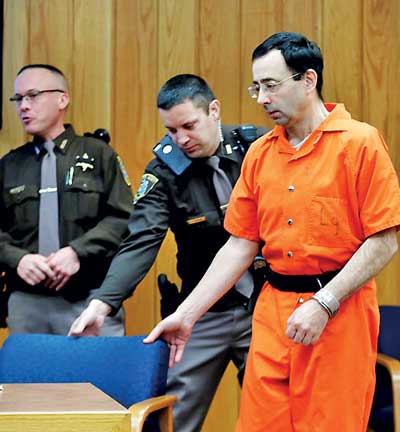 Nassar was sentenced last month in Michigan's Ingham County to sexually abusing female athletes under the guise of medical treatment, and was to receive a further sentence yesterday in neighbouring Eaton County.

He faces a minimum of 25 years behind bars for the related charges but he is already assured of spending the rest of his life in prison. Nassar is also serving a 60-year federal sentence for child pornography convictions. The case against Nassar has sparked investigations into how US Olympic officials, USA Gymnastics - the sport's governing body - and Michigan State University, where Nassar also worked, failed to investigate complaints about him going back years.

The fallout has rattled Michigan State and led to the resignation of the school's president.

Faculty leaders at Michigan State are moving to hold a no-confidence vote against the university's Board of Trustees, the Lansing State Journal reported on 4 February.

The newspaper said a ballot was emailed over the weekend to 2,776 faculty members who belong to the university's Academic Congress. The majority — nearly 87% of those who responded — called for a no-confidence vote in the trustees at an upcoming Faculty Senate meeting.

A time and date for that emergency meeting has not yet been determined, it said.